Arsenal have scrapped their annual £3m payment to the club's majority owner Stan Kroenke after it was questioned by the Arsenal Supporters' Trust [AST].
The club have paid the consultancy fee to Kroenke Sports Enterprises, a firm owned by the 69-year-old American, for the past two years, but that payment ended this year after the AST raised fears over the legality of the payment to Arsenal chairman Sir Chips Keswick.
The club have said that the fee was "waived" by Kroenke's firm, although they declined to comment when contacted by the Daily Mail over whether the payment was in breach of regulations and a conflict of interest. They also refused to comment on whether the letter sent by the AST had an impact in the fee being scrapped.
AST chairman, Glyn Taylor, wrote the letter and sent it to the club in January this year, with concerns being initially raised during a frosty Annual General Meeting last October.
The letter, seen by the Daily Mail, read: "We have serious concerns over £6million being paid by Arsenal to an overseas corporate entity related to one single shareholder and two directors [the KSE Payments], as well as wider governance matters. These concerns are shared by other shareholders as was evident at the Annual General Meeting [AGM] in October 2015.
Arsene Wenger's best moments as Arsenal manager
Arsene Wenger's best moments as Arsenal manager
1/11 1996 – Becomes Arsenal Manager

Wenger leaves Japanese side Grampus Eight to become the Arsenal Manager.

2/11 1998 – Wins League and FA Cup double

Arsenal win the league setting a new club record of 10 consecutive wins and also secure FA Cup glory beating Newcastle 2-0 in the final.

3/11 1999 – Signs Thierry Henry from Juventus

Arsenal signed Thierry Henry from Serie A side Juventus for £11 million. Henry went on to become the club's all-time top goalscorer with 228 goals in 377 appearances.

4/11 2002 – Second League and FA Cup double

The Frenchman wins his second double with Arsenal tipping Manchester United and Liverpool to top spot in the league and defeating Chelsea 2-0 in the FA Cup final.

5/11 2003 - OBE from the Queen and FA Cup victory

Wenger's men beat Southampton 1-0 at Cardiff's Millennium Stadium and in the same year he given an honouree OBE by the Queen.

6/11 2004 – The 'Invincibles'

In 2004, Arsenal were at the peak of their powers under Wenger. His philosophy of possession-based free-flowing football, combined with the talent of players such as Henry and Dennis Bergkamp, led Wenger's men to the league title and an unbeaten 49 game streak.

7/11 2005 – FA Cup victory against Manchester United

Arsenal beat Sir Alex Ferguson's Manchester United 5-4 on penalties for Wenger's fourth FA Cup trophy.

8/11 2006 – Champions League final v Barcelona

Wenger's team came the closest they have ever been to European glory, narrowly losing 2-1 to Barcelona, after going a goal up through Sol Campbell in the first-half.

9/11 2014 - FA Cup victory against Hull City

Having not won a piece of silverware in nine years, the pressure was certainly on for Wenger as Arsenal took on Hull City at Wembley. It only got worse for Wenger as Hull took a 2-0 lead in the opening 10 minutes. However, his team managed to fight their way back into the game and sealed victory with a dramatic 3-2 comeback in extra-time.

10/11 2015 – FA Cup winners against Aston Villa

After the drama of the previous year's final against Hull, Wenger's side cruised to a 4-0 victory over Aston Villa in front of a packed Wembley crowd.

11/11 2017 - The FA Cup master

Having faced called for his head all season from his own fans, Wenger ended the year with his hand around that familiar trophy yet again for a record seventh time - more than any other manager.

Getty
"From Arsenal's public statements at the 2015 AGM, and other disclosure, the payment appears to have been made: without a pre-existing contract or competitive tender for services without fully considering whether there was a conflict of interest; and potentially in breach of regulations.
"The world of football, and its global governance institutions, face unprecedented scrutiny of their conduct and internal procedures. Shining a light on cronyism and backroom deals in football such is occurring at FIFA and UEFA is long overdue and rightly welcomed by the honest majority in our sport."
AST spokesman, Tim Payton, added that the fee had been considered an "inappropriate payment" given that Kroenke had neither been able to explain nor justify the payment, and praised the fact that fan power can still have a say on how matters are run at a Premier League club.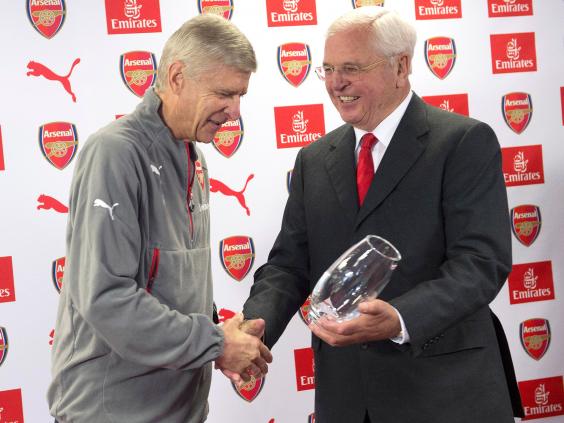 In response, an Arsenal spokesman said: "For the year ended 31 May 2016 Kroenke Sports & Entertainment LLC has waived its entitlement to any fee in respect of services provided to the Group."
Reuse content