Arsenal are naturally expected to face the physical challenge of a Tony Pulis team as they travel to West Brom on Saturday, but there is an unexpected player that Arsene Wenger does not seem to want going in hard in that game. It is one perceived as one of his most physical: Granit Xhaka.
The Swiss midfielder has picked up bookings in each of his last five games since getting sent off against Burnley at the end of January, adding to a certain aggressive public image following on from the amount of cards he received in Germany with Borussia Monchengladbach.
Wenger believes part of that level of punishment is because Xhaka is by now unfairly a 'victim of his own reputation' as well as his willingness, but that another problem is that - remarkably - "he doesn't master well the technique of tackling".
As such, the Arsenal boss feels many of the 24-year-old's cards come from an awkwardness in the challenge, rather than any malice. Xhaka has become somewhat notorious for the way he goes on to win the ball by almost scissoring his legs, something that doesn't help when referees are now so attuned to watch for his tackles.
"I believe that he is now in a position where on the first foul he gets a yellow card," Wenger said. "For example on Saturday [against Lincoln in the 5-0 FA Cup win], first foul, soft yellow card.
"So he is a victim a little bit of his reputation. You see tackles of some players who are much worse than what he did who don't even get a yellow card and he got a straight red and because he had a history of that in Germany I think he is a bit of a victim of that.
"Overall he is quite in a positive way, he masters himself much better. He was maybe a little bit before looking too much to impress but overall he has to stay on the ground because it is tackling that can get him sent off.
"When he defends well, staying on his feet, he is a fair player."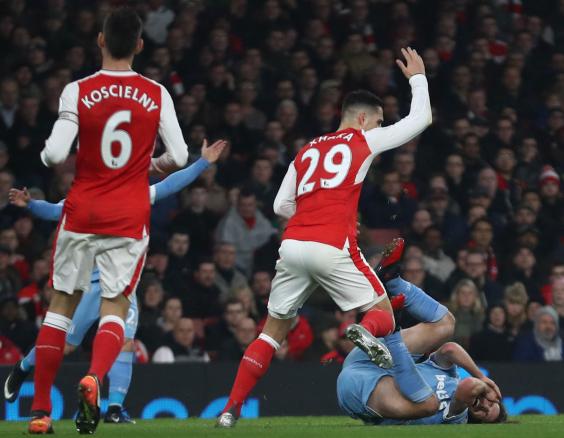 Asked whether the problem is specifically Xhaka's tackling technique, Wenger said: "Yes, I agree."
"It is the way he tackles, not to hurt people, it is more the consequence of the fact that he doesn't master well the technique of tackling… like a guy who doesn't master really well but he has improved a lot since he has arrived I think but he still has to work, yes, is his on his one against one."
Xhaka's struggles in that area have only brought more attention to the growing debate about how he cost just £2m less than Chelsea's £32m N'Golo Kante, despite the huge contrast in their impact, but Wenger rejected this.
"They are different type of players. I think Xhaka is more in the distribution of the pass through the lines and Kante is more the ball winner with the real technique to steal the ball without making the foul. You compare more Kante with [Francis] Coquelin than with Xhaka. Xhaka is more a distribution player."
6 players who could replace Alexis Sanchez at Arsenal
6 players who could replace Alexis Sanchez at Arsenal
1/6 Marco Reus (Borussia Dortmund)

At 27 years old, this summer is probably Reus' last chance for a big-money move and his direct style of running from wide positions makes him an obvious replacement for Sanchez. The biggest competition for his signature would likely come from Liverpool but, financially, Arsenal should be able to edge it. However, given the Gunners' injury record, how wise would it be signing someone with an injury history as rich as Reus'?

AFP/Getty Images

2/6 Antoine Griezmann (Atletico Madrid)

Highly unlikely with Manchester United sniffing around but if Arsenal make the top four and the Red Devils don't, there is always a possibility. And there's the money available – even at £84m. Griezmann would be the kind of statement signing Arsenal have been yearning for and would be a signal of intent that they are really ready to challenge for the title again.

Getty Images

3/6 Yannick Carrasco (Atletico Madrid)

A more realistic but equally as exciting a prospect. Carrasco has 14 goals already this season and is a powerful runner who seems, physically, like he would adapt quickly to the rigours of the Premier League. His workrate is exceptional – similar to that of Sanchez's – and at only 23 years old he would be a long-term signing and Arsenal could use the uncertainty surrounding Diego Simeone's future to prize the Belgian to north London.

Getty Images

4/6 Isco (Real Madrid)

A top talent struggling to get a place in La Liga's leading side available and looking for first-team football? Sound familiar, Arsenal fans? Both Sanchez and Ozil joined the Gunners in similar situations to the one Isco is currently in and who's to say he wouldn't be as successful as those two? Arsenal would be able to sign the forward for less than £30m, which, at 24-years-old, represents quite the bargain.

Getty Images

5/6 Kylian Mbappe (Monaco)

Arsenal looked at 18-year-old Mbappe last summer and they're continuing to monitor his progress at Monaco. The teenager is one of the most coveted in Europe and after his recent performance against Manchester City in the Champions League he looks like he has all the attributes to fill the Sanchez void. Like Anthony Martial when he left Monaco, Mbappe would not come cheaply, however.

AFP/Getty Images

6/6 Edinson Cavani (Paris Saint-Germain)

Arsenal know they type of damage Cavani can do having impressed against them in this year's Champions League and a 20-goal-a-season, coming in from the left is exactly what they'd be missing should Sanchez. The Uruguayan has been linked with the Premier League for years without a move coming to fruition and it would be a gamble as Cavani would command a hefty transfer fee and wage packet having come from the Qatari-owned PSG.

AFP/Getty Images
It is no doubt why Wenger will want Xhaka on the ball on Saturday rather than looking to win it back, although he praised Pulis for adopting a more possession-based game at West Brom.
"I respect Tony Pulis because when you look at his achievements over the years he has been consistent with West Brom, before that Stoke and he was at Crystal Palace a shot time as well.
He has done well everywhere and he has his own way but he is very efficient and he makes life difficult for us.
"This season I believe they have moved to more possession and a less direct game, they are still efficient on set-pieces but overall they can cope everywhere with the possession – they keep the ball much better and have a more elaborate style, he has done extremely well."
Reuse content