Arsenal goalkeeper Petr Cech felt "angry and disappointed" after Sunday's 2-0 defeat to Tottenham left their hopes of Champions League qualification hanging by a thread.
Victory also moved Spurs 17 points ahead of their north London rivals in the table and ensured they would finish above them for the first time since 1995.
Dele Alli's close-range finish and a Harry Kane penalty sealed the win, which could have been more emphatic had Alli and Christian Eriksen converted chances in the first half.
Tottenham vs Arsenal player ratings
Tottenham vs Arsenal player ratings
1/23 Player ratings

We run the rule over the two teams after Tottenham's derby victory.

Getty

2/23 Hugo Lloris - 7

Rarely called into action but on those occasions when he was tested he held his nerve to keep Arsenal out.

Getty Images

3/23 Kieran Trippier - 6

Not his best of performances. Made a hash of a number of crosses and was quiet at times. Some of his tackling was impressive, though.

Tottenham Hotspur FC via Getty I

4/23 Toby Alderweireld - 7

Defensively solid both in the air and on the deck. Rarely gifted Arsenal's front men the space or time to trouble the Tottenham goal.

AFP/Getty Images

5/23 Jan Vertonghen - 8

Tested Cech on a number of occasions with some sharp shooting. A real threat at corners. Fierce at the back. Excellent defensive display.

Tottenham Hotspur FC via Getty I

6/23 Ben Davies - 7

Hit the ground running and provided Spurs with a real sense of danger down the left flank.

Tottenham Hotspur FC via Getty I

7/23 Eric Dier - 7

An assured and rounded performance. Kept the Tottenham midfield ticking over all game long.

AFP/Getty Images

8/23 Victor Wanyama - 8

A true warrior at times. Seemed to emerge victorious from all of his challenges and was brilliant at dictating the tempo of Tottenham's game.

Getty Images

9/23 Christian Eriksen - 7

Provided the magic to open up Arsenal for Tottenham's first. Particularly dangerous in the visitors' final third. Passing was on point.

Tottenham Hotspur FC via Getty I

10/23 Dele Alli - 8

Showed real desire and fight for the first goal. An absolute menace across the entire front line for Tottenham. Very rounded performance.

AFP/Getty Images

11/23 Son Heung-min - 7

Was moved back into his preferred position and looked all the better for it. Enjoyed some piercing runs early on.

Tottenham Hotspur FC via Getty I

12/23 Harry Kane - 7

Excellent penalty to double Arsenal's lead. Hard working and tireless in his movement.

Getty Images

13/23 Petr Cech - 7 out of 10

Was tested by a number of challenging shots in the first half and put in some fantastic saves late on to limit the damage. One of the best shot-stoppers in the league. Would have been more were it not for him.

Tottenham Hotspur FC via Getty I

14/23 Gabriel - 5

A disappointing and uninspiring performance from him. His reckless challenge handed Spurs their second goal after Kane converted from the spot.

Getty Images

15/23 Laurent Koscielny - 6

Was off the pace for Tottenham's first. Should have moved quicker to close down Alli. Up until then he'd battled relatively well with the home side's front line.

Tottenham Hotspur FC via Getty I

16/23 Nacho Monreal - 4

Outclassed for much of the game. A considerable chink in Arsenal's weak armour.

Getty Images

17/23 Alex Oxlade-Chamberlain - 5

Out of his depth. Defensively poor and offered little going forward.

Tottenham Hotspur FC via Getty I

18/23 Aaron Ramsey - 6

Got a grasp of the game as it wore on and was one of the few Arsenal players to really test Lloris. Drifted out of the game though.

Getty Images

19/23 Granit Xhaka - 5

Made some solid challenges here and there but largely directionless in his play.

Getty Images

20/23 Kieran Gibbs - 4

Made little impact on the game. Another player who looked out of their depth.

Getty Images

21/23 Mesut Özil - 4

Another game in which he went missing. Dreadful display.

Getty Images

22/23 Alexis Sánchez - 6

Like Ramsey, the Chilean took a while to get going but by the end of the first half he was starting to have an influence on the run of play. Went off the boil in the second half though.

Getty Images

23/23 Olivier Giroud - 6

Willing to get back and help out his team mates defensively but failed to provide any real danger and creativity up front.

Getty Images
The result leaves Tottenham four points behind Chelsea at the top, while Arsene Wenger's side remain sixth, five points behind Manchester United and six back on fourth-placed Manchester City.
They play United at home next weekend.
"I feel angry and disappointed because obviously this is not a game we wanted to lose and this is a very big disappointment for us," Cech told Arsenal's official club website.
"It hurts because it was a huge game for both teams. They needed to win to keep their title chances alive. We needed to win to keep our Champions League finishing position [hopes] alive.
"Obviously we are very disappointed because it's a north London derby, it means a lot to the fans and it meant a lot to the club, to us. We needed three points and in the end we have none."
Tottenham confirmed last week they would move to Wembley next season while their new stadium is completed meaning this was the final north London derby at White Hart Lane.
It made victory all the sweeter for Spurs fans, who have waited 22 years to end a league season above their neighbours.
Cech insists finishing below Tottenham, however, is not chief among the squad's disappointments.
"Our target is to play for titles, so we are disappointed with our season because we aren't playing for a (league) title," Cech said.
"We have five games to play and we are out of the title race. It was not the objective (to finish below Tottenham), so we are disappointed with that.
"But Tottenham finishing above us or doing better is one thing, but I think the most important thing for the club, for the players, for everybody is to reach your own targets, not to worry about what the others are doing."
Chelsea's 3-0 win at Goodison Park earlier on Sunday may yet prove a decisive moment in the title race, given Everton were seen as their toughest opponents during the run-in.
Antonio Conte's side have Middlesbrough, West Brom, Watford and West Brom left to play, but Spurs could reduce the gap to one point given they visit West Ham first on Friday night.
They will then host Manchester United in what will be the last ever fixture at White Hart Lane.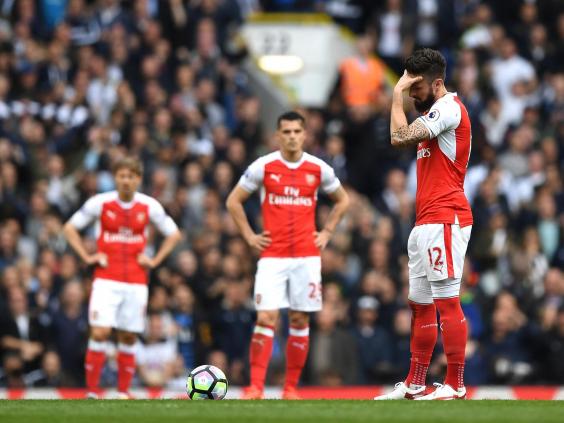 "It was a very good game from everyone, from start to finish," Jan Vertonghen said of his side's latest victory.
"It was the perfect day to put on a performance and I'm very proud of it. We knew we had to focus. It was the last north London derby at the Lane and that's so special for so many people.
"I know what it means. It was a very big day and we've one more to come. Let's hope we can make that one special too."
PA
Reuse content