Arsene Wenger has made clear that Arsenal have no intention of selling another big name player to Manchester City after rumours linked them with a move for midfielder Jack Wilshere.
The England international is on the verge of a comeback from his latest ankle injury, and has confirmed that he should return for next weekend's FA Cup semi-final against Reading at Wembley.
However, with questions arising over both his suitability to the Gunners' current line-up and City's current crop of players, a number of reports have linked the reigning Premier League champions with a move for the 23-year-old.
Arsenal's best XI of the season so far
Arsenal's best XI of the season so far
1/11 David Ospina - 7.40/10

Liverpool owner John W Henry once asked 'What are they smoking at Emirates?'. When it came to having a puff the focus landed on Wojciech Szczesny who was dropped from the team having been caught having a crafty cigarette in the changing rooms after Arsenal's game with Southampton. It was enough for Wenger to give Ospina his chance and the Colombian has easily been more impressive than Szczesny (6.46) was.

GETTY IMAGES

2/11 Nacho Monreal - 7.35

There is real competition at left-back with England international Kieran Gibbs (7.04) an option, but it's Monreal who scores higher.

GETTY IMAGES

3/11 Gabriel Paulista - 7.46

Only signed in January, the Brazilian defender ranks as the best centre-back at the Emirates based on his performances so far.

GETTY IMAGES

4/11 Laurent Koscielny - 7.37

Paulista is joined by Laurent Koscielny, meaning Per Mertesacker (7.07) is the one to miss out. Calum Chambers, who made such an impressive start to the season, is on 7.05.

GETTY IMAGES

5/11 Mathieu Debuchy - 7.25

The Frenchman has been out since January but in the 14 appearances before then he made more of an impression than youngster Hector Bellerin (7.21) - if only just. Debuchy is nearing his return from injury just in time for the season run-in.

GETTY IMAGES

6/11 Mesut Ozil - 7.56

Has been much derided following his £42.5m switch from Real Madrid, but Ozil has begun to show why Arsenal were willing to pay so much money. The World Cup winner recently spoke about aspiring to be crowned the best player on the planet. He'll have to start by being the best player at Arsenal but as it stands he's the third best based on these ratings.

Getty Images

7/11 Francis Coquelin - 7.53

In his 12 starts since returning from a loan spell at Charlton, Coquelin has seemingly solved the desperate need for a defensive midfielder. Alternate options Mathieu Flamini (6.78) and Mikel Arteta (6.73) don't get close.

GETTY IMAGES

8/11 Santi Cazorla - 7.65

Unsurprisingly based on his brilliant season, Cazorla completes the midfield in this 4-3-3 line up, with the Spaniard considered the second best player of Arsenal's season so far. That means there is no place for the Alex Oxlade-Chamberlain (7.20) had he been fit, Tomas Rosicky (6.73) or Jack Wilshere (6.69). But perhaps the most unexpected player to miss out if based on pre-season prediction is Aaron Ramsey, who's inconsistent performances see him score 7.02 and miss out on a place.

GETTY IMAGES

9/11 Danny Welbeck - 7.30

He might have scored just four Premier League goals since joining from Manchester United, but Welbeck's overall contribution sees him score enough to keep Theo Walcott (6.42) out of the attacking trio.

PA

10/11 Olivier Giroud - 7.46

Never any doubt the French striker would be the best central striker thanks to his 13 Premier League goals and three assists.

GETTY IMAGES

11/11 Alexis Sanchez - 7.84

And completing the XI is of course Alexis Sanchez. The summer signing from Barcelona has been brilliant, scoring 13 goals and collecting seven assists. It makes him Arsenal's best player of the season so far.

GETTY IMAGES
But Wenger had stern words for City, should they be listening, and claimed that the club's improved financial position means they no longer needs to let go of their very best players, as was seen in the past when Cesc Fabregas left the club and Samir Nasri, Emmanuel Adebayor, Gael Clichy and Kolo Toure all departed to head to the Etihad Stadium.
"We are not in a position any more where we have to sell our best players," Wenger said at his press conference ahead of the weekend match against Burnley.
"We cannot make a case of any headline in any newspaper in a press conference from things that are not true."
Wenger hinted that Wilshere could return this weekend, albeit he is unlikely to start, but also stressed that players coming back from injury must contend with being eased back into regular action.
Theo Walcott has been used sparingly since returning from a year on the sidelines with a serious knee injury, while Abou Diaby has been confirmed as fit to return following his own stretch out injured that dates back to last April – the most recent of a long line of injuries for the unfortunate French midfielder.
"Everybody can have a big impact until the end of the season, Jack included," Wenger added.
"Every player who doesn't play is very frustrated when he cannot perform - Diaby has been out for a year, Walcott has been out for a year.
"Wilshere has played many games this year, he was out, but not for as long as Walcott or Diaby."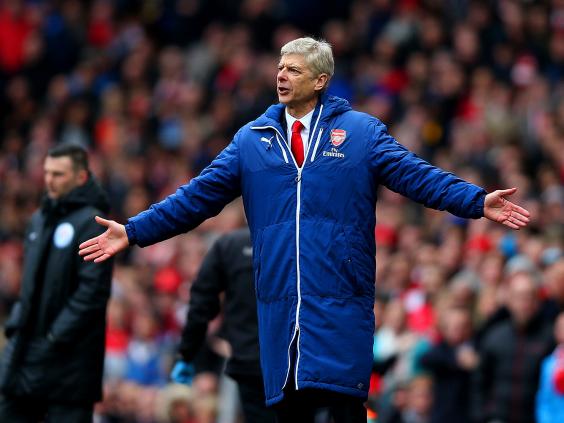 With Wilshere and Diaby having played in an under-21s match along with Mikel Arteta and Mathieu Debuchy, Wenger is seeing his selection options open up at a time when the Gunners are making a late charge up the table.
Last weekend's 4-1 victory over Liverpool saw them move up to second place in the Premier League table on merit, and sees them as the likeliest chargers to stop Chelsea if any team are going to do so.
"We are all in a fantastic position, but our job is competing," said Wenger.
"You cannot say that you have to accept to compete, if you cannot compete then you have nothing to do in this job."
The Arsenal boss added: "Everybody is rated exactly the same and you respect everybody and want everybody to just contribute to the team."
Reuse content