Santi Cazorla believes Arsenal must not sell Hector Bellerin to Barcelona should the Spanish side come calling, otherwise they will be committing "a mistake" in their attempts to rid themselves of the tag of being a selling club.
Arsenal appear to already be on course to losing the unwanted reputation, which arose from selling the likes of Thierry Henry, Samir Nasri, Cesc Fabregas and Emmanuel Adebayor as the paid off the Emirates Stadium. With the debt incurred from the project now paid off though, Arsenal have managed to hold onto their best players for the last few years, and performances have improved as a result.
The problem now though is ensuring they challenge for enough silverware to keep the likes of Mesut Özil and Alexis Sanchez happy in order for them to sign new contracts and remain with the club, and with the Gunners currently level on points with Premier League leaders Manchester City, they appear on course to do just that.
But one familiar issue has arisen over the future of Bellerin, who learnt his trade in the Barcelona academy before moving to Arsenal as a teenager in the same vein as Fabregas. Having developed into one of the best right-backs in the country, Barcelona want Bellerin back.
Fellow Spaniard Cazorla has urged the club not to sell the 21-year-old defender though, and with the club planning on opening contract talks, Cazorla may get his wish.
"We'll see [what happens with Hector]. It is clear that Hector is the right-back of the future," Cazorla told IBTimes. "You could see in the victory over Swansea [last weekend] how good he is. He was all over the place and never stopped running. For Arsenal it would be a mistake to let him go.
Arsenal vs Swansea player ratings
Arsenal vs Swansea player ratings
1/22 Petr Cech

Let down by the players in front of him. Couldn't be blamed for the two goals Arsenal conceded. Reliable for most of the match. 6

Getty

2/22 Hector Bellerin

Unusually quiet at times. Pushed on here and there and enjoyed a close chance in the dying minutes of the match. Not his best game though. 6

Getty

3/22 Shkodran Mustafi

Used his strength well to shut out his opponents. Had the vision and confidence to look for long balls in behind the Swansea defence, even if they didn't pay off. 7

Getty

4/22 Laurent Koscielny

Read the game well in the first 45 minutes but became a bit unsettled in the second half. 6

Getty

5/22 Nacho Monreal

Shown the ropes for much of the second half by Modou Barrow. Struggled with his pace and direct running. 5

Reuters

6/22 Santi Cazorla

One of Arsenal's more quiet players. Continued to plug away throughout, creating chances here and there, but nothing too memorable. 6

Getty

7/22 Granit Xhaka

His lapse in concentration handed Swansea their first goal while his dismissal did Arsenal no favours. Tenacious and hard-working but his fiery temperament got the better of him. 4

Getty

8/22 Mesut Ozil

Provided Arsenal with the winning goal courtesy of an outstanding volley. His reliable self and was particularly menacing in the final 30 minutes of the match. 7

Getty

9/22 Alex Iwobi

Created chances for both himself and his teammates. Dazzled with his quick feet but, like Theo, could have been more clinical at times. 7

Getty

10/22 Theo Walcott

Bagged an impressive brace and created multiple chances for himself. Found the right areas throughout the match and threatened with his pace. Could have scored at least five and will rue his missed chances. 7

Getty

11/22 Alexis Sanchez

Linked up well with his fellow forward players and put in a brilliant delivery to set up Ozil for Arsenal's third. 7

Getty

12/22 Lukasz Fabianski

Couldn't do much about the first two goals but should have dealt with the third. Lack of decision making in that instance let him down and, unfortunately, handed Ozil the winner. 5

Getty

13/22 Kyle Naughton

Performed well in the air and put in a number of probing deliveries into the Arsenal box. 6

Getty

14/22 Federico Fernandez

Far too indecisive under pressure. Responsible for the first two goals. A game to forget. 4

Getty

15/22 Jordi Amat

A breakdown in communication with Fernandez handed Arsenal their first but he tightened up his game as the match wore on. 6

Getty

16/22 Neil Taylor

Aggressive in defence, making a series of important tackles. 6

Getty

17/22 Modou Barrow

Swansea's main man who got better as the game went on. Worked hard for the entirety of the game and proved a handful for Monreal. Linked up well with Siggurdsson and was excellent to set up the second. Majority of chances came through him. 8

Getty

18/22 Leon Britton

Enjoyed a lively start to the match, putting in a number of balls in behind for his teammates. Constant presence throughout. 6

Getty

19/22 Jack Cork

Put in some important interceptions to break up Arsenal's play in the centre. 6

Getty

20/22 Wayne Routledge

Was largely absent for most of the game. Not as effective as his teammates. 5

Getty

21/22 Leroy Fer

Perked up towards the end with a dangerous run but was relatively quiet besides that. Had the chance to equalise but squandered a golden opportunity. 6

Getty

22/22 Gylfi Sigurdsson

Great finish for Swansea's first. Another hard worker who refused to give up. Enjoyed a handful of chances in front of goal. 7

Getty
"It is obvious that many teams want him. There has been talk about Manchester City and Barcelona. He is a player with great potential and I am sure he will also be a key part of the future of the Spanish national team."
Cazorla is 10 years Bellerin's senior, and will see his own contract come to an end in the summer unless he can negotiate a new deal with the club. The midfielder remains a firm fan favourite after moving to London in 2012, and has already signalled his intention to remain with the Gunners if they are happy to have him.
With the likes of Granit Xhaka, Francis Coquelin, Mohamed Elneny and Aaron Ramsey vying for the central midfield places – plus Jack Wilshere once he returns from a loan spell with Bournemouth – competition is rife in the centre of the park at Arsenal. It's perhaps why Cazorla is determined to put his future on the backburner in order to focus on his performances, which could prove to have a decisive impact on whether the club offer him a new deal.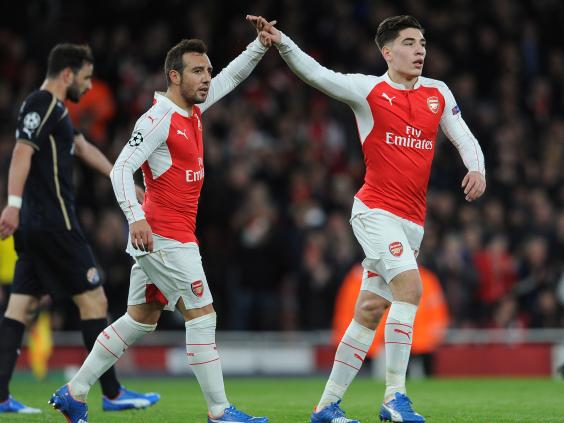 "In my case I will finish my contract at the end of the season but I'm not thinking about it now," Cazorla added. "I'm just focusing on playing and giving my best on the pitch. Last season was very difficult for me after spending so much time on the sidelines [due to a knee injury]. Now I just want to enjoy myself again – and we'll see what happens in the future.
"I'm happy because I'm playing regularly. If I didn't play I would tell you that I would consider leaving, but I'm having minutes and I have the confidence of the manager. That's what every player wants.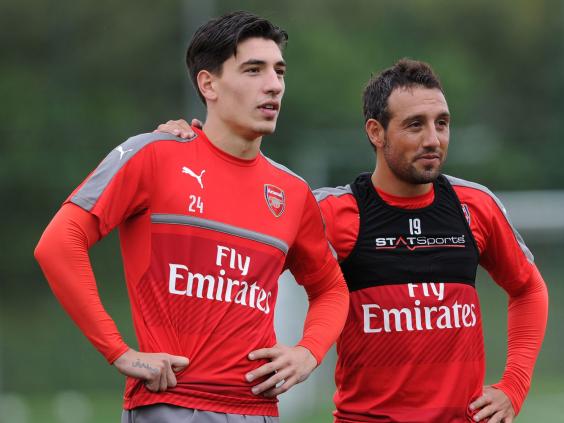 "Since the very first day at this club I have had the affection of the fans, and that is amazing. I have only words of gratitude to the fans of Arsenal for how they've treated me from day one, and I try to repay them by giving my best on the pitch."
Arsenal take on Ludogorets in their third Champions League group stage fixture on Wednesday, with the chance to go top of the Premier League next weekend arising when they take on Middlesbrough.
Reuse content