Per Mertesacker has admitted he is thinking about his options if he leaves Arsenal this summer, despite only being named club captain in August.
The German World Cup winner is currently nursing a knee injury picked up in preseason and is not expected to be fit again until January.
However, he faces stiff competition if he is to reclaim his place in the Gunners first team back with Laurent Koscielny and compatriot and big-money summer signing Shkodran Mustafi currently established as the first-choice centre-half pairing.
Gabriel Paulista and Rob Holding are also available as back-ups and Mertesacker has admitted he could be open to a move, with former club Hannover keen on re-signing the 32-year-old.
"I am a person who likes to create options for himself," said Mertesacker.
"Of course, I ask myself what would make sense if things were to end at Arsenal. Where can I be of any help? What do I want? Could I maybe return to Germany?
"I look at the perspectives for me and my family, and I think that I'll intensify those thoughts from January on. That's also the time when you can listen to other things when your contract is expiring."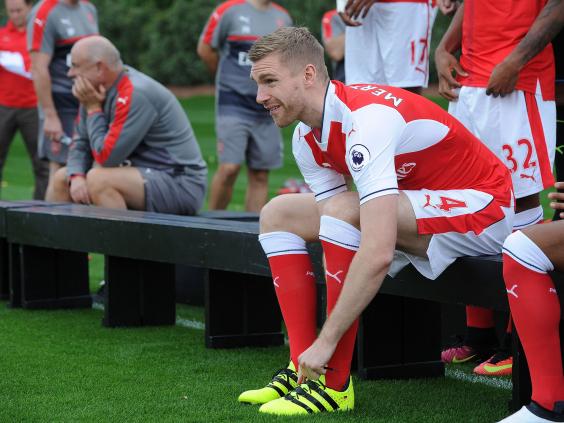 Hannover are currently residing the German second division and although they would like to see the Arsenal captain return to the club he played 74 times for between 2003 and 2006, director Martin Bader admitted they are only focused on a return to the Bundesliga at the moment.
"Everybody knows what Hannover mean to Per. Maybe we can make him enthusiastic about a return.
"But re-signing Mertesacker is not our main priority at the moment. We are playing in the 2. Bundesliga right now and he is Arsenal's captain. A lot of things will have to happen in order to make a return a realistic option.
"First of all, Hannover will have to return to the Bundesliga. A transfer is still far away now and it seems like a crazy thing to even discuss it. But anything can happen in football."
Reuse content