Arsène Wenger hopes that when his team host Manchester City, it will not be like those other painful afternoons. Even in this, their best season for six years, Arsenal have been sharply reminded too many times how far they are from the very best.
City, Chelsea and Liverpool all treated the Gunners with dismissive contempt at their grounds, knocking a total of 17 goals past them. Those are the games that gave weight to Paul Scholes' claim that Arsenal are "a million miles away" from the title.
Wenger knows there can be no repeat on Saturday. But how different will it be this time, against title-hunting City? Arsenal's problems against the best are well known: too fragile away, too cautious at home, with little confidence in their ability to win or clear plan for how to do so.
Wenger again denied that there was a pattern to these results, saying that while Arsenal were genuinely outplayed at Anfield, the results at Stamford Bridge and the Etihad owed more to similar combinations of extreme bad luck. "The only game, for me, where we were really beaten was at Liverpool," Wenger said. "The rest [Chelsea and City away] is a bit more coincidence going negatively together. Because at Chelsea the game was over after 10 minutes. At Liverpool we were outplayed on the day, and there is not a lot to say."
Many observers, though, will have seen worrying parallels in the three defeats. The main difference – that Arsenal collapsed in the first half at Chelsea and Liverpool and in the second half at City – is less important than the main similarities. Wenger acknowledged that one thing in common was starting "a bit too cautious, or a bit on the back foot".
Arsenal have been accused – again by Scholes – of being too passive in big games, of neither imposing themselves on the match nor neutering their opponents. It is not in Wenger's nature to park the bus but when asked about his plan, it rested again on his own side. "By playing our game, and focusing on our strengths," Wenger said, "and of course getting it right defensively because they are a good offensive force."
It is an approach that has worked well against the lesser teams, against whom – even allowing Tuesday's 2-2 draw with Swansea City – Arsenal have been far more efficient this season. But playing the best is different, and Arsenal struggle at it. They average just 0.71 points per game against top-four finishing teams since the start of the 2011-12 season. By the same analysis, Chelsea average 1.58 points per game, Manchester City 2.0.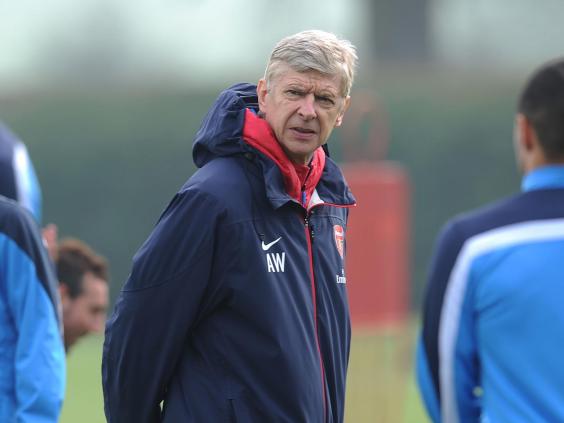 The explanation cannot be wholly technical, given the evidence, but Wenger again defended his team against accusations that they lack conviction or leadership. Liverpool have flourished this season, working with sports psychologist Dr Steve Peters, and while Wenger did reveal that he "believes in mental help", he spoke like a man who believes in technical explanations first.
"Does that mean that you think England will win the World Cup, because of a sports psychologist?" Wenger joked, when told that Dr Peters had been recruited by Roy Hodgson too. "It is good players that win the World Cup. A guy who has come to that level, at the start, it means that he has mental strength. He can deal in adversity, or he would not be there."
Steve Archibald famously said that team spirit "is an illusion glimpsed in the aftermath of victory" and Wenger suggested that he felt similarly about positive psychology. "The players are like everybody else," he said. "When they win the game they say everybody is great, when they lose the game they say everybody is not so great."
Confidence can grow out of leadership and it has been a very well-worn critique of Arsenal that they have never replaced the generation of leaders that Wenger's first sides had: Tony Adams, Martin Keown, Patrick Vieira and so forth. Of course, no manager would ever admit that, even if they thought it, and Wenger defended his players forcefully, again saying that these were easy explanations for difficult issues.
"That is unfair," Wenger said of the criticism. "I have leaders in my team. It's always exactly the same. When you lose games people say you have no leaders. The other night we conceded a goal when we have in midfield [Kim] Kallstrom,  who is over 30 with over 100 caps, [Mikel] Arteta is over 30, [Mathieu] Flamini is 30. We had plenty of experience in midfield and you can still concede goals."
Ultimately, Wenger remains confident about Saturday's game, even with none of his injured midfielders close to returning. He recognised that this is a mental test, but is "convinced" that his players will meet it. He pointed to the 2-0 home victory over Liverpool, a rare but impressive example of his team seizing control of a match against a rival. Wenger even found positives in the 6-3 defeat at the Etihad, with lessons that he believes his team can take into today.
"We had chances, we had plenty of opportunities there to score," Wenger said. "There are plenty of positives in that game to convince us that we can beat City." There is a lot of convincing to be done.
Reuse content