It just had to be Diego Costa, the pantomime villain who has spent most of the season sulking and under-performing, who delivered the blow which reawakened all of Arsenal's self-doubt and exposed their shortcomings as potential champions.
Just when Arsenal had the opportunity to bury their Chelsea ghost, to put the belligerent bullies from Stamford Bridge well and truly in their place, they fell short.
Arsenal lost having played the game with 10 men for over 70 minutes following Per Mertesacker's dismissal for fouling Costa.
But then Arsène Wenger's reaction to Mertesacker's red card, by withdrawing Olivier Giroud and persisting with the hopelessly off-form Mesut Özil for 90 minutes, contributed to his team's defeat. It was as though the sight of Chelsea's blue shirts had affected Wenger's thinking and Arsenal's self-belief.
The end result was the defeat which keeps Leicester City on top of the table and left Arsenal with just two points from a possible nine. Still, Chelsea played like champions once again and if Arsenal can take anything from this result it is the reality that the best, regardless of their form or position, rise to the occasion when it matters.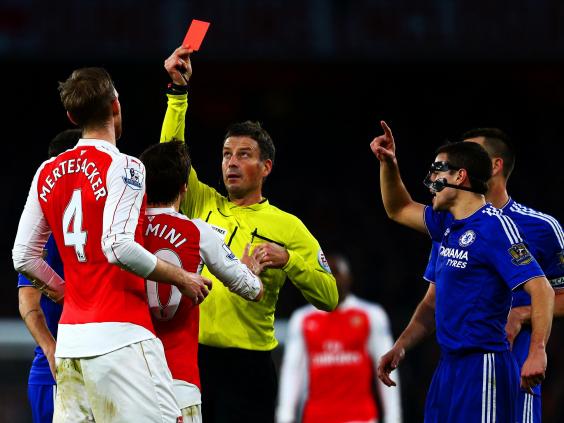 The previous tensions between the two teams ensured that this encounter was never likely to pass off quietly. Chelsea's long-held dominance of this fixture –  they are unbeaten against Arsenal in the Premier League since October 2011 – ensured Guus Hiddink's players would fight tooth and nail, regardless of their mid-table position.
Jose Mourinho may have vacated the scene and taken his own particular brand of poison with him. But the bad blood from last September's clash, when Arsenal ended the game with nine men after the dismissals of Gabriel and Santi Cazorla, has not dissipated with Mourinho's departure and scores were clearly still to be settled. Throw in the relentless booing of Cesc Fabregas by the Arsenal supporters who once adored the Spaniard and the potency of the cocktail was not in doubt.
It was simply a case of which group of players could handle it better without allowing it to blow up in their faces and, from a very early stage, it was evident that those players were wearing blue.
To say Chelsea have failed to perform this season is something of an understatement, but there was a mood of bloody-minded defiance as they set about denying Arsenal the victory which would return them to the top of the league. The message from Chelsea was clear: if you are going to take our crown, you are going to have to earn it.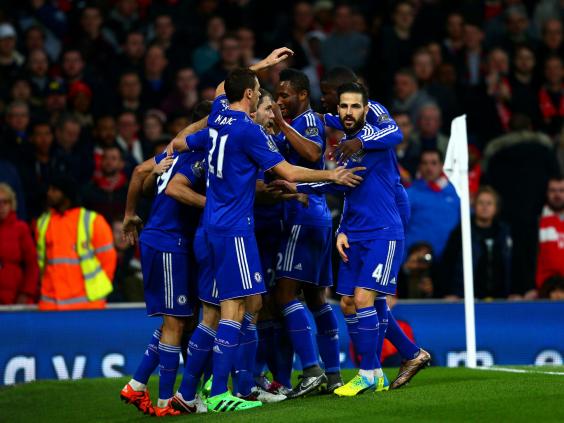 Costa, who was given a three-match retrospective suspension by the Football Association as a result of an off-the-ball spat with Laurent Koscielny at Stamford Bridge, was the most determined of Chelsea's players in terms of defending his honour and he went toe to toe with Koscielny from the off in an effort to impose himself on the French defender. Koscielny gave as good as he got, but the usually measured Arsenal centre-half allowed Costa to draw him into a physical battle, so the Chelsea man had instantly achieved his primary aim.
The tackles flew in – Koscielny on Costa, Mathieu Flamini on Cesar Azpilicueta, Oscar on Joel Campbell – but Chelsea were enjoying it more than Wenger's players.
And once the dust settled on the physical point-scoring, Chelsea gained control of the game, with Fabregas afforded acres of space in the middle third and Willian enjoying the freedom of Arsenal's left flank thanks to the inability of Theo Walcott and Nacho Monreal to work together to nullify the Brazilian's threat.
It was Willian's pace and vision which led to the key moment of the game, when his through ball to Costa released the forward, only for Mertesacker to bring him down clumsily.
Arsenal 0 Chelsea 1 player ratings
Arsenal 0 Chelsea 1 player ratings
1/22 Petr Cech - 6 out of 10

Playing once more against his former side, the goalkeeper made several good saves to keep Arsenal in the game throughout, including a reflex stop to deny Willian but he couldn't do too much about Costa's goal after being let down by his teammates.

2016 Getty Images

2/22 Nacho Monreal - 4 out of 10

Put in a disappointing showing as he failed to stop Willian from running riot early on, and then did not stop Ivanovic from sending in the cross from which Costa scored from. However, he should get praise for denying the Chelsea right-back with a goal-line headed clearance.

Getty Images

3/22 Per Mertesacker - 4 out of 10

Looked solid early on, but the towering defender let himself down in the 18th minute when he received a straight red card for his last-man challenge on Costa, which handed Chelsea the advantage they needed to go in front minutes later.

Getty Images

4/22 Laurent Koscielny - 6 out of 10

Made one early misplaced pass that allowed Oscar to get a shot at goal, but was solid otherwise. Booked for a foul on Willian in the first half and was then fortunate not to give away a penalty for his body block on Fabregas in the second.

2016 Getty Images

5/22 Hector Bellerin - 6 out of 10

Struggled, at times, to deal with the pace of Azpilicueta, but was largely solid defensively although his impact going forward was limited due to Chelsea's good defensive work.

2016 Getty Images

6/22 Mathieu Flamini - 4 out of 10

Disappointed with his defending in the build-up to Costa's goal and wasted two good chances to get Arsenal back into the game when he first fell over while attempting to take a shot before driving another high before the break. A day to forget for the midfielder.

Getty Images

7/22 Aaron Ramsey - 6 out of 10

Both he and Flamini couldn't control play in the middle of the park, and indeed it was Ramsey who failed to prevent Willian from sending in the ball that led to Chelsea scoring. However, he did have some good moments when building up Arsenal's attacks, but saw his teammates make little use of his hard work.

2016 The Arsenal Football Club Plc

8/22 Joel Campbell - 5 out of 10

Could have done more defensively in build-up to Chelsea's opener and disappointed when going forward. Was replaced by Sanchez in the second half.

Getty Images

9/22 Mesut Özil - 5 out of 10

Had a few good moments when going on the attack, but ultimately saw his impact limited by some good marking from the likes of Matic and Mikel.

2016 Getty Images

10/22 Theo Walcott - 5 out of 10

Captained the side despite Mertesacker starting the game, but couldn't make the difference up front; being flagged offside twice in the first half and then blocking Sanchez's shot that seemed to be heading towards goal.

Getty Images

11/22 Olivier Giroud - 5 out of 10

The striker had some positive moments early on although he did blast a speculative shot high, but was sacrificed for Gabriel after Mertesacker had been sent off. Had never scored a career goal against Chelsea, and that remains the case after seeing his game cut short.

2016 Getty Images

12/22 Thibaut Courtois - 6 out of 10

Was rarely tested in the first half, but looked comfortable when called into action.

2016 Getty Images

13/22 Branislav Ivanovic - 7 out of 10

Just days after signing a new one-year deal and Hiddink stresssing the right-back is back to his best, Chelsea's vice captain looked like a rejuvenated player. He helped get involved in the visitors' attacks regularly and was rewarded when he delivered the cross from which Costa scored from. Saw a header just before the break cleared off the line by Monreal.

2016 Getty Images

14/22 John Terry - 6 out of 10

Had one nervy moment when Giroud ran past him to create an Arsenal attack, but he made up for it by blocking the Frenchman's later shot. Impressive otherwise.

2016 Getty Images

15/22 Kurt Zouma - 7 out of 10

Was as solid as ever at the heart of Chelsea's defence, and demonstrated once again why he is a mainstay in this team.

2016 Getty Images

16/22 César Azpilicueta - 7 out of 10

On his 150th start for Chelsea and his 100th Premier League start, the left-back enjoyed a good showing as his forrays forwards helped Chelsea overrun Arsenal while he used his pace to get back and defend.

Getty Images

17/22 John Obi Mikel - 6 out of 10

Alongside Matic, Mikel had no real problems in dominating play in the midfield positions and protected his back line superbly. Booked for challenge on Sanchez.

Getty Images

18/22 Nemanja Matić - 7 out of 10

Making his 100th Chelsea appearance, the Serb showed purpose in attack for the Blues as he got into good positions several times - for example when he was involved in the build-up to Costa's goal - while impressing when defending. His run back to his own box to stop Bellerin from launching an optimistic counter-attack was one such moment. Booked for foul on Sanchez.

2016 Getty Images

19/22 Willian - 7 out of 10

Won the battle with Monreal time and time again and was involved in many of Chelsea's best chances including one of his own that Cech saved. The Brazilian was also instrumental as it was his ball to Costa that led to Mertesacker's red card. Did not neglect his defensive work either.

20/22 Cesc Fàbregas - 7 out of 10

Started the game further forward against his former side and helped dominate play in the middle of the park - pulling the strings throughout the game and being rewarded when he helped carve out Costa's goal. Unlucky not to have been given a penalty for Koscielny's foul on him.

2016 Getty Images

21/22 Oscar - 6 out f 10

Began the game in the unfamiliar position on the left flank with Eden Hazard not risked and, despite a yellow for a wild challenge on Campbell, the Brazilian impressed with good attacking and defensive play particularly in the first half. Was replaced by Hazard with 15 minutes to go.

Getty Images

22/22 Diego Costa - 8 out of 10

The striker was the centre of headlines the last time these two sides met in the season and he proved so again today. It was his run forwards that forced Mertesacker into his last-ditch tackle, for which he was sent off for, before Costa helped create and then finish off Chelsea's opening goal. Costa was impressive considering he hardly trained this week following his bruised tibia against Everton but he paid for it when he came off with an injury in the second period.

Getty Images
Eighteen minutes into the game, referee Mark Clattenburg had no option but to brandish a red card to the German, whose lack of pace was cruelly exposed by Costa before his trailing leg sent him tumbling to the ground.
Costa again. He is a  grade-A pest, a nightmare to play against, but he had got under Arsenal's skin once more and the ramifications of Mertesacker's dismissal were borne out moments later when Wenger chose to substitute Giroud in order for Gabriel to plug the hole alongside Koscielny at the back. It was a bewildering decision. Giroud, in goalscoring form, would have given Arsenal a  physical presence to shield the ball and alleviate the pressure, yet Wenger instead placed Walcott up front before asking Özil to play the role.
John Terry and Kurt Zouma must have shaken their heads in disbelief, especially when Özil plodded into the position, looking like a little boy lost. And if Gabriel had been sent on to keep Costa quiet, that move backfired too for Wenger, the centre-half losing the Chelsea striker for the crucial split-second as he raced to the near post to volley Branislav Ivanovic's cross past Petr Cech to make it 1-0.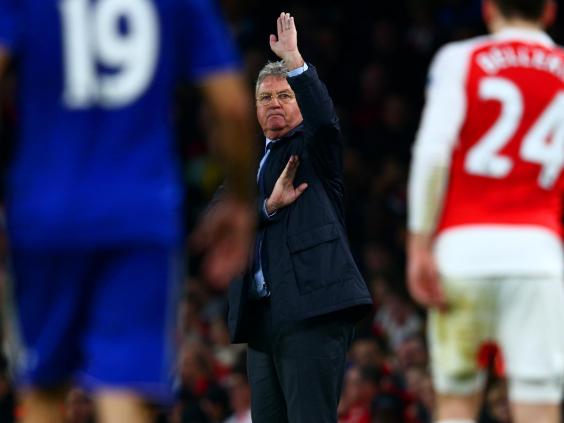 Arsenal's mountain had just grown considerably and Chelsea's supporters gleefully rubbed it in, chanting, "Diego Costa, he's done you again".
Now was the time for the response of champions, the gutsy fightback to hammer home Arsenal's credentials, but with an extra man Chelsea were simply too streetwise and they could have extended their lead when Cech saved brilliantly from Costa at the near post on 42 minutes.
Had Giroud remained on the pitch, Arsenal might have scored themselves three minutes later, but a perfect delivery from Aaron Ramsey was inexplicably directed over by Flamini's kung-fu kick volley, when a header was the obvious option.
Arsenal attempted to salvage the game in the second half and the 57th-minute introduction of Alexis Sanchez injected more urgency and ambition. But they were only spared the prospect of going 2-0 down when Clattenburg dismissed Chelsea appeals for a penalty after Koscielny had barged Fabregas to the ground. It was reckless challenge, but Koscielny got lucky.
The same could not be said of Arsenal, though, who huffed and puffed until the final whistle without ever truly threatening to score.
Three games without a win now. Is this the annual wobble or a minor bump in the road? It is a question that they really did not want to face at the Emirates.
Reuse content