Arsenal diced with mortality many times during their historic unbeaten season now more than a decade ago, but rarely did they look more vincible than at Goodison Park.
At the end of a cold and brutalising 1-1 draw in January 2004, Arsène Wenger claimed his team were still suffering from "the mental shock we got here last season".
That shock, in case you have forgotten, was from a 16-year-old kid called Wayne Rooney coming on with 10 minutes to go and volleying a last-minute winner over David Seaman's head and off the underside of the crossbar from 30 yards. It ended a 30-match unbeaten run and sent the Gunners into a tailspin that involved losing their next three matches in all competitions and with it, arguably, the league title.
Arsenal again return to Goodison today possibly still in a state of shock that Wenger, the only key personnel pitchside who was there back then, must hope his players have recovered from.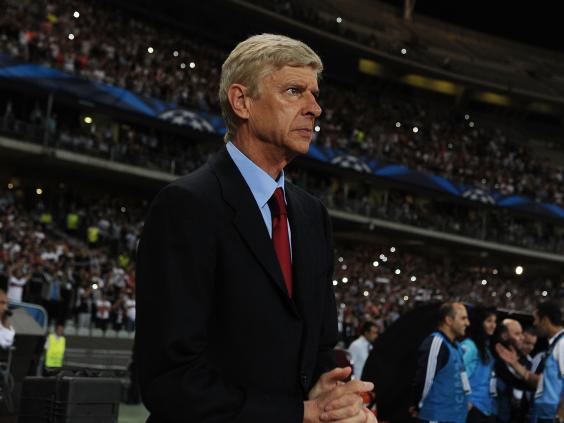 Four and a half months ago, Everton terrorised them, winning 3-0 and taking from their opponents the initiative in the race for fourth place with just five matches to go.
"That was one of our low points last season," Wenger said. "It meant it was not in our hands any more. It was in the hands of Everton. In the quality of our performance, and even more than that in our mental resistance, the mental steel on the day. At the back we had Mertesacker, Vermaelen, Monreal and Sagna. We were a bit bullied. It was an off day, physically as well as mentally."
Indeed they were bullied. Sensing weakness in Arsenal's stand-in left-back Nacho Monreal, Everton's manager Roberto Martinez moved Romelu Lukaku to the right flank, from where he ran mercilessly at him all afternoon, at one point cutting inside, dancing across the edge of the box past both Arsenal's centre-halves and slapping the ball into the bottom right corner of the net for Everton's second goal.
Arsenal's defence has far more question marks hovering above it than then, but possibly a bright star too. Thomas Vermaelen is gone. So is Bacary Sagna. If Per Mertesacker returns it will be his first game of the season, and his readiness is questionable given Wenger has confirmed he will "certainly not" risk all three of his German World Cup players.
His other first-choice central defender, Laurent Koscielny, went off with an Achilles problem at half-time in the Community Shield  two weeks ago. If he starts today it will be for the third time in a week, a situation his manager admits he would have liked to avoid.
Monreal will almost certainly start again for the injured Kieran Gibbs, reigniting his contest – if you can call it that – with Lukaku.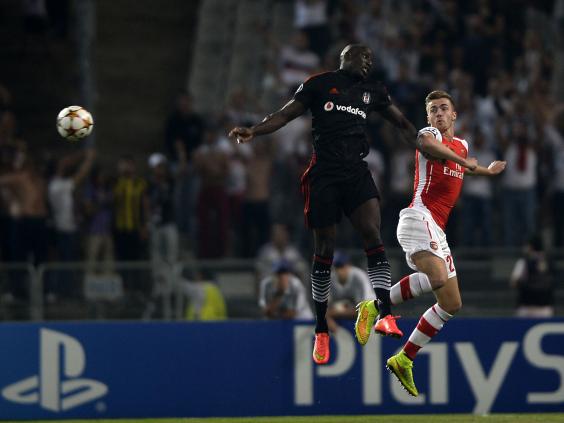 Arsenal have an option in Calum Chambers. The  19-year-old, playing in central defence, has twice in a row been voted man of the match by Arsenal fans. He showed his class against Manchester City in the Community Shield, even if the champions did not show theirs, but Everton, and Lukaku, will be a different matter.
"It is a big test, yes," Wenger admitted. "But it was a big test against Demba Ba on Tuesday night [against Besiktas], who was strong in the Premier League and he managed to do that very well."
Arsenal did recover, in the end, from that 2002 Rooney goal. They crushed Everton at a canter on the opening day of the season in both 2003 and 2004. Back then, giants walked the midfield. Now the Gunners are the lightest team in the Premier League.
"It's true we are a bit more lightweight than before, when we had [Emmanuel] Petit, [Patrick] Vieira, [Ray] Parlour," Wenger said, striking something of a bulldog pose. "But it is a coincidence. Maybe because we use more technical players in the middle of the park, especially Mikel Arteta. It depends who plays. When Vieira left we had Fabregas, who was 17 years old. You can't say, 'you're not heavy enough'. He had the quality to play."
Arteta too will be absent for the return to his old club. Now the Arsenal captain, the Spaniard is probably the first name on Wenger's team sheet when fit, given how few options he has in that defensive midfield position, where he admits he is looking for another player.
Both Arteta and Arsenal's only other disruptive midfielder, Mathieu Flamini, started in April, not that it helped them. Today, if Flamini starts, as he surely will, he will have to stand up to the bullies on his own.
But Everton too have their reasons to be haunted by that victory. At the final whistle, Martinez was hailed as the bright young manager of a team playing with all the verve and dynamism of an Arsenal of old. But the Champions League place they thought they had won that day they then squandered with defeats by Crystal Palace and Southampton, while Arsenal jogged through five straight wins and finished a full seven points ahead of them.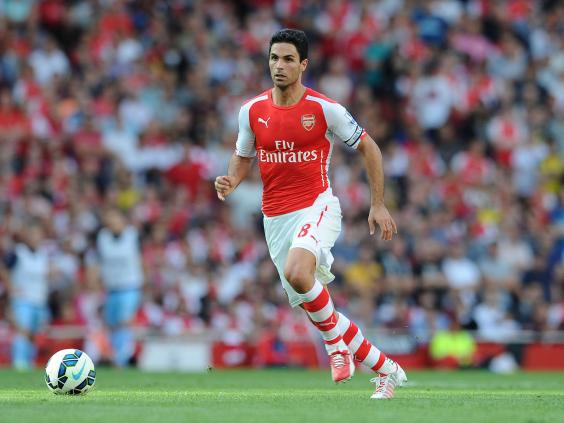 Wenger claims the £29m paid for Lukaku means Everton "have entered, this season, that bracket of clubs who spend £20m to £30m for one player. Behind that is the ambition to go in to the top four. That's the price to pay for ambition nowadays. That's good. It makes the Premier League more interesting."
Everton were unlucky to be held to a draw by newly promoted Leicester last weekend. Martinez claims his team's "pre-season was perfect" and "the team is ready".
But he admits: "Until you play against sides like Arsenal and Chelsea you don't have the answers on the pitch. I see five teams with equal chances of winning the title and I think it is going to come down to small margins. I expect this competition to be the tightest we have ever seen."
His team finished fifth last year, above the previous season's champions Manchester United, and we can bet that Martinez will be aiming as high if not higher this season. But as small margins go, Ross Barkley's absence, probably until at least October, is on the large side.
Arsenal have not beaten Everton in four Premier League matches, their worst run against any opposition. Should that run extend to five today the demons of last season could well reappear for Wenger's team.