Nigel Pearson used his intense touchline presence for good last night, but it was not quite enough to save this match. Whether it will be enough to save his job, or Leicester City's Premier League status, remains to be seen.
Three days on from Pearson's bizarre technical area altercation with James McArthur, which almost saw him sacked, Pearson began this game with the directors up in the stands. He watched, upstairs but powerless, as his team took the game to Arsenal but slipped 2-0 behind. Arsenal had not played well – they did not all evening - and Pearson sensed their vulnerability. He spent the second half pitch-side.
The Leicester players found a new level in the second half, pulled one goal back and had chances to equalise. The travelling fans clearly support Pearson and on this evidence the players do too. They left north London with nothing but the encouragement that they still have it within themselves to play well. Pearson said afterwards that there have been too much good performances in defeat, which is true, but with good performances there is still some hope.
Arsenal's weekend was traumatic in a different way and all they needed was a result. That is what they got, ensuring that Saturday's defeat did not turn into anything more damaging. But there were few other positives to take from an anxious performance. Mesut Ozil had his moments, and was involved in both goals, but the team did not convince at either end of the pitch. Arsene Wenger admitted to Pearson at full-time that his team had been "lucky" to take all three points, and he was right.
Arsenal 2 Leicester 1 player ratings
Arsenal 2 Leicester 1 player ratings
1/22 David Ospina 6

He didn't enjoy the runs of Schlupp or Mahrez but when he was tested by either of them he was good enough to prevent any sort of danger. He got very used to tame shots from outside the area that he collected every time.

2/22 Hector Bellerin 6

Attempted to get forward whenever he could and unlike against Tottenham he didn't harm his defence because of it. He was guilty for not tracking Konchesky when the left-back burst forward down the left, though that was the only glaring error he made.

3/22 Laurent Koscielny 6

Opened the scoring for Arsenal and looked alert throughout the first half. He let the ball get away for him for Kramaric's goal - similar to the way the ball got away from him when Kane scored the winner against Tottenham - but was untroubled other than that.

4/22 Per Mertesacker 6

Left his central defensive Koscielny with trouble to deal with on a couple of seasons but did brilliantly to get back and clear when it looked as though Schlupp would equalise for Leicester City. Cleared

5/22 Nacho Monreal 5

Saw more of the play in the second half as Arsenal chose to alternate the wings more often than in the first half. For some reason he does seem rather cautious when going forward; rarely going as far as the byline.

6/22 Tomas Rosicky 6

Did what he usually does: consistently linking up the attack, while occasionally looking to spread the ball out to the flanks. Never under much pressure from Cambiasso who was meant to have been marked by.

7/22 Francis Coquelin 7

Quickly becoming a revelation for Arsenal. Since the FA Cup game against Brighton and Hove Albion he has played in every match and is almost a permanent fixture in the Arsenal midfield. Very effective when faced with James.

8/22 Santi Cazorla 6

Surprisingly he found it particularly difficult against James and Cambiasso, who it appeared had been selected to monitor and close down the Spanish midfielder at any given moment. Unable to play with as much freedom as usual, he went a little missing in the second half.

9/22 Alexis Sanchez 6

A constant pest to the Leicester City defence on his first game back after a hamstring injury. Upson, before he went off due to injury, was having to endure a torrid time marking the Chile international. He wasn't match sharp but that was to be expected. Replaced by Giroud with over 20 minutes to go.

10/22 Mesut Ozil 6

It was his shot that forced Schwarzer to the ground and allowed Walcott to smash home. And although he provided the corner that was finished off by Koscielny, he did appear a little casual at times and seemed to be playing within himself.

11/22 Theo Walcott 7

Brilliant initiative to follow up Ozil's shot which was pushed into his path by Schwarzer who was ground when the winger smashed past him. He is definitely now back to full match fitness and Konchesky certainly wasn't impressed to be the one with the job of marking him.

12/22 Mark Schwarzer 5

Difficult to blame him for the first goal but could have done a little better to stop the ball falling to Walcott who smashed past him for Arsenal's second.

Getty

13/22 Danny Simpson 5

He was a little guilty of going inside to cover too often which allowed Ozil or Monreal a clear path to goal. He was lucky neither of them took advantage on several occasions.

14/22 Wes Morgan 4

Failed to mark Koscielny for Ozil's corner and the France international subsequently sent Arsenal into the lead.

15/22 Robert Huth 6

In the centre of Leicester City's five-man defence. He organised his back five well and when Giroud came on he didn't give the France international enough space to create a nuisance of himself.

16/22 Matthew Upson 6

Replaced by Wasilewski in the second half after going off due to an injury. He had endured a tough time trying to keep Sanchez in his sights.

17/22 Paul Konchesky 6

Tried to get forward as much as possible. His brilliant pass in the first half required a full stretch clearance from Mertesacker to deny Schlupp the chance at scoring the equaliser. Unfortunately he didn't have a quiet night with Walcott coming at him with pace.

Getty

18/22 Riyad Mahrez 6

Dangerous against Monreal but didn't do enough to threaten Ospina in the Arsenal goal.

19/22 Matty James 7

His prime objective was to stop Cazorla being as creative and offensive as possible. He did that to great effect and was one of Leicester City's best players on the night.

20/22 Esteban Cambiasso 6

Allowed to push forward a little more than James, the midfielder helped to win back possession whenever Rosicky was a bit clumsy. He helped to provide Kramaric with support but sometimes found himself bypassed in midfield.

21/22 Jeff Schlupp 6

Should have done better to get to Konchesky's pass in the first half. Against strong opposition you have to take your chances and Schlupp failed to do so.

22/22 Andrej Kramaric 6

Too his goal brilliantly but should have equalised in the last ten minutes. His tame lob was swiftly plucked out of the air by Ospina. To his credit he never stopped working.

Getty
Arsenal might well have been surprised by how well the first half went, given how flatly they started it. They looked, frankly, like a team who had been the wrong end of a physically and emotionally draining derby just three days before. If they had been floored by Harry Kane's one-two punch on Saturday afternoon then here, back at home, they were still trying to get back on their feet.
Wenger, quite understandably, wanted to put some more pace in a team that had been out-run by Tottenham on Saturday. So Olivier Giroud, Danny Welbeck and Aaron Ramsey, ineffective at White Hart Lane, dropped to the bench. Alexis Sanchez came back in to lead the line, providing a more mobile focus than Giroud ever will.
The problem was that Leicester City arrived especially determined to slow them down. Nigel Pearson has had an unusual week to say the least and he desperately needed a result. His gamble, hoping to save his job, was a new system – 5-4-1 – and a first appearance of the season for Matthew Upson. It nearly worked.
For the first 30 minutes, and for the whole second half, Leicester were tactically perfect. Upson, Robert Huth and Wes Morgan were impenetrable at centre-back, while Riyad Mahrez was electric on the counter-attack, twice nearly put Leicester ahead.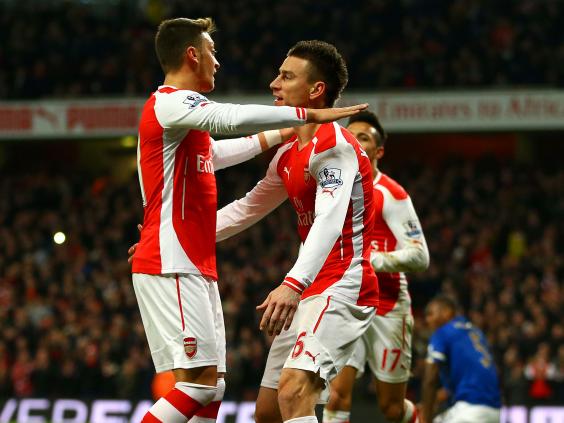 Unfortunately for Pearson, their inefficiency extended to both penalty areas, and that is why they are where they are. Mesut Ozil, quiet on Saturday, had been growing into the game and had Arsenal's first real chance when he stabbed a shot towards the bottom corner, forcing Mark Schwarzer to tip it round the post. Ozil curled the corner in, Koscielny lost Morgan and volleyed the ball in.
It was disappointing to look so solid and then concede so meekly, and the second was just as bad. It was four minutes before the break, with Leicester still threatening on the counter. But Jeff Schlupp lost the ball to Hector Bellerin and Arsenal moved the ball briskly across to Ozil in space. With his left foot, from 25 yards, Ozil shot, Schwarzer spilled it and Walcott finished.
Leicester had not been far away with their first-half efforts, though, and they restarted the game with the energy of a side trying to make up for something. Maybe it was the inspirational presence of the reprieved Pearson down on the touchline, but they had more conviction and spirit in the second half, and threw everything they had at Arsenal.
It was clear quickly enough that they could cause Arsenal problems, with the movement of £9million Croatian Andrej Kramaric increasingly elusive. He ghosted into the right-hand channel and forced Ospina into a sharp save. Mahrez's cross had to be headed off the line by Per Mertesacker and Arsenal could not say that they had not been warned.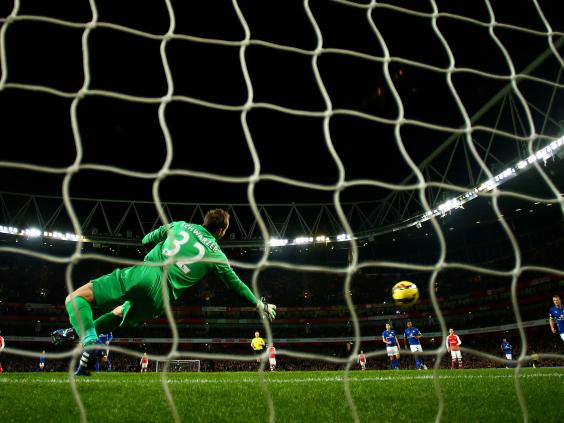 But the complacency cost them and, 16 minutes into the second half, they finally conceded. Cambiasso crossed from the right, no-one cleared it and when the ball fell to Kramaric a tired Sanchez, who did not look like someone who had been well-rested, could not close him down. Kramaric angled the ball into the bottom corner and the game was back on.
Leicester pushed on for an equaliser and they came close. Mahrez, the comfortable ma of the match, skipped away from tackles and curled a shot just beyond the far post. Then he broke and fed Kramaric, who tried to chip Ospina only for the Colombian keeper to stand his ground and catch it.
Leonardo Ulloa and David Nugent were thrown on at the end but Leicester had run out of energy. Arsenal never enjoyed this frayed second half, not least when Aaron Ramsey limped straight down the tunnel just nine minutes after coming on, with his third hamstring injury of the season, but they hung on. It was not much fun for them, but neither was Saturday.
Reuse content