Claudio Ranieri was dressed head-to-toe in black as he walked into the press room at the King Power Stadium yesterday, shaking the hands of over 50 journalists and cameramen before sitting down to discuss the remarkable prospect of Leicester City edging three points closer to the Premier League title tomorrow.
"So many of you," Ranieri said. "It did not take so long to shake the hands when it was only five or six of you!"
The Italian's dark attire clearly did not match his mood. Arsène Wenger may have questioned the psychological durability of Leicester's players yesterday morning, the first outbreak of title-race mind games perhaps, but Ranieri's smile remained intact as he volleyed Wenger's barbs back at the Frenchman, insisting that only one team will be immune from the pressure in the coming weeks.
"Tell me why I must feel pressure?" Ranieri asked. "We are close to continuing to dream with our fans and we want to dream. Nobody wake us up, please. Listen, I think the pressure is about the other teams, not us. I think we worked so hard to achieve this level, but we want to stay at this level.
"It is no pressure for us, the pressure was to start well at the beginning and maintain our standard. But we are staying and we want to fight. We respect our opponents, we want to win, but if we lose, there is always the next match. I don't have pressure and I try to take pressure out of my players, but let us see how we play."
There is a sense of calm at Leicester which belies suggestions that Ranieri's team will begin to feel the heat. Having won at Manchester City and Tottenham recently, the ever-increasing obstacles which have been placed in Leicester's way have been cleared in impressive fashion.
Following tomorrow's trip to the Emirates, Leicester will not have to face any of the current top four again, with a trip to fifth-placed Manchester United appearing on paper as the most challenging fixture.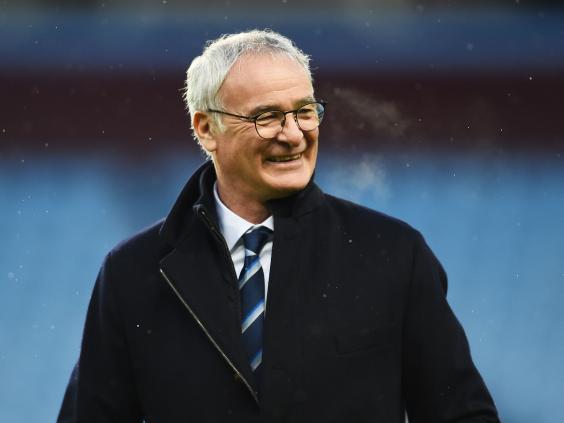 Beyond that, it is encounters with the likes of Norwich, West Bromwich Albion, Sunderland and Newcastle, with a trip to Chelsea on the final day offering Ranieri the prospect of the ultimate fairy-tale ending in front of Roman Abramovich's executive box.
But with Arsenal losing ground in recent weeks, Wenger insists that the lack of top-level experience within Ranieri's squad could trigger the wobble that will open the door for the Frenchman's team.
"Of course, it is very romantic and I understand the whole country [being behind them]," Wenger said yesterday. "That is human. I don't know well Leicester, but they have a manager with a lot of experience who has tried to deflect a lot of pressure and thinking from the team. How long you can isolate the players from that, I don't know, but Leicester today is in a position where they have nothing to lose."
Arsenal, on the other hand, have plenty to lose. A defeat tomorrow would leave them eight points adrift of Leicester, whose self-belief would receive another huge lift should they emerge victorious from the Emirates.
Having defeated City last Saturday with a team costing a sum total of £22m, Leicester have already claimed the financial high ground in this title race and Ranieri was quick to remind Wenger, and his counterparts at City, Manchester United and Chelsea, that the prospect of a Leicester title triumph would be a living nightmare for the  so-called superpowers.
"I know that slowly, slowly, people want to build pressure, they say we will go down [fall away]," Ranieri said. "But now people are thinking we can win, so it is important for them to say something because they spend a lot of money and, if they don't win, it is a disaster.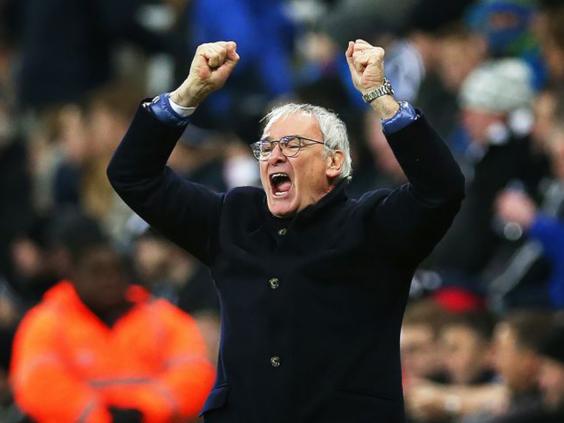 "You mention the money, that is the big guy. We are the little guy, but Arsène spends big money every year. If you have money, you can build a fantastic team to win the Premier League and the Champions League, but this season is totally different.
"A little team is fighting because a lot of big teams are not playing so good.
"But it is a crazy league because the big-spending teams are not in a normal position. We are now top of the league without spending money, it is fantastic, unbelievable, but we want to continue."
Leicester's ability to resist the pressure in defeating Tottenham and Manchester City, and Liverpool at home earlier this month, has alerted Wenger to the prospect of their remarkable run continuing. "They had a decisive test against Liverpool and City," Wenger said. "If they had lost, you would have said 'no, they can't do it', but these two games were the turning point in their season.
"Against City, they had a kind of dominance in belief in every challenge, that special force where teams get into a zone where they think, 'we can do this'. That was the message they gave out in this game, that every single player gave out.
"They have certainly silenced all the doubters since the start of the season because, at Christmas, people were saying they would not be there and they are still there.
"But once you are top of the league, you can also think about losing what you have, and that is where the nerves come in a little bit. I do not know how they will respond to that."
With Tottenham travelling to City tomorrow afternoon, the make-up of the top four could become clearer with decisive results in both games. But Leicester travel to London as favourites with some bookmakers – a novelty which Ranieri is enjoying after being billed as the favourite to be the first manager to be sacked at the start of the season.
"I hope the bookmakers are right this time," the former Chelsea manager said. "But I am a very pragmatic man, give me points, not words.
"We know very well that we need to make points in every match, but we know we can lose against Arsenal. But it is important to continue. We did our job [by reaching 40 points], our goal is OK, so everything we can do now is fantastic. Maybe it is a key match for him [Wenger], but not for us."
Wenger's concerns are clear. He has expressed fears that Leicester will benefit from free weeks when his team are in Champions League action, but for Ranieri, Wenger's worries are simply more fuel for the Italian and his players.
"When he [Wenger] plays, we go to the sea[side], make some swimming and go to the sunshine," Ranieri joked.
The Tinkerman is enjoying himself and that could be bad news for those attempting to get under his skin.
Reuse content