Arsene Wenger has grown accustomed to the fundamental questions of ambition, courage and basic goalscoring competence being asked of his Arsenal team at some point in recent seasons, but rarely has he experienced it as early as three games into a campaign that promises so much.
His side are without a goal, let alone a win, in two home games, and the club's rationale in the summer transfer market is being questioned even before the window has shut. Gary Neville, the Sky Sports pundit, accused Wenger of "arrogance" for not signing more dominant, physical midfielders, while on the pitch Olivier Giroud once again posed the question of whether Arsenal can afford to call him their go-to striker for another season.
Had a wrongly disallowed Aaron Ramsey goal stood it might have been different for Arsenal and certainly things will improve but the question is whether they will improve sufficiently that a serious title challenge can be mounted. Wenger has long stressed the importance of a good start to the league season after the sluggishness of 12 months ago and four points from Arsenal's first three games cannot be classified that way.
His team were outplayed by Liverpool in the first half and then, when they recovered the game after the break, Arsenal could not make the breakthrough that would earn them the three points. Wenger was unprepared to launch a full-scale attack on referee Michael Oliver and his erring linesman Simon Bennett which told you that the Arsenal manager recognised his own side's shortcomings.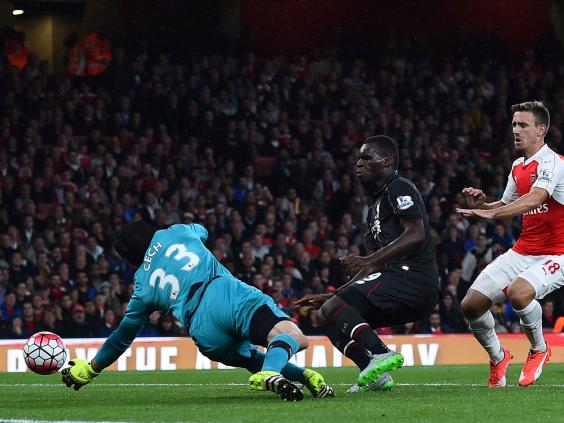 As for Liverpool, they might have believed they could have won this game after an exhilarating first half, led by the marvellous Philippe Coutinho. By the end they were hanging on for a point but hang on they did, with this newly discovered fortitude that was too often beyond them last season.
It as if the horrors of his team's six-goal demolition at the Britannia Stadium in May are still replaying in Brendan Rodgers' thoughts even now, or at least that the Liverpool manager has vowed never to forget them as he rebuilds his team along different lines to the side that almost won a title two seasons ago.
Three Premier League games, three clean sheets, two goals and no defeats – not what you might expect of Rodgers' Liverpool but for now it will do their embattled manager just fine. He has come out like a mid-order batsman in the middle of an innings in collapse and played a cautious knock to get his eye in. With the benefit of the disallowed Ramsey goal, his Liverpool side dominated the first half and then dug in to survive after the break.
In the second half they were encircled by Arsenal and needed a heroic performance in defence from Martin Skrtel and Dejan Lovren. In the first half Arsenal had been kept in the game by Petr Cech and there were times when Alexis Sanchez looked like he might win it on his own after the break. Wenger made the kind of substitutions that were designed to win the game in Theo Walcott and Alex Oxlade-Chamberlain but they could not break Liverpool down.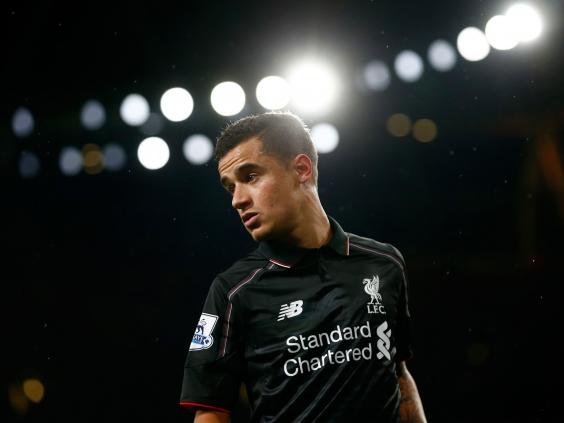 Rodgers' side were the beneficiary of the kind of bad decision that Bournemouth also suffered from against them at Anfield the previous Monday. It was a straight offside called erroneously by the linesman Bennett in the eighth minute, and the kind of foul-up that lets the whole show down.
The key ball was a beautiful pass by Santi Cazorla to bisect the Liverpool defence and a good run and finish from Ramsey who was level when the pass was released. No excuses for getting it wrong and immediately the game felt out of kilter.
As for Arsenal, that was as good as it got in the first half. They had already seen Coutinho's shot strike the bar on three minutes and there was precious little respite after that. Without both Per Mertesacker, who was unwell, and the injured Laurent Koscielny it was always a stretch to imagine that Gabriel and Calum Chambers would be up to it. Against one of the best attacking performances of the season so far it was a wonder they got to half-time without conceding.
Arsenal 0 Liverpool 0 player ratings
Arsenal 0 Liverpool 0 player ratings
1/22 Petr Cech

His best game in an Arsenal shirt. His heroics somehow denied Christian Benteke in the first half when the Liverpool man looked certain to score from close range. 8

GETTY IMAGES

2/22 Hector Bellerin

Has made the right-back position his own. 7

GETTY IMAGES

3/22 Calum Chambers

Looked all over the place in the first half but did improve after the break. 6

GETTY IMAGES

4/22 Gabriel

Had a difficult evening against Christian Benteke as Arsenal missed Per Mertesacker and Laurent Koscielny. Headed over in the dying seconds. 5

GETTY IMAGES

5/22 Nacho Monreal

Arsenal never looked comfortable at the back and Monreal was caught out a few times. 6

GETTY IMAGES

6/22 Francis Coquelin

Plays an important role shielding the back four but not a player who is going to unlock a defence in a tight match like this. 6

GETTY IMAGES

7/22 Santi Cazorla

Looked most likely to unlock the Liverpool defence. 8

GETTY IMAGES

8/22 Aaron Ramsey

Had a goal wrongly disallowed in the first half when replays suggested he was onside and had a curling effort saved by Simon Mignolet in the second half. 7

GETTY IMAGES

9/22 Mesut Ozil

Quiet. Did not have enough influence on the game. 5

GETTY IMAGES

10/22 Alexis Sanchez

Missed Arsenal's the best chance of the game when he hit the post from close range in the second half. 6

GETTY IMAGES

11/22 Olivier Giroud

A peripheral figure before being replaced by Theo Walcott with 20 minutes to go. 5

GETTY IMAGES

12/22 Simon Mignolet

Saved brilliantly form Olivier Giroud and then denied Aaron Ramsey's curling effort with Arsenal pushing for a winner in the second half. Booked for time wasting as Liverpool settled for a point. 8

GETTY IMAGES

13/22 Nathaniel Clyne

Looked dangerous when he went forward down the right and was solid going to the other way. 7

GETTY IMAGES

14/22 Martin Skrtel

Put in a brilliant defensive display as Liverpool frustrated Arsenal. 8

GETTY IMAGES

15/22 Dejan Lovren

Has had his fair share of criticism but did well here. 7

GETTY IMAGES

16/22 Joe Gomez

The former Charlton defender has made an excellent start to life in the Premier League and impressed again. Looks a real talent. 8

17/22 James Milner

Captained Liverpool in the absence of Jordan Henderson and did well. 7

GETTY IMAGES

18/22 Emre Can

Struggled in midfield and was booked. 5

GETTY IMAGES

19/22 Lucas Leiva

Did well considering it was his first game of the season but tired as the game wore on before being replaced midway through the second half. 6

GETTY IMAGES

20/22 Roberto Firmino

A quiet night for the £21m signing from Hoffenheim on his first Liverpool start. 6

GETTY IMAGES

21/22 Philippe Coutinho

Came closest for Liverpool when his curling shot hit the post. 7

GETTY IMAGES

22/22 Christian Benteke

Caused Arsenal problems with his physical presence all evening. 7

GETTY IMAGES
That was a consequence of a major performance from Cech, who was having one of those days when he got to everything. There was a back post save from Christian Benteke when Rodgers already had his arms in the air to celebrate. There was a fingertip touch onto a hit from Coutinho on the left that did enough to take the ball onto the post.
In the meantime, the Liverpool No 10 was moving the ball about in directions with which Hector Bellerin was quite unfamiliar. The young Spanish right-back has rarely looked quite so out of his depth. With Lucas Leiva, soon to depart on loan to Besiktas, in midfield for the first time, and Emre Can as the playmaker this was a fine first half performance from Liverpool. They consistently found space on both wings and Benteke's directness offered a nice contrast to the intricate build-up play.
The disallowed goal aside, it was hard for Arsenal to get out and put some pressure on their visitors before the break. They had none of those sustained periods of possession around the opposition box that can build up momentum and pressure. Sanchez turned James Milner once in midfield with a brilliant change of pace and direction but he was otherwise quiet until the break.
That changed after half-time when Sanchez moved front and centre for Arsenal. They were encamped on the perimeter of the Liverpool area and determined to inflict death by high-density passing. Rodgers called upon Jordon Ibe around the hour to give Roberto Firmino a breather.
The home crowd had been calling for Walcott for a while before he came on in place of Giroud who had missed enough half-chances to make up Wenger's mind that it was time for a switch. Giroud's best moment was a flick into the path of Sanchez from Cazorla's pass on the hour when the Chilean forward hit the post.
Rodgers ignored attacking options such as Danny Ings and Divock Origi and instead reinforced his side with a league debut for midfielder Jordan Rossiter, sporting the kind of haircut Steven Gerrard had around the millennium, and then finally replaced Coutinho with Alberto Moreno. That was the indication, were any needed that the point would do nicely for them. In defence of their embattled manager it has suited them very well indeed.
Reuse content