There was a point last season, Per Mertesacker reveals, when the Arsenal dressing room was getting a bit heated.
The team had suffered too many "severe" beatings, so it was time for severe words. Mertesacker, like a fair few Arsenal leaders before him, is evidently a believer in the benefit of confrontation – of a culture of telling people what is not working. He feels it might have been something missing from the modern game, and modern society.
"We tried to think what went wrong for us last season, especially when we got beaten heavily by those big teams. Very severe," Mertesacker says as we sit down after training this week. "It's always a big discussion. I mean, we are responsible for our performances. No one wants to have such a miserable day again.
"You need that arguing culture. We lost that at times. It gets personal, and someone gets upset too quickly, but you have to face the truth and have a proper argument. That was normal 10 years ago and it has slightly changed.
"We lost that a bit, what is the intention of argument. It's really important, not only in general, but in a footballer's life. It has to get louder sometimes. We need to discuss, to find solutions, to get everyone in one direction."
Arsenal's best XI of the season so far
Arsenal's best XI of the season so far
1/11 David Ospina - 7.40/10

Liverpool owner John W Henry once asked 'What are they smoking at Emirates?'. When it came to having a puff the focus landed on Wojciech Szczesny who was dropped from the team having been caught having a crafty cigarette in the changing rooms after Arsenal's game with Southampton. It was enough for Wenger to give Ospina his chance and the Colombian has easily been more impressive than Szczesny (6.46) was.

GETTY IMAGES

2/11 Nacho Monreal - 7.35

There is real competition at left-back with England international Kieran Gibbs (7.04) an option, but it's Monreal who scores higher.

GETTY IMAGES

3/11 Gabriel Paulista - 7.46

Only signed in January, the Brazilian defender ranks as the best centre-back at the Emirates based on his performances so far.

GETTY IMAGES

4/11 Laurent Koscielny - 7.37

Paulista is joined by Laurent Koscielny, meaning Per Mertesacker (7.07) is the one to miss out. Calum Chambers, who made such an impressive start to the season, is on 7.05.

GETTY IMAGES

5/11 Mathieu Debuchy - 7.25

The Frenchman has been out since January but in the 14 appearances before then he made more of an impression than youngster Hector Bellerin (7.21) - if only just. Debuchy is nearing his return from injury just in time for the season run-in.

GETTY IMAGES

6/11 Mesut Ozil - 7.56

Has been much derided following his £42.5m switch from Real Madrid, but Ozil has begun to show why Arsenal were willing to pay so much money. The World Cup winner recently spoke about aspiring to be crowned the best player on the planet. He'll have to start by being the best player at Arsenal but as it stands he's the third best based on these ratings.

Getty Images

7/11 Francis Coquelin - 7.53

In his 12 starts since returning from a loan spell at Charlton, Coquelin has seemingly solved the desperate need for a defensive midfielder. Alternate options Mathieu Flamini (6.78) and Mikel Arteta (6.73) don't get close.

GETTY IMAGES

8/11 Santi Cazorla - 7.65

Unsurprisingly based on his brilliant season, Cazorla completes the midfield in this 4-3-3 line up, with the Spaniard considered the second best player of Arsenal's season so far. That means there is no place for the Alex Oxlade-Chamberlain (7.20) had he been fit, Tomas Rosicky (6.73) or Jack Wilshere (6.69). But perhaps the most unexpected player to miss out if based on pre-season prediction is Aaron Ramsey, who's inconsistent performances see him score 7.02 and miss out on a place.

GETTY IMAGES

9/11 Danny Welbeck - 7.30

He might have scored just four Premier League goals since joining from Manchester United, but Welbeck's overall contribution sees him score enough to keep Theo Walcott (6.42) out of the attacking trio.

PA

10/11 Olivier Giroud - 7.46

Never any doubt the French striker would be the best central striker thanks to his 13 Premier League goals and three assists.

GETTY IMAGES

11/11 Alexis Sanchez - 7.84

And completing the XI is of course Alexis Sanchez. The summer signing from Barcelona has been brilliant, scoring 13 goals and collecting seven assists. It makes him Arsenal's best player of the season so far.

GETTY IMAGES
Arsenal are certainly going in a different direction to a year ago. At this stage last season, they were falling from a January position of first place, having suffered heavy defeats to Liverpool and then Chelsea. Now, they are reaching for Manchester City in second place, in what would be the club's highest finish for a decade.
One of the most forthright speakers in the squad, Mertesacker is far from angry as he sits chatting in Arsenal's London Colney base. He is rather content, occasionally even jaunty and jokey – but he also talks stridently about how the side can both perpetuate and emphasise that transformation by beating both Liverpool today and Chelsea in the next few weeks.
Today at the Emirates, in fact, they can almost kill off Liverpool's Champions League challenge with a win. It would be a symbolic and significant reversal from last season, when Brendan Rodgers' side ruined Arsenal's title challenge with that devastating 5-1 scoreline at Anfield.
Mertesacker feels the benefit of those team meetings is that Arsenal have learnt from such games. He believes they have changed their approach, in a way many thought beyond them, saying: "We weren't able to deliver in any big away games Early kick-offs, we suffered a lot. We were not ready. We tried to play our game. We lost balls easily in midfield, then we were easily exposed, and they took advantage of that."
So, with Arséne Wenger's blessing, figures like Mertesacker took hold of the dressing room.
"We had to think about how we can play better, especially defensively," he says. "We slightly changed approach and defended much better at Man City [in Arsenal's 2-0 away win], even at Chelsea, when we lost 2-0.
"We obviously [decided] to play more the easy ball, the secure ball, to not get exposed that quickly, and to drop off at times, and just be in good shape. You could see that. That was the benchmark for me, at Man City, how we played there. They couldn't score against us.
"You learn a lot from defeats. As well, you need to learn from victories. That's even more important, not to drop a single second."
That, after all, is what their recent form has really been about: barely dropping any points, learning to go from victory to victory. The stop-start run before Christmas is long gone. Since the turn of the year, Arsenal have managed the best points return in the Premier League, with Liverpool second. So, the next big question is what changed that form, and why Wenger's side cannot deliver it over the entirety of a season?
Their fine recent run has still  featured the odd slip. Arsenal lost the derby late on to Tottenham Hotspur 2-1, while the Champions League elimination to Monaco was a reminder that some persistent problems within the team remain.
Mertesacker was publicly frank about the European defeat, citing a mental issue, but says psychology might be the source of recent form too: "It's always a big part of our job. You could see it in the first leg [against Monaco]. We were thinking too much, about what can happen when they score.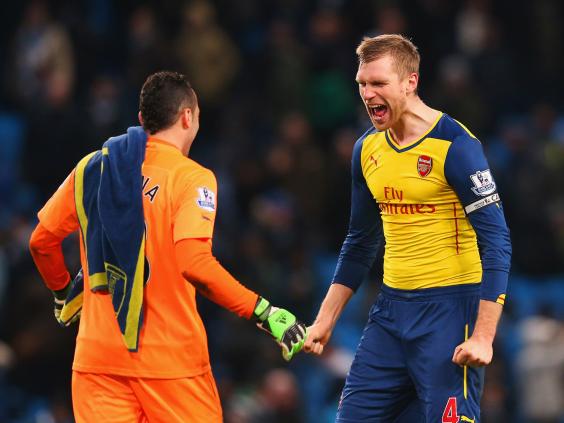 "When you [lose] your own identity in a Champions League match, you will get knocked out, no matter who you're playing. Mentality is a big part of every game, when you take the initiative and when you drop. There's always that mental battle, who's going to have that confidence to be on the front foot."
They've mostly rediscovered that confidence. "After [New Year's Day], January was brilliant with the FA Cup and league. Slowly, we started to build up after what I called a wake-up call. We started to believe in ourselves again. Sometimes you need a humbling experience to think about a few things."
Mertesacker also agrees with Wenger that one reason for Arsenal's recent form is that the team know each other better, after so many injuries and drop-offs in performance level following the World Cup. He admits he suffered a dip himself, and puts some of it down to recovering from Brazil as well as readjusting to a new back line every week for the first few months of the season.
"Automatisms – when you know players better, especially your partner – are a big part of a footballer's life," he explains. "In the first 10 games, we had literally 10 different back fours, due to injuries, and we had to cope with that. It took its time. As a team, we look quite sharp defensively, not only relying on the back four. There's more team effort, I feel.
"The post-World Cup difficulties were a new experience for the group, so it took us a long time [to adjust] due to injuries, lack of form. Everyone who was at the World Cup suffered an injury or lack of form. Now, slowly, as players come back, everyone needs to deliver and I think the selection is good at the moment."
Mertesacker is also adjusting to a new moment in his own career. That World Cup winner's medal with Germany brought the decision to retire from representing his country, which has meant free international weeks, like the past seven days. He says he is really noticing the difference – but it means a different type of preparation for today's game.
"To train normally but not have a game at the weekend is a situation you've never had in your career, so you have to get used to it before you get a benefit. So I slowly start to think about the weekend, what I'm going to do, what I have to do. Is it good to relax two days or three days? I've not made my final decision what is best for me. We started on Monday, and you have to make sure you're ready for the weekend. It's good to switch off, but you have to switch on as early as possible to make sure you're mentally ready for a big battle against a big team, to make sure you're pumped up."
Getting the timing right: it almost reflects Arsenal's season, and this might just be the wrong time for Liverpool to face Wenger's side, although Mertesacker is wary of the fluidity of Rodgers' team, saying: "They're very difficult because they always find spaces between the lines. They're going to [try to make] you lose players out of your sight. It's a big threat, but if you are well prepared you can cope with that system as well.
"There is still something [for us] to improve. We're going to face Chelsea and we want to look really sharp in the next couple of weeks, in the FA Cup and everything. That is our target, make the difference for next season and to finish really strong."
There will certainly be strong words to try to guarantee it.
Arsenal v Liverpool is exclusively live on BT Sport 1 from midday today. For all the pre-match build-up tune in to 'Matchday Live with  Fletch & Sav' from 10am
Reuse content