Arsenal end a miserable run by finally showing some character, but this odd 2-2 draw at the Emirates still mostly showed why both these teams and managers have underachieved this season. Just look at the runs of forms this result tops off.
Arsenal still haven't won in the league since early February, Manchester City since early March. That Arsene Wenger has endured a much more trying time probably means he will be the much happier manager and, far from this becoming the season-defining Arsenal defeat that many had anticipated, it instead pretty much defined City's campaign: an impressively fast start, an odd and almost incomprehensible drop-off, an inability to take chances and then just an odd underwhelming sense of dissatisfaction with it; as if they should have done much more. 
They certainly squandered the chance to beat an Arsenal that had been on the ropes and prime for a beating, and it is poor that City twice had the lead against such a struggling side but still couldn't win. 
Arsenal vs Manchester City player ratings
Arsenal vs Manchester City player ratings
1/22 David Ospina, 5 out of 10

Should have done better with City's second goal, with Aguero shooting across the keeper and into the bottom corner of the net.

AFP/Getty

2/22 Hector Bellerin, 6

Rarely beaten for pace but horrendously exposed by Leroy Sane for Manchester City's opening goal.

Getty

3/22 Shkodran Mustafi, 6

Terrific header to level the scores. Exceptionally lax in possession, however, and looked shaky alongside Gabriel.

Arsenal FC via Getty

4/22 Laurent Koscielny, 6

Not one of the Frenchman's better performances – he failed to make a single tackle although did make a number of key interceptions. Withdrawn at half-time with an Achilles problem.

Getty

5/22 Nacho Monreal, 5

At fault for City's second goal and was repeatedly guilty of affording Sergio Aguero too much space.

Arsenal FC via Getty

6/22 Francois Coquelin, 5

This isn't the first-time he's struggled playing alongside Xhaka. Jumped into some dubious tackles and offered little on the counter-attack.

AFP/Getty

7/22 Granit Xhaka, 5

Frequently overran in the middle and, once again, recklessly jumped into several tackles.

Getty

8/22 Theo Walcott, 6

Wasted more than one chance in the first-half but persevered to score for the home-team, out-muscling Clichy to poke home.

Getty

9/22 Mesut Ozil, 6

Registered his 50th assist for Arsenal when Mustafi nodded home his corner. But still a long way from his best. His attitude leaves a lot to be desired.

AFP/Getty

10/22 Alexis Sanchez, 6

Deployed out wide with Welbeck preferred in the central role. Typically busy but, like Ozil, spent a lot of time with his hands on his hips instead of helping out his defence.

Getty

11/22 Danny Welbeck, 6

Worked hard but struggled to create any clear cut opportunities.

AFP/Getty

12/22 Willy Caballero, 6

Largely solid, and saved Ozil's low shot well, but could he have done better with Mustafi's header?

Getty

13/22 Jesus Navas. 5

A surprise to see him in Guardiola's starting line-up, especially at right-back. Looked vulnerable but Arsenal largely failed to exploit him.

AFP/Getty

14/22 John Stones, 6

Made a crucial interception and fared better than Otamendi alongside him.

AFP/Getty

15/22 Nicolás Otamendi, 6

Looked shaky at the back, especially late on after Olivier Giroud had been introduced.

Getty

16/22 Gael Clichy, 6

Desperately at fault for Arsenal's first-goal, when he stepped up and inadvertently played three Arsenal forwards on side.

AFP/Getty

17/22 Fernandinho, 6

Played further forward than expected and had a solid game. Tested Ospina in the second-half with a rasping drive from outside the box.

Getty

18/22 Kevin de Bruyne, 7

Completely sliced open the Arsenal defence with a wonderful through-ball, which Sane raced onto to score. Unlucky not to score himself, twice striking the woodwork.

AFP/Getty

19/22 Raheem Sterling, 6

Withdrawn at half-time. Presumably because of injury, because he started the game well and looked lively out wide.

AFP/Getty

20/22 David Silva, 7

Superb in possession and one of City's busiest players, frequently springing forward and stretching the Arsenal defence.

Getty

21/22 Leroy Sane, 7

The young German's fabulous goal-scoring form continues. A constant threat down the left.

Getty

22/22 Sergio Aguero, 7

A far better performance from the Argentinian. Terrorised the Arsenal defence with a number of surging runs and took his goal with confidence.

Getty
Wenger and his players perhaps at last deserve the credit for that in what has been an awful two months, and similar situations over that time had seen them embarrassingly collapse. That did not happen here.
It was all the more surprising because City started the game looking like they could destroy Arsenal, and looking like they knew exactly how to do it. It was conspicuous from the off that Guardiola's midfielders kept trying to play quick passes through the middle to exploit the remarkable amount of space beyond the Arsenal midfield. 
It was no coincidence that was where the opening goal came from after just four minutes. If the way Kevin De Bruyne's long ball got through was embarrassingly easy, though, there was still a degree of difficulty to Sane's finish. The winger showed supreme composure to go around David Ospina and slide it in.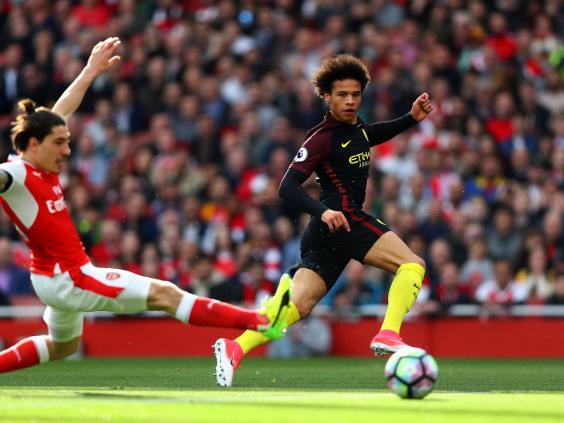 The oddity from that point, though, was that City looked like they could be comfortably better than Arsenal… but were never actually that comfortable. They were slack and never really had control of the game, even if Arsenal couldn't quite take command. The game went into an odd low-quality slump, characterised by the next goal, albeit one the home side probably deserved. 
With Gael Clichy playing two Arsenal attackers onside, the rest of the City defence seemed to fall asleep, allowing Theo Walcott to prod home in the manner of someone who couldn't believe the opposition had actually allowed this to happen.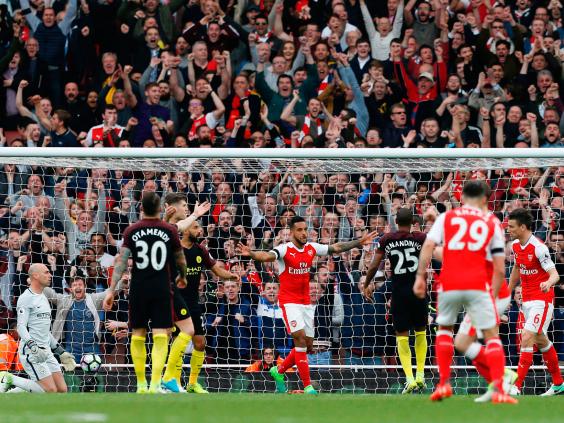 It was typical of everything going wrong at Arsenal right now, though, that even scoring a goal was a negative. It only succeeded in waking a slumbering City up.
Guardiola's side were suddenly much more alert, much more aggressive, and much more switched on, as indicated by the fact it to a mere two minutes for Aguero to make it 2-1. It came from what was possibly the best move of the game, but also showed the worst of Arsenal as the Argentine was given an amazing amount of time and space in the box to beautifully pick his spot. Aguero elegantly swept the ball past David Ospina at an angle, as Wenger threw a water bottle on the ground in angry frustration.
It looked like Arsenal were about to go down a maelstrom again, especially when Laurent Koscielny went off with an achilles injury at half-time, but they directed that anger in the right way. They did not collapse. They rallied, as Shkodran Mustafi rose above the City defence on 53 minutes to head home a corner.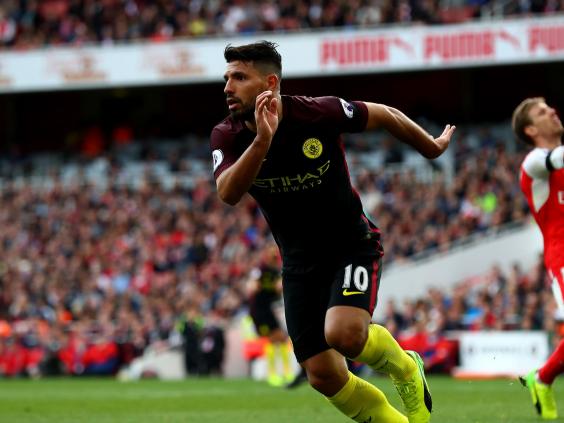 Having been very slow to respond as the ball bounced past Willy Caballero, Guardiola's defenders were quick to look around for someone else to blame. The reality was that they were just generally slack, and had lost all verve from that opening 10 minutes.
An opportunity had been squandered by City, but not just in this match as a whole. There was also the chance that Aguero had just before Mustafi's equaliser, as he headed wide from a hard Jesus Navas cross that he didn't quite seem to expect.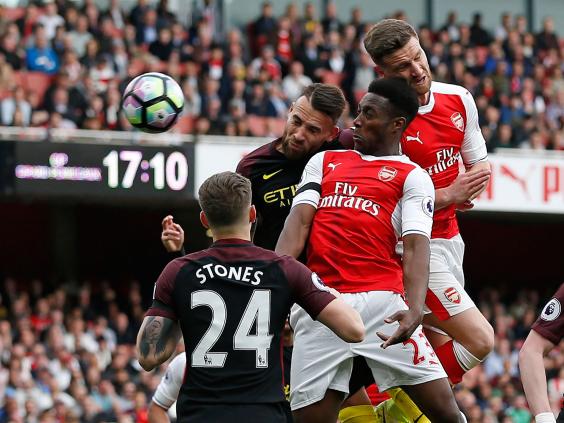 Few perhaps expected Navas to perform so well in the right-back role, even he was one of a few players in this match fortunate to benefit from lenient refereeing when it came to rash challenges, and Aguero was much readier for a similar Navas ball minutes later. Just as he seemed to catch it excellently to catch out Ospina, though, the goalkeeper plucked it out of the air.
City had complaints when another Arsenal player appeared to handle in the area late on, as the ball grazed Nacho Monreal's arm. Wenger was maybe fortunate at that point that Andre Marriner waved away complaints, but could argue he deserves a bit of luck.
Arsenal probably deserved the point, but both teams deserve to be exactly where they are in the table. This odd game showed why.

Arsenal: Ospina, Bellerin, Mustafi, Koscielny, Monreal, Coquelin, Xhaka, Walcott, Ozil, Sanchez, Welbeck.
Subs: Gibbs, Gabriel, Giroud, Iwobi, Martinez, Elneny, Maitland-Niles. 
Manchester City: Caballero, Jesus Navas, Stones, Otamendi, Clichy, De Bruyne, Fernandinho, Silva, Sane, Aguero, Sterling.
Subs: Bravo, Kompany, Zabaleta, Nolito, Kolarov, Delph, Toure. 
Referee: Andre Marriner (West Midlands) 
Reuse content