It was a shame that Louis van Gaal had the 9pm Virgin Pendolino north out of Euston to catch because he had so much more to say.
He was richly satisfied – as satisfied as we have seen him. And who could blame him, after Arsenal had conspired to make his tactics look like a work of genius when they had been given every chance to make a mockery of them.
Van Gaal said that he had reverted to a three-man defence – yet another shift in formation – to make room for two strikers and damage an Arsenal backline that he knew was vulnerable. "It was a risk. Yes, it was a risk," he said. "But I was sure that Arsenal wants to attack and to press us. Then, you know that Arsenal is giving a lot of space away and [Per] Mertesacker and our friend, erm, [Nacho] Monreal has to defend. That's why I put [Angel] di Maria against Mertesacker and [Robin] van Persie against Monreal."
Video: Premier League review
But he could not have remotely pictured Arsène Wenger, with all that longevity, sending out a side whose last line of defence would be stranded halfway into United's half of the field when the breakout for the second goal occurred.
That defending, of which Wayne Rooney was the ultimate beneficiary, belonged to junior-park football and invited the delicate inquiry as to whether Wenger actually prepares his players tactically for balancing attack and defence when they find themselves 1-0 down. His reply was extraordinary in its air of resignation.
"We were 1-0 down and we wanted desperately to come back and forgot a little bit our principles," Wenger admitted. "I have to see it again because I was surprised there was nobody there any more.
Arsenal 1 Manchester United 2 - player ratings
Arsenal 1 Manchester United 2 - player ratings
1/24 Wojciech Szczesny

Didn't have to make a save before he was beaten by a delfection of his own defender having clumsily punched away – not in the same class as the likes of De Gea and Courtois. 5/10

Getty Images

2/24 Calum Chambers

Another strong performance from the full-back who at the moment is appearing to be a far better value signing than his injury-prone former Southampton teammate, Luke Shaw – made a vital challenge to foil Rooney in the first half. 7

Getty Images

3/24 Per Mertesacker

Wasn't asked to do a lot of defending – made some solid headed clearances as you'd expect from him. 5

Getty Images

4/24 Nacho Monreal

Rarely called into action and powerless to keep out Rooney as United overran Arsenal at the end. 5

GETTY IMAGES

5/24 Kieran Gibbs

Despite his own goal he was one of Arsenal's better performers on the day as he has been for much of the season. 7

Getty Images

6/24 Mikel Arteta

A strong influence on the game as Arsenal dominated the first half but failed to maintain that high level after the break. 6

Getty Images

7/24 Jack Wilshere

– Spurned a great opportunity to give his side the lead and was then fortunate to stay on the pitch after an altercation with Fellaini before going off injured early in the second half – a real mixed bag. 6

Getty Images

8/24 Aaron Ramsey

On his 200th appearance for the club he failed to produce the incredible form we saw from him last season as he was outshone by his teammates. 5

Getty Images

9/24 Alex Oxlade-Chamberlain

He seems to do so many things very well – he was a constant menace to the opposition whether it was his passing or direct running with the ball – the best player on the pitch. 8

Getty Images

10/24 Alexis Sanchez

So often the man to dig Arsenal out of trouble this season but it wasn't his day – put in his usual effort but couldn't find the end product on this occasion. 6

Getty Images

11/24 Danny Welbeck

Wasted a good opportunity early on but linked the play extremely well throughout and caused the inexperienced United backline a lot of problems – has to be more ruthless in front of goal. 6

Getty Images

12/24 From the bench: Olivier Giroud

A positive for Arsenal fans to take from a pretty miserable day – the Frenchman marked his return from injury with a thumping strike into De Gea's top corner. 7

Getty Images

13/24 David De Gea

Kept United in the game throughout and made world-class saves from Welbeck and Wilshere, but will be disappointed to have been beaten at his near post by Giroud. 8/10

Getty Images

14/24 Chris Smalling

As the senior centre-back, much of the responsibility for United's frailty must rest with him, but he reacted well to deny Welbeck with the score at 1-0. 6

Getty Images

15/24 Paddy McNair

Arsenal's movement and quick passing exposed the young centre-back repeatedly in the first half. 5

Getty Images

16/24 Tyler Blackett

Failed to cope with Oxlade-Chamberlain's darting first-half runs, but made a timely clearance in the second half to preserve United's lead. 6

Getty Images

17/24 Antonio Valencia

Arsenal's pressure meant he struggled to impose himself on the game from his right wing-back role, but it was his low strike that was deflected in by Gibbs for United's opener. 6

Getty Images

18/24 Luke Shaw

Limped off with an injury after 15 minutes. 5

Getty Images

19/24 Marouane Fellaini

Apart from his flashpoint with Wilshere made little impact as United struggled to control the midfield. 5

Getty Images

20/24 Michael Carrick

Didn't provide his usual calming influence on the ball as United conceded the majority of possession to the hosts. 5

Getty Images

21/24 Angel Di Maria

Provided United's only threat in the first half but faded in the second, although his pass for Rooney's goal was perfectly weighted. 7

Getty Images

22/24 Wayne Rooney

Worked hard for the team in a deep-lying role without creating much, but took his goal brilliantly. 7

Getty Images

23/24 Robin van Persie

Was utterly anonymous against his former club, and was replaced by James Wilson. 5

Getty Images

24/24 From the bench: Ashley Young

Posed a real threat down the left after coming on for Shaw, particularly in the second half. His cross led to the first goal. 7

Getty Images
"They want to do well. I have a lot of respect for this group. They have a great attitude, great spirit and great energy level. But maybe the disappointment of being 1-0 down, everybody wanted too much to go forward…"
He reiterated the statistics he had been reciting for the previous 48 hours: that Arsenal are one of the three quickest teams at winning back the ball and allow least penetration into their final third. He was whistling in the wind. This is Arsenal's worst start to a season for 32 years.
Their perennial vulnerability to a counter-attack owes as much to the lack of a physical central midfield force as to the weakness of a defence which was spared humiliation by Di Maria fluffing another counter-attacking one-on-one chance at the end. But Arsenal's wild abandon would not have been necessary had Danny Welbeck not demonstrated so emphatically why Van Gaal was right to let him go. It is hard to overstate how catastrophically unstable United's three-man defence looked in the game's first half hour when Luke Shaw seemed traumatised by the process of deciding whether to stay back or go. His removal with an ankle injury was a salvation. Welbeck simply lacked the ruthlessness to capitalise.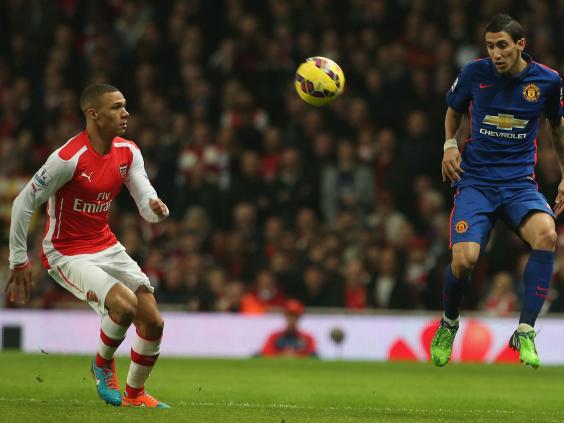 "Ruthless [is what you need to be] for sure because when you are in the box and you can't manage to score in that many situations you can't expect to win a football game," admitted the Arsenal captain Mikel Arteta.
It was the weakest, most vulnerable United side ever to have pitched up at the Emirates and still Arsenal found themselves rolled over.  There was no hyperbole in Arteta's response. "I'm shocked," he said. "I still can't believe we haven't won this game today. I think we played our best game this season in terms of what we demand of ourselves."
United's Chris Smalling, who recovered from a frantic opening to impose himself on the three-man defence and quell Welbeck, admitted: "Given the manager and the players we have got, we should be playing better than we are, with more points. We did not play well."
But Van Gaal's United, now up to fourth in the Premier League table, are demonstrating the ability to take points while being second best, but Arsenal are drifting. "We bought five very good players and our results are not there because we lack a bit of maturity defensively and we pay for it," Wenger said. The problem looks more substantial than that.
Reuse content