The match programme carried images which depicted what immense significance this fixture has always carried. Thierry Henry, David Seaman, Sylvain Wiltord, the league title being won by Arsenal at Old Trafford and Duncan Edwards signing an autograph at the old Highbury Clock End, the week before the Munich Disaster.
How far from that place both now sit. The losing side were energetic and enterprising for a time and the winning side showed the ability to grind out victory which Louis van Gaal seems to have instilled in them, to reach the top four tonight. But both look a distance from matching the best in Europe, or even the best in England. Arsenal's defensive vulnerability revealed itself again when a comedy of errors from Kieran Gibbs allowed Antonio Valencia's drive across the box to deliver United a goal against the odds. And for all the pressure Arsene Wenger's side had put on a United defence which grew stronger as the game wore on, his side could not get through and were punished on the counter-attack once again.
Arsenal 1 Manchester United 2 - player ratings
Arsenal 1 Manchester United 2 - player ratings
1/24 Wojciech Szczesny

Didn't have to make a save before he was beaten by a delfection of his own defender having clumsily punched away – not in the same class as the likes of De Gea and Courtois. 5/10

Getty Images

2/24 Calum Chambers

Another strong performance from the full-back who at the moment is appearing to be a far better value signing than his injury-prone former Southampton teammate, Luke Shaw – made a vital challenge to foil Rooney in the first half. 7

Getty Images

3/24 Per Mertesacker

Wasn't asked to do a lot of defending – made some solid headed clearances as you'd expect from him. 5

Getty Images

4/24 Nacho Monreal

Rarely called into action and powerless to keep out Rooney as United overran Arsenal at the end. 5

GETTY IMAGES

5/24 Kieran Gibbs

Despite his own goal he was one of Arsenal's better performers on the day as he has been for much of the season. 7

Getty Images

6/24 Mikel Arteta

A strong influence on the game as Arsenal dominated the first half but failed to maintain that high level after the break. 6

Getty Images

7/24 Jack Wilshere

– Spurned a great opportunity to give his side the lead and was then fortunate to stay on the pitch after an altercation with Fellaini before going off injured early in the second half – a real mixed bag. 6

Getty Images

8/24 Aaron Ramsey

On his 200th appearance for the club he failed to produce the incredible form we saw from him last season as he was outshone by his teammates. 5

Getty Images

9/24 Alex Oxlade-Chamberlain

He seems to do so many things very well – he was a constant menace to the opposition whether it was his passing or direct running with the ball – the best player on the pitch. 8

Getty Images

10/24 Alexis Sanchez

So often the man to dig Arsenal out of trouble this season but it wasn't his day – put in his usual effort but couldn't find the end product on this occasion. 6

Getty Images

11/24 Danny Welbeck

Wasted a good opportunity early on but linked the play extremely well throughout and caused the inexperienced United backline a lot of problems – has to be more ruthless in front of goal. 6

Getty Images

12/24 From the bench: Olivier Giroud

A positive for Arsenal fans to take from a pretty miserable day – the Frenchman marked his return from injury with a thumping strike into De Gea's top corner. 7

Getty Images

13/24 David De Gea

Kept United in the game throughout and made world-class saves from Welbeck and Wilshere, but will be disappointed to have been beaten at his near post by Giroud. 8/10

Getty Images

14/24 Chris Smalling

As the senior centre-back, much of the responsibility for United's frailty must rest with him, but he reacted well to deny Welbeck with the score at 1-0. 6

Getty Images

15/24 Paddy McNair

Arsenal's movement and quick passing exposed the young centre-back repeatedly in the first half. 5

Getty Images

16/24 Tyler Blackett

Failed to cope with Oxlade-Chamberlain's darting first-half runs, but made a timely clearance in the second half to preserve United's lead. 6

Getty Images

17/24 Antonio Valencia

Arsenal's pressure meant he struggled to impose himself on the game from his right wing-back role, but it was his low strike that was deflected in by Gibbs for United's opener. 6

Getty Images

18/24 Luke Shaw

Limped off with an injury after 15 minutes. 5

Getty Images

19/24 Marouane Fellaini

Apart from his flashpoint with Wilshere made little impact as United struggled to control the midfield. 5

Getty Images

20/24 Michael Carrick

Didn't provide his usual calming influence on the ball as United conceded the majority of possession to the hosts. 5

Getty Images

21/24 Angel Di Maria

Provided United's only threat in the first half but faded in the second, although his pass for Rooney's goal was perfectly weighted. 7

Getty Images

22/24 Wayne Rooney

Worked hard for the team in a deep-lying role without creating much, but took his goal brilliantly. 7

Getty Images

23/24 Robin van Persie

Was utterly anonymous against his former club, and was replaced by James Wilson. 5

Getty Images

24/24 From the bench: Ashley Young

Posed a real threat down the left after coming on for Shaw, particularly in the second half. His cross led to the first goal. 7

Getty Images
Injuries that both sides could sorely do without – to Arsenal's Jack Wilshere and Manchester United's Luke Shaw – were the concerns that Wenger and Louis van Gaal carry forward. But the Dutchman's biggest anxiety will be any suggestion that David de Gea might want to leave Old Trafford. He saved United's skin again tonight.
These matches are not what they used to be. Juan Mata and Ander Herrera wiled away five minutes in pleasant conversation on the pitch with Santi Cazorla before the game. If they didn't have care in the world then they should have done. We are almost into December, Louis van Gaal is still changing systems – back, here, to the three-man defence which he began the season – and for the first half hour his back line looked little less than traumatised by the prospect at being asked to play in yet another formation.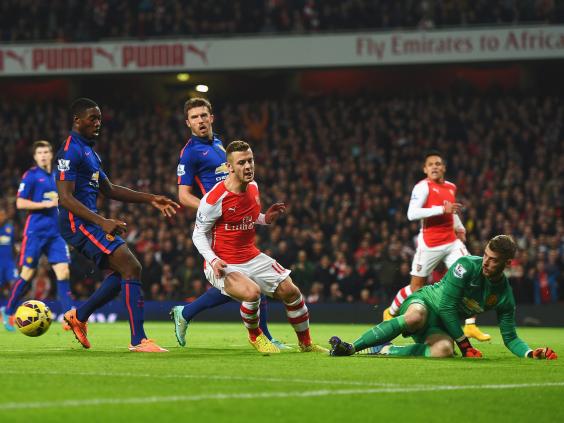 A three-man back line needs a leader and full backs with positional sense to make it back and support. But it was a catastrophic unit for 20 minutes. United's struggle to get any organisation into their defensive game was compounded by Arsenal enjoying one of their best 45-minute spells of the season. They terrorised down the right side of the United box, with Alex Oxlade-Chamberlain starting the game like a train and Calum Chambers overlapping, leaving Luke Shaw – morphing from full-back to win-back – utterly at sea. Young Tyler Blackett fought his own battle to get organised and Arsenal looked odds on to take an early lead.
They had Danny Welbeck's to thank for the failure to break the deadlock. The game was only four minutes old when a Chambers/Oxlade-Chamberlain exchange saw the winger put Welbeck through into the six-yard box but Paddy McNair made a block. The truly gilt-edged chance arrived five minutes later. Oxlade-Chamberlain beat Rooney in an aerial challenge near the right touchline, emerged with the ball and delivered a cross from the byline which allowed Welbeck a clear header. He got under the ball and sent it over the bar.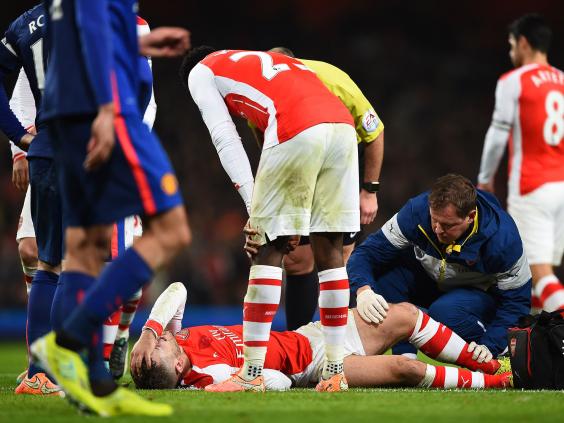 Welbeck is finding faith in his work here that he did not know at Old Trafford. There was even a cardboard cut-out figure of him in the match programme. But the old question mark about him – the number of opportunities he needs to put a goal away – was revealing itself again.
It was not only the United defence which struggled. Michael Carrick also failed to get hold of the area in front of them and the central ball behind the defence worked several times more. Smalling was too busy worrying about Welbeck to prevent Wilshere running hard and unchecked to get two clear shots in on goal. De Gea saved both, with a third stop in that spell keeping his side in the game.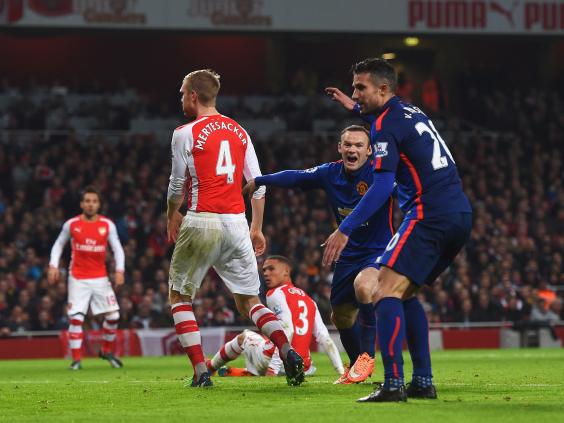 It was easy street for Arsenal, which made Wilshere's bad-tempered retaliation at Fellaini just before the half hour mark even more indisciplined. A tussle between the two of them left Fellaini standing over the Englishman, whose responded by directing his head at the 6ft 4in Belgian. If Fellaini ahd been a few inches shorter Wilshere would have connected and would have been dismissed. He was lucky not to have been given his orders, in any case.
Arsenal's vulnerability to the counter attack was always likely to give United their opportunities and they did begin to threaten towards the end do the half, with Angel di Maria the fulcrum on the right. Rooney took a touch rather than strike his cross first time, giving Chambers the chance to make a covering challenge.
Arsenal began the second half as they had finished the first, with Welbeck threatening. He raced into the box from the left side byline and shot at De Gea, when there were options in the six-yard box.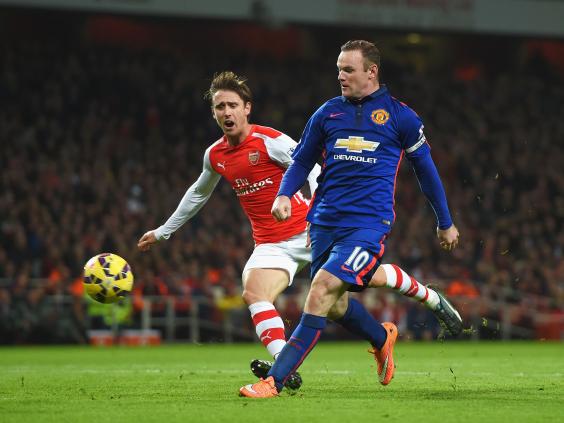 But then United demonstrated that it does not take much to penetrate that Arsenal defence. It was a wretched opening goal in every possible sense from a north London perspective. Kieron Gibbs went up for a cross which took out his goalkeeper Wojciech Szczezny – who subsequently left the field – and then stuck out the leg that defected in Valencia's speculative shot. From then, United's defence looked strong and Arsenal's vulnerability to the counter attack was the finish of them.
They poured forward, Di Maria race out and clipped the ball to Rooney who clipped the ball home to make United the winners. Olivier Giroud's half-volleyed finish – after di Maria unfathomably failed to finish another counter attack – created some late tension but United were home: the better of two less than glorious sides.
Reuse content