Arsene Wenger has revealed that he has Olivier Giroud available for selection ahead of Arsenal's crucial Premier League clash with Manchester United this Saturday, with the striker recovering from a broken leg a month ahead of schedule.
Giroud has not played since the end of August when he suffered a broken tibia in the 2-2 draw with Everton, having scored minutes before the injury to salvage a point for the Gunners.
The French striker's absence led to Wenger making a deadline day move for Danny Welbeck, with the England international joining the North London club from United for £16m.
Arsenal's injury list
Arsenal's injury list
1/5 Mikel Arteta (midfield)

Like Diaby, the Spaniard is closing in on a return but the Swansea match will come to soon. The club captain last played in November.

Getty Images

2/5 Mathieu Debuchy (defender)

Returned in the FA Cup semi-final win over Reading but has since been ruled out with injury and Wenger confirmed he remains 'unavailable'.

GETTY IMAGES

3/5 Alex Oxlade-Chamberlain (midfield)

Suffered a hamstring injury against Manchester United in the FA Cup and hasn't played since as it has exacerbated a groin problem. Out at least until May and facing surgery in the summer.

4/5 Aaron Ramsey (midfield)

Aaron Ramsey caught a kick on his calf during the win over Hull and was later substituted. The Welshman was rated 50/50 for the Swansea match by Wenger, but it now appears that he is a major doubt for the clash at the Emirates.

Getty Images

5/5 Danny Welbeck (forward)

Danny Welbeck has not played since the goalless draw with Chelsea towards the end of April after suffering a knee injury. Wenger has confirmed that the injury is 'nothing major', and that he should return to full fitness before the end of the season.

GETTY IMAGES
Ahead of the game against their fierce rivals, Wenger revealed that both Giroud and club captain Mikel Arteta are available after injury, and there was also positive news regarding the progress of defenders Mathieu Debuchy and Laurent Koscielny.
"Giroud and Arteta are both available," Wenger told www.arsenal.com.  "It's just a question of how ready they are. But they are available.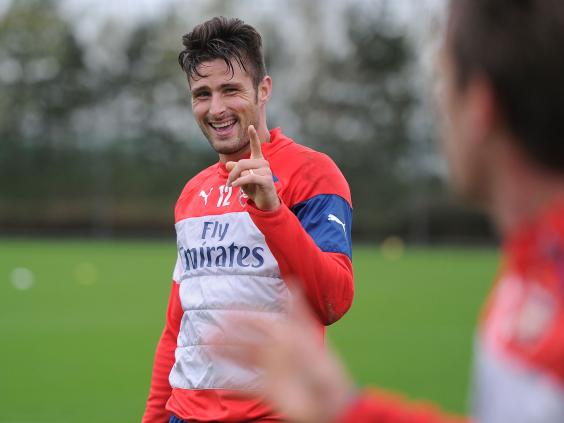 "He [Giroud] is three or four weeks ahead of schedule. Originally we planned to have him back for competition at the beginning of next year. So he's one month ahead.
"Koscielny and Debuchy are doing well, they are out on the field [working] again. We have to see now. Usually field work is three weeks away from full group training. Then there is fitness. It looks straightforward for Debuchy. It's not inflammation, it's just repairing surgery. For Koscielny, it depends how well he responds to training. At the moment he looks good."
Wenger added that both Welbeck and £35m Alexis Sanchez have helped the Gunners deal with the absence of their lead striker, but stressed that the return of both the France international and a fit-again Theo Walcott.
When asked if they had relied on Welbeck, Wenger said: "Yes, and on Sanchez as well. But we have Giroud back, we have Walcott back. Slowly they will integrate into the team again and give us different options.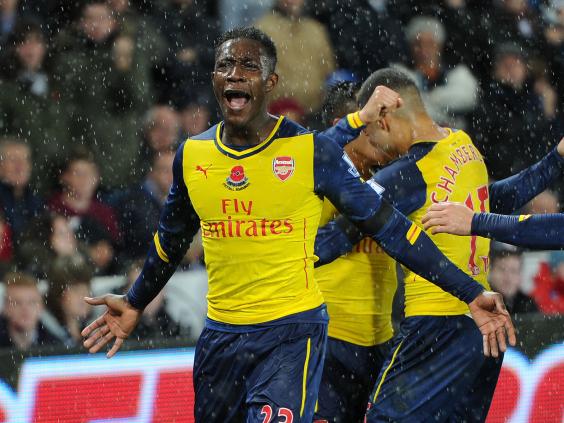 Finally, Wenger gave a brief update on injured midfielder Mesut Özil as he continues to recover from a serious knee injury sustained in the 2-0 defeat to Chelsea. However, Wenger did concede that the timescale for his return still stretches into next year.
"Ozil is doing well but he will not be ready before the start of 2015," Wenger said.
Defeat to Untied this weekend would see Louis van Gaal's side leap ahead of the Gunners, who currently reside in sixth place after a poor run of five wins in their last 14 matches in all competitions.
Reuse content