Former Manchester United captain Roy Keane could not resist taking a dig at Arsenal ahead of this weekend's Premier League clash between the two rivals, with the clash no longer the grand occasion it once was.
Both United and Arsenal head into this Sunday's encounter outside of the top four, a very different situation to what Keane experienced during his years as United skipper in matches that often proved the pinnacle of the Premier League season.
Times have changed considerably, and United will enter the match off of their Europa League semi-final first leg against Celta Vigo while Arsenal were once again knocked out of the Champions League in the last-16 in a humiliating 10-2 defeat by Bayern Munich.
For United, the Europa League tie will have a much bigger impact on manager Jose Mourinho, who has already admitted that he may need to rest a number of first-team players against Arsenal due to the two-leg semi-final with Vigo along with the injury problems that the Portuguese currently has to contend with.
But Keane believes that resting first-team regulars against the Gunners may not be a problem due to how badly Arsenal have played this season, and he claimed that United can get away with rotating the side because they should still have enough talent to win the match.
Jose Mourinho and Arsene Wenger's rivalry in quotes
Jose Mourinho and Arsene Wenger's rivalry in quotes
1/11 Arsène Wenger, February 2005

After being probed about the number of foreign players in his Arsenal side, Wenger flipped the question onto Chelsea's lack of homegrown talent.

2/11 Jose Mourinho, October 2005

Mourinho did not initially bite back, but after Wenger criticised his team further, he infamously labelled the Frenchman a 'voyeur'.

3/11 Arsène Wenger, November 2005

Wenger did not react well and accused Mourinho of being "disconnected with reality and disrespectful".

4/11 Jose Mourinho, April 2008

Their rivalry calmed after Mourinho's exit from Chelsea in 2007, but the Portuguese could not help but prod Wenger again during his time at Internazionale.

5/11 Arsène Wenger, April 2013

After Sergio Ramos and Xabi Alonso appeared to purposely earn yellow cards in a Champions League tie for Mourinho's Real Madrid side, Wenger admonised their actions in the press.

6/11 Jose Mourinho, April 2013

Wenger's comments provoked a spiky reaction from Mourinho, who attacked his rival's reputation as a manager who develops young talent.

7/11 Arsène Wenger, January 2014

Mourinho, back at Chelsea, sold Juan Mata to Manchester United shortly after the two sides had played their final league fixture against each other for the season.

8/11 Jose Mourinho, January 2014

Wenger's reaction did not surprise Mourinho, who cried foul himself with a complaint about Arsenal's fixture list.

9/11 Jose Mourinho, February 2014

After Wenger suggested his rival may suffer from a 'fear of failure', Mourinho infamously retorted by calling Wenger a 'specialist in failure'.

10/11 Arsène Wenger, October 2014

The pair finally came to physical blows on the touchline during Chelsea's 2-0 win over Arsenal at Stamford Bridge in October 2014.

11/11 Jose Mourinho, October 2015

A year later, with his title-winning side falling apart at the seams, Mourinho claimed that Wenger was the only manager in the league who could criticise referees and get away with it.
"It is clear that his priority is trying to win the Europa League and guarantee Champions League football," Keane said on ITV.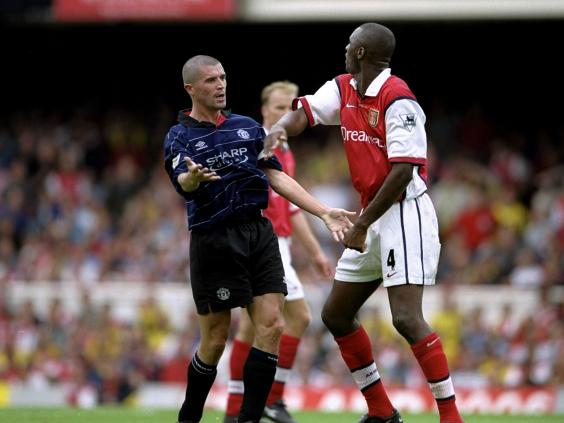 "I think he is right. With the way the last week has gone, prioritise winning a trophy, definitely."
Former Arsenal defender and fellow ITV analyst Lee Dixon pushed Keane further on the matter, asked: "Do you think there is anything wrong with that? If he plays a really weak team?"
"Well even a weak team would probably still beat Arsenal, they can afford to do that," Keane added, the long-lasting rivalry between him and the Gunners not lost on anyone as he answered.
While Mourinho has been open about United's top four chances fading, Wenger has refused to throw the towel in, though his side sit five points behind fifth-placed United and a further point off fourth-placed Manchester City, with a game in hand over both of them.
Reuse content