There will have been moments, plenty recently, when Arsène Wenger will have wondered whether it is all worth it anymore.
Eighteen years into his Arsenal reign, there are yet more questions, more pages urging his resignation or dismissal and on the way home from Stoke he was abused by supporters of his own club.
Then on Friday he took a mouthful of breakfast to find that Alan Pardew was offering his support and that Arsenal fans should be ashamed. We are in December and it is already a bleak winter for Wenger.
The most notable moment the pair had shared before then was back in 2006 when Wenger took exception to Pardew's celebration after a goal for West Ham United. It is worth noting, nearly a decade on, that it was Wenger who was fined £10,000 by the Football Association, severely censured and warned about his future conduct. Pardew was cleared at a personal hearing when an FA disciplinary committee found the charge against him not proven.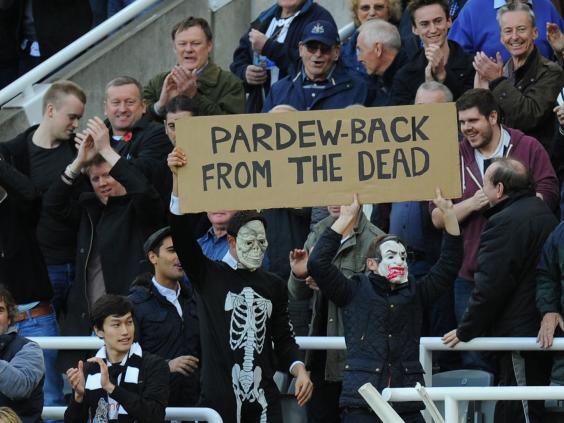 Once more it is all going Pardew's way.
He was named manager of the month for November. That seemed implausible as recently as 10 weeks ago, when he trudged from the field to the corner of the stadium on a wet and dispiriting night at the Britannia Stadium. Newcastle had lost 1-0 to a Peter Crouch header and their run, at that point, was five victories from the preceding 27 Premier League games.
To reach the comparative safety of the visiting room he had to go past the travelling support. There were no Newcastle fans in the lower tier that night. There were suggestions, denied by the club, that it had been deliberate. It was a long and lonely walk and in the stands there was a desire to lip-read the comments the owner Mike Ashley muttered to the managing director Lee Charnley. No one was sure what was about to happen.
Privately there were major concerns about the team, about the lack of goals, the injury to new signing Siem de Jong and the form of Fabricio Coloccini. For the next game, at Swansea, Newcastle's support unveiled a banner that read: "LLWDLLLWWLWL LLLLLWLLDDLDL, not a Welsh town, our form in 2014." Papiss Cissé, a player who could have been discarded, did as he had done against Hull City and scored twice. Newcastle drew.
Since then they have soared beyond anyone's, even  perhaps Pardew's, wildest expectations.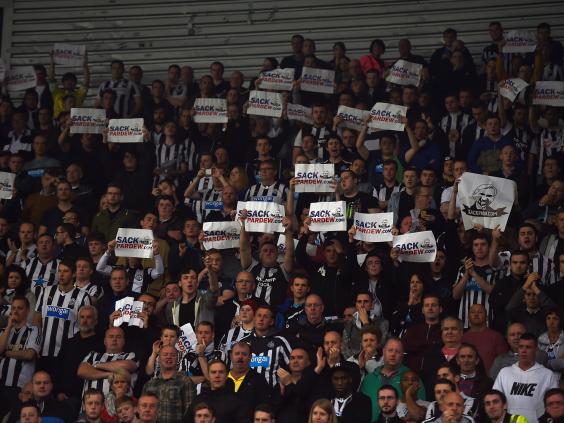 "I could well be sitting here on the back of a terrible run and fighting for my job," he said. "On the other hand me and my staff are winning an award and that is because the players have responded to the challenge and they all believed and trusted in what we are trying to achieve.
"In terms of the turnaround in the negativity, particularly towards myself, it is pleasing. You have to carry great belief in yourself and in your staff that you know this job and you know it actually needed a bit more time.
"When the chips are down you need characters and my star players and my experienced players have been the key to this turnaround," Pardew added. "The big bonus has, of course, been the young players and how well they've done and how quickly they've matured into a difficult shirt to wear sometimes."
It has rarely been easy to wear at Arsenal, where Newcastle have won once in their last 14 visits, when Chris Hughton was in charge. They have scored eight times in that 12-year period and failed to score on nine of those visits. They have conceded 10 times in their last two trips to the Emirates and they will be missing Steven Taylor and Moussa Sissoko through suspension.
In Newcastle's favour is their current run – one defeat in their past nine Premier League games and they have found form on their travels.
Arsenal are wobbling. Their travails led to an admirable rallying cry from Olivier Giroud after the entire squad watched a video nasty of the 3-2 defeat at Stoke from last Saturday. "Talent is not sufficient and every team needs to fight to be competitive," he said. "We had a lack of commitment. We heard the Arsenal fans criticise some of us, especially the boss.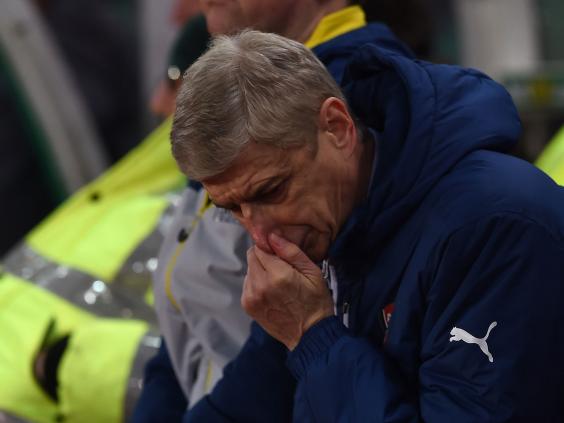 "It was sad. I'm not sure he deserved it. You have to question yourself of course but you can't say we have to change everything. He is the man for this situation and we aren't even wondering if he is or not."
A circling of the wagons, a bit of spirit, a bit of youth and a bit of fortune. It has turned around Newcastle's season. It could work for Arsenal.
It is, however, worth remembering that we have been here before with Newcastle. The same, on a more dramatic scale, happened last season. Newcastle were excellent for half of the campaign and dreadful for the other. They finished 10th, having been fifth at one stage. The season before that they finished 16th, the campaign before fifth, the one before 12th. It has been like this since they returned to the Premier League. They are not consistent enough to be shouting any odds and telling Arsenal fans what to do, whether right or wrong.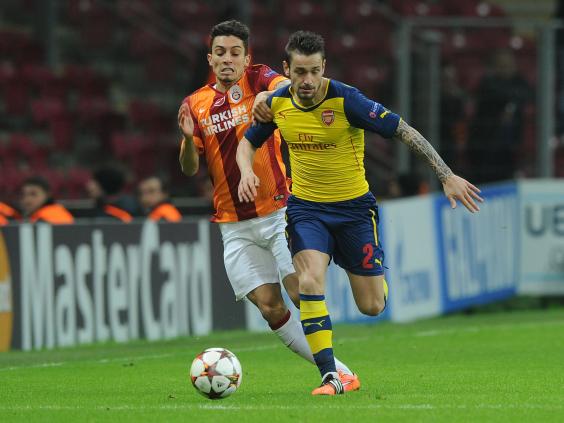 Newcastle have a crop of youngsters coming through and their confidence is soaring at the moment, but it will fade at some point.
It remains a club that runs away with itself far too quickly, in both victory and defeat. Quiet and sustained progress – the average Premier League finish under Mike Ashley is, after all, just 12th – would be the more considered route. Do not hold your breath.
--
SOARING MAGPIES - Toon rise in numbers
7 - Seven wins in their last nine matches – as many as in their previous 30 in all competitions
4 - Newcastle have conceded just four goals in their last nine matches, keeping five clean sheets
10 - Shots on target for Papiss Cissé – scoring seven, four as a substitute
Reuse content