For Arsenal supporters, this was Christmas Day with a damning difference. Luckier children had new toys to play with, freshly  unwrapped footballers signed in the transfer window.
Arsenal have had to make do with a suspiciously sucked sweet, in the form of a win which provided limited satisfaction. It will be a long wait for the gift the majority of fans crave, a new striker capable of delivering the rout Arsenal's intricate and intelligent approach play merits.
Arsène Wenger didn't exactly utter the words Bah Humbug, though his sentiments were barely distinguishable. 
On an afternoon on which Stoke City should have been soundly thrashed, there was plenty of evidence to support the case for the prosecution, that Arsenal's manager  has turned prudence into a peculiar form of masochism.
Goals from the principal characters involved in the debate, Theo Walcott and Olivier Giroud, were mitigating factors in his defence.
 Arsenal are nestled promisingly, five points behind leaders Manchester City, while their season continues to frame more questions than it supplies answers.
"If I had bought a striker, as people wanted, Walcott would not have played," Wenger rationalised.
"It is a vicious circle. At some stage you have to believe in your players and give them their chance."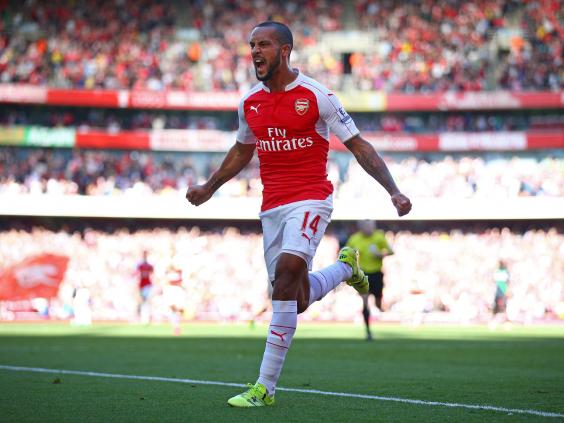 He acknowledged Walcott (right), in particular, would benefit from an extended run in a new central role, but will continue to rotate due to the intensity of the early-season programme.
Stoke confused the issue by choosing to feature a novel 0-0-0-0 system in front of Jack Butland, who had inordinate opportunity to express his readiness for an extended trial as Joe Hart's principal rival at international level.
Walcott may have scored 11 goals in his last 11 Premier League starts, but employing him as a central striker still seems a little eccentric, like entering a zebra in the Grand National. He has his attractions, without being perfectly suited to the role.
He was replaced 16 minutes from time by Giroud, who immediately squandered a simple chance, donated by some bizarre defending which left him alone on the edge of the six-yard box.
He lunged at the ball with the synchronicity of a drunken lumberjack and pulled his shot wide.
The memory lingered, even when he wrapped up the game with a near-post header from an invitingly-flighted free kick by Santi Cazorla, five minutes from the end.
Walcott, pictured right, remains an enigmatic figure, whose shortcomings were twice expressed before he gave Arsenal a 32nd minute lead.
Butland initially pushed an Alexis Sanchez header on to the post. The rebound fell to Walcott, who struggled to adjust his body shape and clumsily volleyed the ball wide of an unprotected net.
At the risk of stating the obvious, it was the sort of chance a Premier League striker should convert. Walcott, found by a sumptuous Bellerin cross, compounded his earlier miss by heading over from six yards.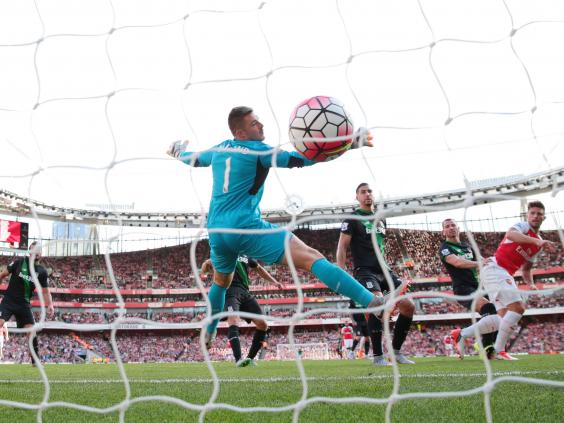 The Stoke goalkeeper's singular resistance continued almost immediately with an instinctive block of Cazorla's shot.
He was left exposed for the opening goal by a move which began when Francis Coquelin won the ball with an emphatic sliding tackle on Joselu.
That set up Mesut Ozil for an exquisitely-judged ball over the top. Walcott made a trademark run behind an exposed defence, had the strength to hold off Muniesa, and rolled in what Wenger hailed as "a great goal".
The manager added:  "Theo needed great technical quality to score it. I felt we could use his movement, that he could find little pockets of space.  I believe he can be a prolific scorer because at the end of games you think to yourself 'how many chances did he have?' He gets into good situations."
We have seen this movie before. As if to confirm that being a true believer is a tough business, social media was suddenly engulfed by historic screenshots from the supposedly unelectable to the apparently unperturbable.
The identity of the Arsenal fan who tweeted this on August 30, 2011 – "We praised Wenger when we won. Support him as we rebuild. In Arsene(al) we trust" – was none other than Jeremy Bernard Corbyn MP, the new leader of the Labour Party.
Arsenal (4-2-3-1) Cech; Bellerin, Gabriel, Koscielny, Monreal; Cocquelin, Cazorla; Ramsey, Ozil (Chamberlain, 83), Sanchez (Arteta, 83); Walcott (Giroud, 74).
Stoke (4-4-2) Butland; Bardsley, Cameron, Muniesa, Pieters; Shaquiri, Whelan, Van Ginkel, Arnautovic; Diouf (Bojan, 74), Joselu (Ireland, 57).
Referee: Jon Moss
Man of match: Jack Butland (Stoke)
Match rating: 7/10
Reuse content