Mauricio Pochettino will probably not have to lie on the floor of the Tottenham Hotspur team bus as it rolls down the Seven Sisters Road on Saturday afternoon, but he would not mind if he did.
This is Pochettino's first north London derby, but he has played and won games where the danger was far more real – in France, Colombia and Argentina – and he understands what is required. If he and his players are forced into evasive action by Arsenal fans on Saturday, that is all part of the fun.
"I would like to," laughed Pochettino when asked if he would be crouching from missiles on Saturday, as he has done before. "It is my habit, it is not strange for me."
Pochettino could not have achieved what he has, playing for those teams and in those games, if he was cowed by tension or danger. In fact, he revels in it. "I am more strong with a hostile situation," he said. "I like it."
It helps that Pochettino started off playing in one of South America's great football cities, Rosario in Argentina. He was 14 when he joined Newell's Old Boys, where he was coached by the legendary Marcelo Bielsa, whom he calls his "father" in football.
Newell's main rivals are Rosario Central and that is still the first derby Pochettino mentions when asked. He calls it a "very tough game, dangerous to play", and understandably so. The Newell's players were always given quite a reception by the Rosario fans.
"It is difficult when you arrive," Pochettino remembered. "You need to arrive with all the windows [of the coach] closed and everyone lying down on the floor, because it is dangerous. You need to be brave."
Pochettino knows where derbies are won and lost. "In this kind of game, you need to be brave to get the victory. Not only outside, but inside the pitch. You need to play with aggression."
A teenage Pochettino won Argentinian titles with Newell's in 1991 and 1992, which took them to the Copa Libertadores, where they faced an even harder challenge.
"I will always remember the semi-final of the 1992 Copa Libertadores, in Colombia against America de Cali," he said. Cali, near Colombia's Pacific coast, is almost 3,000 miles north-west of Rosario and Newell's went to the Estadio Olimpico Pascual Guerrero having drawn 1-1 in the first leg. "The semi-final was very, very difficult – getting into the changing room was very difficult," Pochettino remembered. "The game started late."
Five minutes in, Pochettino – who had just turned 20 – put Newell's ahead with a flying header from a free-kick but a last-minute penalty took a ferocious game to extra time. It was settled by an epic penalty shoot-out. Pochettino skied his kick far over the bar; Cali missed two that could have won it, and when Norberto Scoponi saved from Orlando Maturana, Newell's won 11-10. Carnage followed.
"After we won one team-mate – Eduardo Berizzo, now manager of Celta Vigo – had a big cut on his head, from a battery. For me, nothing is strange."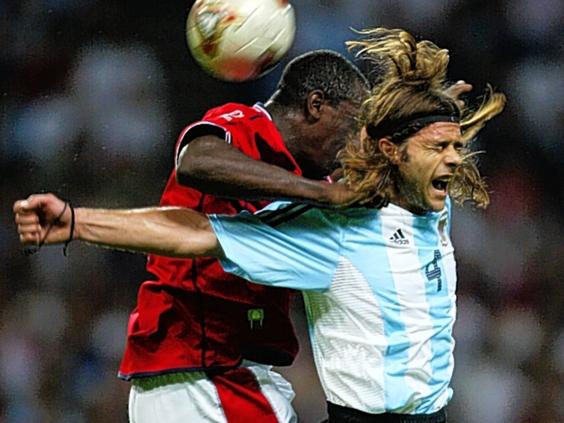 Newell's played Sao Paulo in the final and the second leg, in front of 105,000 people in the Brazilians' Estadio Morumbi, again ended in penalties. This time Newell's lost.
Pochettino left Argentina to play for Espanyol, and then went to Paris Saint-Germain in 2001. PSG's biggest match, then as now, was against Olympique Marseille, not a derby in geographical terms but still a fiery rivalry.
Tottenham v Arsenal: The best north London derbies - in pictures
Tottenham v Arsenal: The best north London derbies - in pictures
1/11 Tottenham Hotspur 1 Arsenal 0, 1992

It was Teddy Sheringham's (right) first north London derby and, unsurprisingly, all attention was focused on the striker. It was also the first north London derby of the newly-formed Premier League. Yet it was not Sheringham who grabbed the headlines but Paul Allen, who scored the only goal of the game.

GETTY IMAGES

2/11 Tottenham 2 Arsenal 2, 2004

2004 was Arsenal's 'invincible' season, and on top of that, they clinched the title at White Hart Lane. Arsenal were 2-0 up thanks to goals from Patrick Vieira and Robert Pires. Robbie Keane scored Tottenham's equaliser from the penalty spot to give the Gunners a late scare but there was no stopping this formidable Arsenal team.

GETTY IMAGES

3/11 Tottenham 3 Arsenal 1, 1991

This was the first FA Cup semi-final played between the two sides. Spurs midfielder Paul Gascoigne (pictured) scored a memorable free kick from 30 yards out and Gary Lineker doubled the lead. Alan Smith pulled Arsenal back into the showdown but Lineker was on target once more to seal Tottenham's place in the Final, which they won the following month. Gazza's comment after the match was, "I'm off to get measured for me soot! Yes!"

GETTY IMAGES

4/11 Tottenham 0 Arsenal 1, 1971

2004 was not the first time Arsenal won the title on their rivals soil. Arsenal went into the game needeing a win or a goalless draw to take the title and they got their reward when, with three minutes to go, Ray Kennedy headed home to secure the title. The Gunners went on to lift the FA Cup that season.

GETTY IMAGES

5/11 Arsenal 1 Tottenham Hotspur 1, 1995

This match was billed as the battle of the strikers with Jurgen Klinsmann (pictured) and Ian Wright both chasing 30 goals for the season. Arsenal's frontman was on 29, while Tottenham's German striker had 27. Both men scored but the points were shared. Klinsmann was named football writers Footballer of the Year that season.

GETTY IMAGES

6/11 Tottenham 2-3 Arsenal, 1988

All five goals in this entertaining derby came in the space of 12 first-half minutes. The best of the lot was the first, scored by Nigel Winterburn (pictured). Tony Adams went on a 40-yard run up the park before laying off a sublime through-ball to Winterburn who slipped it into the bottom corner. Chris Waddle brought things level for Spurs before two more for Arsenal, one from Brian Marwood and the other an Alan Smith header. Paul Gascoigne clawed one back, scoring with his sock after losing his shoe as he ran in on goal but it wasn't enough as Arsenal stopped the madness and held on for 3-2.

GETTY IMAGES

7/11 Arsenal 2 Tottenham Hotspur 1, 2001

Sol Campbell had given Tottenham an added incentive ahead of the FA Cup semi-final against Arsenal by revealing that he was almost certain to stay at the club if they lifted the trophy. Yet it was not to be. The Gunners dominated the tie at Old Trafford, in what was Glenn Hoddle's first match in charge. Robert Pires scored the winner and we all know where Campbell ended up.

GETTY IMAGES

8/11 Tottenham Hotspur 0 Arsenal 5, 1978

Despite the 'boring' tag they acquired under George Graham, Arsenal, especially during Liam Brady's era, used to win some games in style, and none more so than this one. The man-of-the match was hat-trick hero Alan Sunderland (pictured), but the game is better remembered for a classic Brady strike. The Irishman tackled a Spurs defender on the edge of the penalty area, stood up, and unleashed a fierce, curling shot into the top corner.

GETTY IMAGES

9/11 Arsenal 4 Tottenham Hotspur 4, 2008

In one of Harry Redknapp's first games in charge he faced the daunting task of a trip to the Emirates. A memorable long-range strike from David Bentley got things underway but Arsenal were cruising at 4-2 on the cusp of extra-time. When Clichy slipped, Jenas ran 30 yards before curling a magnificent left-footed shot past Almunia to make it 4-3 and one of the greatest games in Premier League history was sealed when Luka Modric hit the post with a dipping volley and Lennon raced in to score the equaliser.

GETTY IMAGES

10/11 Tottenham Hotspur 1 Arsenal 2, 1987

This match was the culmination of an epic League Cup semi-final encounter that took 270 minutes to complete. The first leg ended in a 1-0 Spurs victory at Highbury and the second a 2-1 defeat, so another match was needed to determine who would meet Liverpool in the final. A toss of the coin decided that it was to be played at White Hart Lane, but, once again, Spurs failed to make the home advantage count and lost out to a last gasp goal from David Rocastle (right).

GETTY IMAGES

11/11 Arsenal 5 Tottenham Hotspur 2, 2012

With both sides desperately trying to secure a top-four finish, this clash had a lot resting on it. Arsenal came back after conceding two early goals to be level at half time before storming to a sensational win in the second half. The result appeared to affect Spurs who eventually slipped behind Arsenal in the league table and missed out on Champions League qualification as a result of Chelsea's European success.

Getty Images
"In France too it was very difficult," Pochettino remembered. Again there was a welcoming committee for him at the Stade Velodrome.
"You need to be brave if you go to Marseille. There was always private security when we arrived at the airport. It was difficult to arrive at the stadium and to leave. The supporters are aggressive, and in the dressing room and on the coach all the windows were broken."
The difficulties continued inside the ground, where the PSG players were pelted with "radios and phones". But in March 2003, Ronaldinho inspired a 3-0 win in front of 60,000 Marseille fans.
Pochettino was 28 when he joined PSG and was captain and leader of that side. He took the youngsters under his wing, especially an 18-year-old Mikel Arteta, who was on loan from Barcelona, keen to learn. They are still close now.
"I love Mikel," smiled Pochettino, looking forward to seeing him on Saturday across a different divide. "I know he is in another side, the big sporting enemy, but I love Mikel because he is a great person."
The Arsenal captain still warmly remembers his old mentor too.
"He was the captain for PSG when I started my career and he really looked after me," Arteta said last week. "He was like a dad, even if he doesn't like that word." (Arteta is right; Pochettino preferred "brother" to "father" when asked.) "I always appreciate what he did for me when I started my career, all the advice that he gave me. He has been a top person in my career."
Arteta knew even then that Pochettino would go on to be a top manager, owing in part to the vision of the game he had picked up from Bielsa.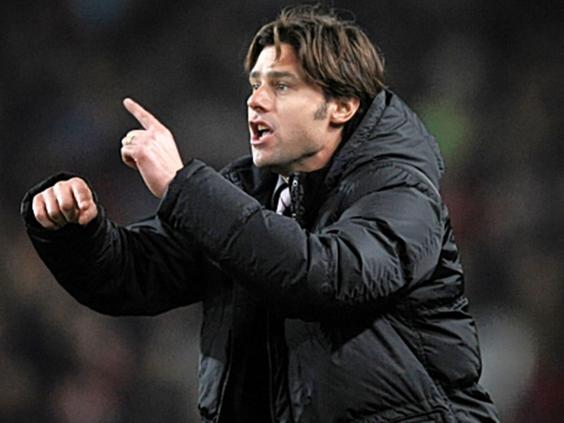 "He had a character," Arteta said. "He had Marcelo Bielsa, who was his hero and his mentor. He had him in the national team and most of the concepts he has tried to put into his teams are from him."
Bielsa also coached Pochettino at Espanyol and, 10 years on, Pochettino took over as coach at Barcelona's second club. Coaching for a derby is different from playing in a derby, but Pochettino knows something about that too. Just his seventh game in charge – his seventh as a manager – was at the Nou Camp, against Pep Guardiola's Barcelona, who were already 10 points clear in February 2009.
"When I arrived as Espanyol manager, Espanyol were in last position and Barcelona were on top," Pochettino remembered. "We went to play in the Nou Camp, all the people said, 'Espanyol is dead, they have no chance'." The Spanish press said they were "fighting King Kong with a teaspoon", but Espanyol won 2-1, thanks to two goals from Ivan de la Pena.
"For 27 years, Espanyol had never won the derby away," smiled Pochettino. "It was a very good start for me." Barcelona went on to win the treble, but Espanyol managed to stay up.
So even if the details of Saturday's particular rivalry – from the 1991 FA Cup semi-final to Sol Campbell's defection from Spurs to Arsenal – are new to Pochettino, he knows exactly what to demand of his players.
"It is not just another game. We need to relay the feeling of our supporters on the pitch. It is our responsibility to fight for every ball, to be aggressive and to fight through the game. We need to be brave."
Reuse content