After the recent speculation about Arsenal's pursuit of a striker, manager Arsène Wenger does not think the issue is crucial to their attempt to win a first Premier League title since 2004.
The premium on a top striker is particularly pronounced because every Premier League champion since 2009 has had at least one player hitting 20 goals or more –   something that Arsenal have lacked since Robin van Persie left in 2012.
However, Wenger believes  Olivier Giroud can hit those 20 goals this season, and as he has already said: "At the moment we do not have [Alexis] Sanchez [rested], not [Danny] Welbeck [injured], and when these players come back we feel that we have the needed striking force."
The Frenchman is still leaving the door open to signing a big-name striker, saying, "We don't rule out as well if something exceptional turns up to do it".
But there are few such forwards around with purported target Karim Benzema the best available option. When it was put to Wenger that former striker Thierry Henry said Arsenal would win the league if  they signed the Real Madrid player, the manager said, "It is not  as mathematical as that" but conceded a relentless scorer is "important".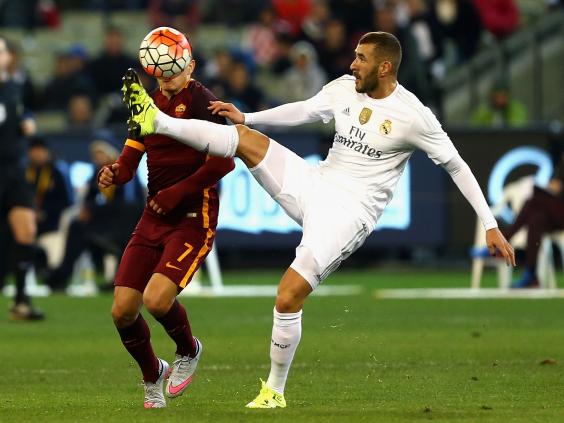 Whatever happens, Wenger  believes the key to the forthcoming campaign will be the rest of the team supplying their share of goals. He feels that diversity is essential  because, he adds, there aren't  that many strikers available any more.
"It is important maybe that we can share that," he said. "I think Giroud will not be far from 20. If he played the whole season he would have scored 20 and [Theo] Walcott as well.
"We look like we can score goals when we go forward. Even when we were dominated in the second half [against] Chelsea [in the Community Shield], every time we crossed halfway it looked like something can happen there. I think that we have to develop our collective game. I think we have to depend less on one guy who can come in and score all the goals… we can share that, more than when Thierry played. You knew before the game he would get you a goal."
Arsenal injury news and suspensions
Arsenal injury news and suspensions
1/6 Jack Wilshere (midfielder)

Has suffered a setback in his recovery from a hairline fracture of his right ankle and required surgery which will keep him out for several more weeks than expected. Arsene Wenger does not expect him back until late November at the earliest.

2015 Getty Images

2/6 Danny Welbeck (striker)

Was close to a return but suffered a serious setback that requires surgery and will likely leave him out until January 2016. Has not played since April, and has been described by Wenger to be "progressing well".

2015 Getty Images

3/6 Tomas Rosicky (midfielder)

Suffered a knee injury while on international duty and has been missing since the start of the season. Wenger said "it's similar to Welbeck" - meaning he could be out until the New Year.

2015 Getty Images

4/6 Mikel Arteta (midfield)

Played the final 10 minutes of the win against Watford but has re-injured his ankle and will miss the Everton match.

2015 Getty Images

5/6 David Ospina (goalkeeper)

Has hurt his shoulder and will not be available until the next international break

6/6 Aaron Ramsey (midfield)

Pulled up in the win against Bayern Munich with a hamstring problem. Will miss the next month.

Getty Images
As to why fewer such forwards are being produced, Wenger put it down to the sanitisation of modern coaching.
"One of the basic reasons, I believe, is that before, the team's practised in the park on bad pitches in winter. You had to lift the ball, had to go behind, and today the pitches are all perfect, and in training, with only passing, we develop only midfielders, because all the education is about passing on the ground on perfect pitches."
Reuse content