When Petr Cech stood up, blew out his cheeks, and glanced down at his chest having returned the ball to the centre circle for a second time, it might have been to check if he was naked. This was a panic-ridden, anxiety dream of a debut. Genuinely the stuff of nightmares
First, he was running but couldn't get there. Then, he was diving but couldn't move. Not long later, it was full time, Arsenal had lost two nil, and the man who was meant to drive them on to great things, had consigned them to a humiliating opening day defeat to a team whose chief concern come May will be their distance from the bottom of the table, not the top.
Maybe, with Thibault Courtois suddenly suspended and possibly injured, he might have spent Saturday evening wondering if he shouldn't have gone. Certainly, on forty three minutes, he shouldn't have come. No doubt the great man will go on to do great things in the Arsenal goal in the coming years, but he will not forget how it all began. If you come for a cross, you must get there. Hardly the rudimentary goalkeeping lesson a man of his stature should need. And not the sort of opportunity Cheikhou Kouyate was likely to turn down. One nil.
The second was of the kind that, had it had happened in the Nigerian leagues, would have alerted the match-fixing police. On fifty seven minutes, Oxlade-Chamberlain gave the ball to Mauro Zarate as though it were a Christmas present and by the time Petr Cech had flopped casually to his right it was already in the back of the net. A 25-yard embarrassment. He was substituted immediately and quite right too.
Jose Mourinho has been more shrewd in selling on players than he has in buying them in recent years. Take David Luiz or Andre Schurrle for a start. No one at Chelsea imagined Petr Cech to be such a player.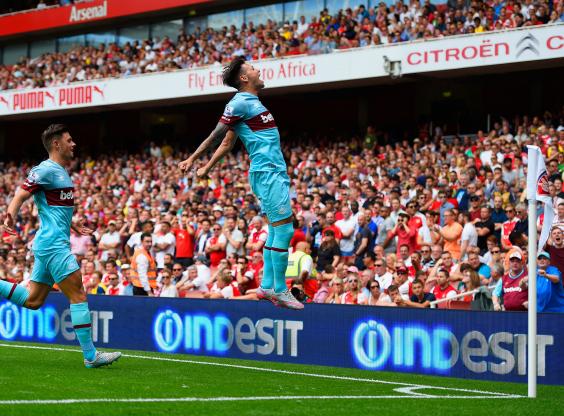 The early stages had everything most people want from a football match. Enough aggression to see two West Ham players into the book within ten minutes, and enough attacking intent from both sides to jolt what could and should be a pivotal season for both sides into life.
Arsenal, for their part, in this unusually early opening fixture, appeared at times still on holiday. West Ham have barely had one. And via the quick feet and brilliant brain of Dimitri Payet they played the type of football their fans - a little self-indulgently always demand. Payet might just be the most accomplished West Ham footballer in a decade. On this evidence, the final season at the Boleyn will be an entertaining one.
Thierry Henry is not alone in his view that Arsenal are still a truly world class striker short of challenging for the title. When Sanchez is not on the pitch, the deficit appears vast. Having just won the Copa America at home with Chile, it is hardly surprising he needed a rest. His introduction here with twenty minutes to go transformed the way the match was played, but it made no difference to the result.
You can only lose four games if you want to win the league, or so said Sir Alex Ferguson, who managed it a few times. With only three of those left in the bank, it'll have to be an electrifying season from here.
Reuse content