The story of Roman Abramovich, Roberto Di Matteo and the Monaco dressing room does not, at first glance, read like an entry from the text book of how to own and run and football club.
It was five years ago, Chelsea had just lost 4-1 in the Super Cup final in Monaco to an Atletico Madrid side for whom Radamel Falcao was unplayable, and Abramovich arrived among the players to look into the whites of his manager's eyes.
It was apparently excruciating. Abramovich said nothing and Di Matteo could summon no words, either, but the experience was enough to tell the Russian he must seek a ninth manager in as many years, which he did, three months later.
Though Abramovich's modus operandi has been denigrated often across the course of 14 years, Arsenal's much vaunted alternative – "stability" – looks considerably less attractive when you assess what that period has brought the respective clubs in trophies.
Arsenal won their last league title in the year the Russian arrived in town and the silverware score-line since has been 13-3 in Chelsea's favour. Which rather goes to show that there are merits in an owner whose black mood you can read from the stands.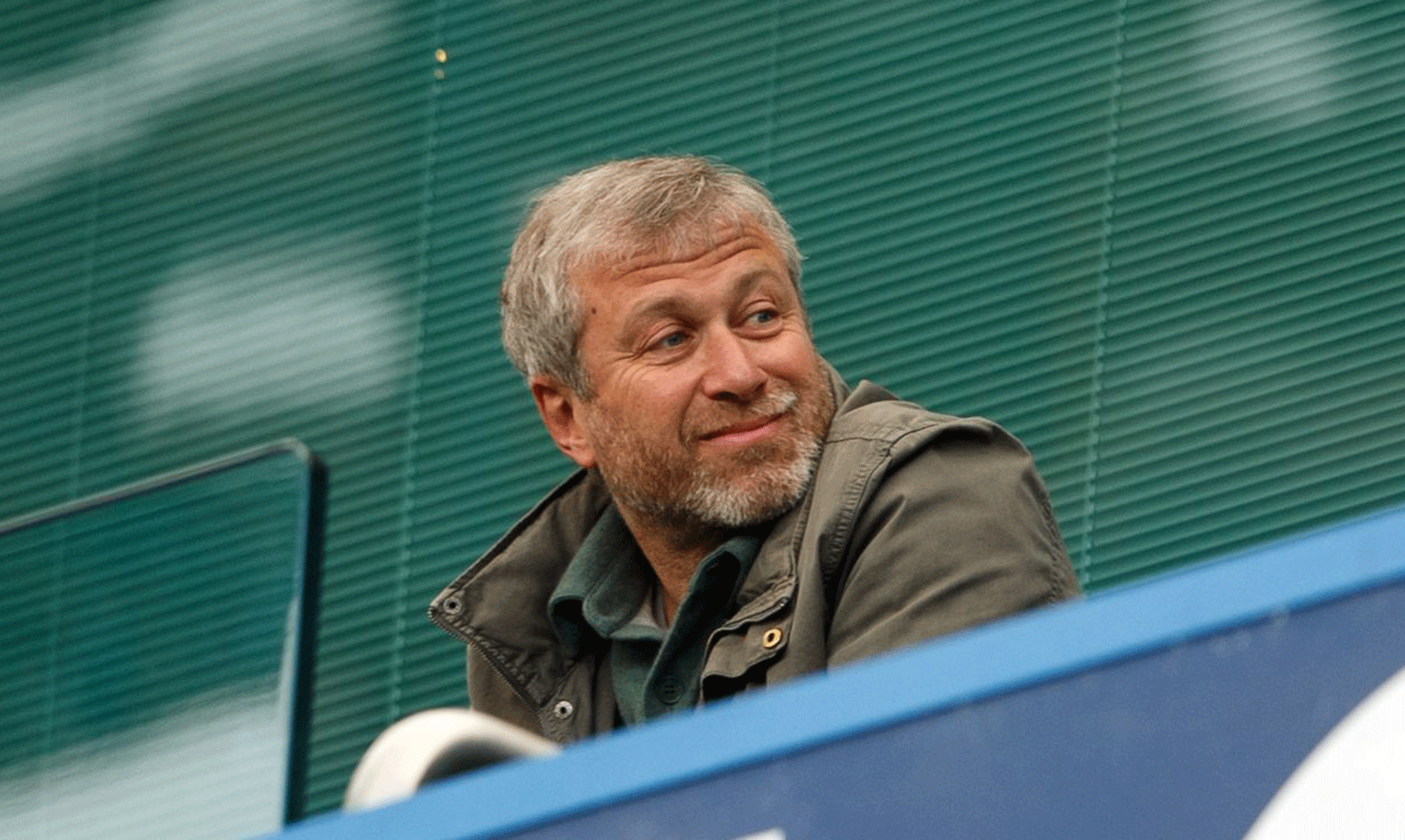 Arsene Wenger will tell you that Stan Kroenke has never looked into the whites of his eyes. As usual, he wasn't on the premises for the annihilation by Bayern Munich on Tuesday which felt like a paradigm shift, and if the disconnect were not bad enough from the supporters perspective, then there is evidence that he views this as an entirely healthy part of running a club.
When Kroenke speaks about Arsenal, there is always utter equanimity. He is no more worried about the dearth of titles and European progress than a supermarket manager whose stores turn a profit but don't win industry gongs.
The argument runs that if the economic model is strong - £12.6m profits and £123.7m cash reserves, at the latest count – the club works.
Arsenal 1 Bayern Munich 5 player ratings
Arsenal 1 Bayern Munich 5 player ratings
1/22 David Ospina – 6 out of 10

This Champions League tie may be Arsene Wenger's last as Arsenal manager

2/22 Hector Bellerin – 6 out of 10

Played well in the first half in attacking down the right to support Walcott, but was ineffective in the second and he fell asleep to allow Costa and Vidal in behind him for the fifth, though by that point the entire Arsenal side was asleep.

3/22 Shkodran Mustafi – 5 out of 10

Showed a nice pass to put Walcott in when he should have bagged a second, but the loss of Koscielny alongside him again exposed his weakness. Sloppy passing after the break, and completely gave up after the second goal.

4/22 Laurent Koscielny – 6 out of 10

Looked switched on from the get-go a he blocked Robben's shot before deflecting two crosses out for a corner. However, the game turned again on his departure, as he tripped Lewandowski in the area without trying to play the ball, receiving a red card in the process.

5/22 Nacho Monreal – 5 out of 10

Got forward on occasion and offered support to Giroud as the striker preferred the left side of the Bayern defence. However, he simply isn't good enough to defend at this level as he repeatedly played the Bayern attack onside.

6/22 Aaron Ramsey – 6 out of 10

Looked a yard short of his best given his lack of football, but grew into the game as it wore on. Won a free-kick just before the break with a nice turn on Martinez and started to have a bigger influence in the central role that he craves. Replaced when the game was done at 2-1.

7/22 Granit Xhaka – 6 out of 10

Looked much more controlled early on as he protected his back line and showed a nice passing ability to spray the ball from flank to flank. But with the collapse went his discipline, and picked up another booking for a terrible tackle on Rafinha.

8/22 Theo Walcott – 7 out of 10

Started the match with a point to prove and went about doing it in the perfect way. Two early runs should've alerted the danger, and the third produced the opener as he beat Neuer at his near post, seven years after his last Champions League knockout goal. Should've had a second from the same position, but fired into the side-netting. Much quieter in the second half, and probably the only Arsenal player who showed his best out there.

9/22 Alex Oxlade-Chamberlain – 6 out of 10

Moved to a central role and enjoyed having more influence in the game. Drifted to the right on occasion but the end result was missing.

10/22 Olivier Giroud – 6 out of 10

In at the last minute for the ill Danny Welbeck. He brought a physical threat to Bayern, and nearly found the net with an early header after getting above Hummels. Missed na even better chance after the break when unmarked in the centre of the box, but somehow headed over.

11/22 Alexis Sanchez – 6 out of 10

A lively start on his return to the side, as he was providing the link between the midfield and Giroud up top. Gave away possession that nearly led to a Bayern goal for Lewandowski, and departed when Wenger knew the game was gone.

12/22 Manuel Neuer – 6 out of 10

It's not often you can say he should have done better, but he should have done better. Punched Walcott's fiercely struck effort high into the roof of his own net. Rarely tested otherwise.

13/22 Rafinha – 6 out of 10

Brought into the side for the suspended Philipp Lahm, and he did an adequate job of shackling Sanchez that forced him inside.

14/22 Javi Martinez – 6 out of 10

Booked for a cynical foul on Ramsey as he ran towards the Bayern area. Looked the weak link at the back, but once the Arsenal attack wilted he was allowed to run forward and nearly bagged himself a goal, heading just over.

15/22 Mats Hummels – 6 out of 10

Passed too easily by Walcott for the goal, and struggled to cope with the England winger's pace on the left.

16/22 David Alaba – 6 out of 10

Struggled desperately with the Walcott-Bellerin combination on his flank, and his early shot at goal from a Robben corner was always curling away from the target.

17/22 Xabi Alonso – 7 out of 10

Apart from a corner that failed to beat the first man, he oozed control and class in the middle of the field. Happy to sit back and let his teammates take the plaudits, but he'll be sorely missed.

18/22 Arturo Vidal – 8 out of 10

Lucky to get away with a high foot on Sanchez that could have brought a booking, and his early sighter at goal from long range wasn't a handsome one. But as Bayern cut loose, so did he, and he linked up delightfully with Douglas Costa twice at the end to go home with two goals to his name.

19/22 Arjen Robben – 8 out of 10

Gave Monreal problems early as he cut in on his left foot, only to have his shot blocked. Saw another effort from the right well saved by Ospina. Lovely flick over the defence should've brought a goal from Lewandowski before the break. Aware enough to capitalise on Opsina's poor clearance and link with Lewandowski to score his goal.

20/22 Thiago Alcantara – 8 out of 10

Another virtuoso performance from the midfield that is really starting to come of age. Links the play beautifully between midfield and Lewandowski.

21/22 Franck Ribery – 6 out of 10

Stood still and watched Walcott run away from him for the opener in a lazy daze. The only disappointment the Bayern attack.

22/22 Robert Lewandowski – 8 out of 10

Missed a sitter late in the first-half when put through by Robben, and he could only guide the ball wide of the far post. Split the Arsenal defence after the break to win a penalty and send Koscielny for an early bath, and tucked home the spot-kick coolly, as you'd expect. Should have had a second, but his close-range effort struck the post.
There was no more graphic evidence of an owner out of step than the rare interview he granted to the Associated Press last October. "We are all very high on Arsène" he said, because Arsenal were at the time offering some of that ephemeral promise we are so familiar with.
Kroenke – asleep on the bridge as Arsenal drift towards the seas of irrelevance – has not the remotest comprehension of the state they are in. He is a billionaire football club proprietor for our times: physically and emotionally removed, lacking the remotest inkling of the sentiment of those supporters for whom those attachments run deep.
And he is quite clearly unwilling to bestow some of the autonomy which might have allowed a chief executive, Ivan Gazidis, to get a grip, and call time on Arsene Wenger's time in a way which might allow him to go gracefully.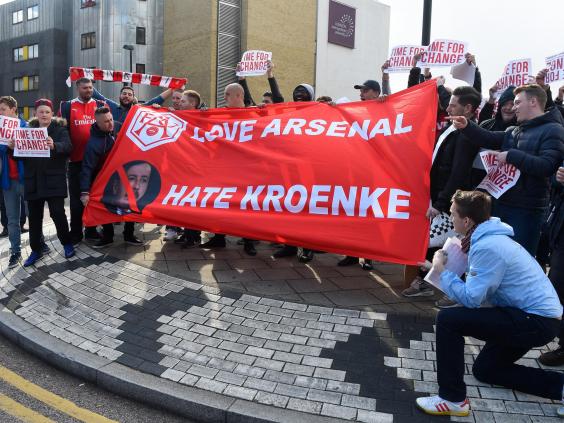 There are plenty of people in Colorado for whom this will strike a chord. Kroenke owns the Denver Nuggets basketball franchise, as well as the Colorado Avalanche ice hockey franchise, and even this week the local Denver Post's sports pages were filled with testimonies to the entrepreneur's real obsession and its seeming contribution to the drift.
Since Kroenke began his pursuit of the full ownership of the St Louis Rams football team in 2010, with the aim of relocating them to Los Angeles, his son, Josh, has been running the Nuggets, also taking over as Avalanche president five years later. Both teams languish.
"Are the Kroenkes part of the problem when it comes to building a winner?" the Post asked, not unreasonably.
Arsenal certainly feels like one more commodity on a shelf of products and it is that which has contributed to an unfathomable lack of imagination as to what this extraordinary entity might be.
Arsene Wenger's worst Arsenal defeats
Arsene Wenger's worst Arsenal defeats
1/8 AC Milan 4 Arsenal 0, Champions League last 16 first leg, 2012

Another last-16 elimination, and another example of the tie being over before the second leg. A Robinho brace and goals from Kevin Prince-Boating and Zlatan Ibrahimovic meant Milan took a hefty lead back to the Emirates. The Gunners won that 3-0 but it was too little, too late.

Getty Images

2/8 Manchester City 6 Arsenal 3, Premier League, 2013

Arsenal were top of the league at the time but were blown away by City to close the gap to three points. Slack defending cost them and even when Per Mertesacker headed in a late consolation goal to make it 5-3, Yaya Toure still had time to score a sixth.

Getty Images

3/8 Bayern Munich 5 Arsenal 1, Champions League Group Stage, 2015

Yes, remarkably, Tuesday night was is not even the second time Arsenal have lost 5-1 to Bayern. In last season's Group Stage, Robert Lewandowski, David Alaba, Arjen Robben and two Thomas Muller goals saw to an embarrassing night for Wenger.

Bongarts/Getty Images

4/8 Liverpool 5 Arsenal 1, Premier League, 2014

Liverpool were rampant three years ago and stormed into a four goal lead inside the opening 20 minutes at Anfield, including two goals from centre-back Martin Skrtel. Raheem Sterling made it five with Mikel Arteta's penalty a mere consolation.

Getty Images

5/8 Tottenham 5 Arsenal 1, League Cup semi-final second leg, 2008

A humiliating scoreline – made all the worse by it being against the Gunners' most bitter rivals. The defeat cost them a place in the League Cup final as Nicklas Bendtner and Emmanuel Adebayor nearly violently clashed on the pitch.

Getty Images

6/8 Manchester United 6 Arsenal 1, Premier League, 2001

Dwight Yorke bagged a first-half hat-trick at Old Trafford as United raced into a 5-1 lead by the break. Teddy Sheringham added a late sixth as the Red Devils went 16 points clear at the top of the Premier League.

Getty Images

7/8 Chelsea 6 Arsenal 0, Premier League, 2014

Not the best way for Wenger to celebrate his 1000th game in charge of Arsenal. Chelsea were 3-0 up inside 17 minutes in a game which also saw Kieran Gibbs sent off in a case of mistaken identity with Alex Oxlade-Chamberlain.

Getty Images

8/8 Manchester United 8 Arsenal 2, Premier League, 2011

Wayne Rooney grabbed a hat-trick to help inflict Wenger's biggest defeat as Arsenal boss. It was made all the worst as it was by a Manchester United team with a midfield of Tom Cleverley, Anderson, Nani and Ashley Young.

Getty Images
They are the biggest club in Europe's biggest and most glamorous city and yet find themselves sucked into a pit of elite mediocrity – actually content that a third or fourth place domestic finish and continental irrelevance is acceptable.
The Manchester clubs will tell you that it would be no contest with Arsenal in the transfer market if the allure of the location was actually matched by a level of professional competitiveness.
From the US, a source familiar with Kroenke testified on Wednesday that the 69-year-old "does think through the running of a sports franchise, emotionally and logically", with the imaginative LA Rams' appointment in January of Sean McVay, as the youngest head coach in NFL history, testament to that fact.
Arsenal should be so lucky. There remains no sense that the incumbent 67-year-old will be moving on, with 16 points currently separating their team from Chelsea, whose maligned owner has been alive to change, again and again.
Reuse content