Arsene Wenger has admitted he does not know when Theo Walcott will return after he withdrew from the Arsenal squad to face Stoke on Sunday just minutes before kick-off.
The Frenchman did stress though that it was not a serious injury and he will hopefully be out for "days" rather than weeks.
The Gunners ran out 3-1 winners at the Emirates to move top of the Premier league, with young German Serge Gnabry taking Walcott's place on the right winger with Ryo Miyaichi coming in on the bench.
Wenger has admitted that Walcott had a minor issue before the Champions league victory over Marseille, and the situation was compounded with Walcott suffering from illness on Saturday.
However, the injury, said to be a muscular abdominal issue, remains a mystery to Wenger.
"We hope we haven't lost Walcott for a long time. He has a muscular abdominal problem but I don't know how serious it is," Wenger told BBC Sport.
"Is it a question of days? I hope so. He had a little problem before the Marseille game and it became a bit worse.
"It is a bit mysterious because we don't really know what it is."
Walcott netted his first goal of the season in the south of France, but the problem will concern Wenger after the 24-year-old suffered a similar injury when he was on international duty with injury earlier this year. On that occasion, Walcott was forced to spend three weeks on the sidelines.
However, there was good news for Wenger with vice-captain Mikel Arteta returning to action to make his first appearance of the season. The midfielder had picked up a thigh injury in the days leading up to the opening day defeat to Aston Villa, but his return has slightly eased the pressure on the threadbare Arsenal squad.
With more first-team members expected to return after the international break, Wenger is expected to rest a number of players for Wednesday's League Cup trip to West Brom.
With Olivier Giroud having started every Arsenal game so far this season, he is expected to be rested meaning that there could be a return for forgotten striker Nicklas Bendtner, who has not featured for the Gunners since August 20 2011, when he came off the bench for the final 10 minutes in the 2-0 defeat to Liverpool.
Another option could be to start striker Chuba Akpom, who made his albeit brief debut for the club in the 3-1 victory over Sunderland earlier this month.
"I have to rotate [for the West Brom game] because we have many players on the fringe and I have to make some decisions," the manager said. "We have a game on Saturday and a game against Napoli [in the Champions League] after that so we will have to rotate."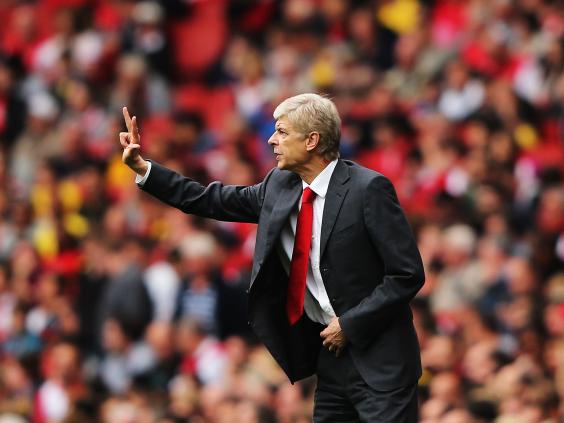 He also spoke of his surprise at scoring three goals against Stoke from set-piece situations – a rarity for the Gunners an even rarer concession by the Potters.
"We have established a good run and overall, after a Champions League game, to win is very important. We did it with two different halves. The first was fluent, the second was down to desire and will. "
Reuse content