Arsene Wenger has told Alexis Sanchez that he will not shatter Arsenal's wage structure and put the club in "trouble" just to offer him the money he could earn in China.
Sanchez has been offered at least £400,000 per week to play in the Chinese Super League, a figure that the Chilean is leveraging to demand Arsenal more than double his current salary.
While an agreement on a new deal is now unlikely, Wenger told Sanchez that he would not jeopardise the club's financial health in order to keep him. Even as Arsenal consider offering Sanchez up to £300,000 per week, Wenger said that he was "always" wary of destabilising the dressing room by paying one player so much more than everyone else earns. 
Arsenal's dirty dozen
Arsenal's dirty dozen
1/12 January 31 - LOST 2-1 v Watford (H)

With some big games on the horizon, Arsenal were shocked as goals from Younes Kaboul and Troy Deeney set the Hornets on their way with Alex Iwobi's reply not enough for the hosts.

Getty

2/12 February 4 - LOST 3-1 v Chelsea (A)

With Antonio Conte's Blues on fire this was always going to be difficult for Wenger and his side and they were blown away as Marcos Alonso, Eden Hazard and former Arsenal favourite Cesc Fabregas scored - Olivier Giroud hit an injury-time consolation.

Getty

3/12 February 11 - WON 2-0 v Hull (H)

An unconvincing win over the relegation-threatened Tigers proved to be just a short period of respite, the three points were sewn up courtesy of an Alexis Sanchez brace.

Getty

4/12 February 15 - LOST 5-1 v Bayern Munich (A)

Hopes of ending a six-year run of being eliminated from the Champions League at the round-of-16 stage were all-but ended in Bavaria as Arjen Robben, Robert Lewandowski, Thiago (2) and Thomas Muller all scored. Sanchez grabbed Arsenal's away goal.

Getty

5/12 February 20 - WON 2-0 v Sutton (A)

Another unspectacular win against non-league Sutton in the FA Cup, goals from Lucas Perez and Theo Walcott were enough for the Gunners to keep their hopes of winning silverware this season alive.

Getty

6/12 March 4 - LOST 3-1 v Liverpool (A)

A return to league action and a return to defeat as Jurgen Klopp's side proved too good for Arsenal at Anfield. Danny Welbeck scored the consolation for the visitors but Roberto Firmino, Sadio Mane and Georginio Wijnaldum wrapped up the win for the Reds.

Getty

7/12 March 7 - LOST 5-1 v Bayern Munich (H)

Despite performing better against their German counterparts in the return leg, Walcott's goal was cancelled out by Lewandowski, Robben, Douglas Costa and an Arturo Vidal brace - Arsenal suffered a humiliating 10-2 aggregate loss, the biggest for an English side in the Champions League.

Getty

8/12 March 11 - WON 5-0 v Lincoln (H)

Another non-league challenger dispatched in the FA Cup to send Arsenal into the last four; Walcott, Giroud, Sanchez and Aaron Ramsey helped themselves to goals alongside a Luke Waterfall own goal.

Getty

9/12 March 18 - LOST 3-1 v West Brom (A)

With pro-Wenger and anti-Wenger planes flown over the Hawthorns, the latter would have left feeling more vindicated as Craig Dawson scored twice and Hal Robson-Kanu added a third off the bench. Sanchez had earlier equalised for the visitors.

Getty Images

10/12 April 2 - DREW 2-2 v Man City (H)

Wenger's side showed resolve to fight back twice and take a point against their top-four rivals, with Walcott and Shkodran Mustafi equalising strikes from Leroy Sane and Sergio Aguero.

11/12 April 5 - WON 3-0 v West Ham (H)

With some fans staying away from the opening of this London derby to protest against Wenger, Arsenal eventually showed they had the class to beat a West Ham side bereft of confidence themselves - Mesut Ozil, Walcott and Giroud got the goals.

Getty

12/12 April 10 - LOST 3-0 v Crystal Palace (A)

Any positivity was short-lived as Sam Allardyce's Eagles soared to a comfortable victory in south London. Former Tottenham man Andros Townsend opened the scoring before Yohan Cabaye struck and a Luka Milivojevic penalty rounded off yet another forgettable night for Arsenal.

Getty
"We have to consider our financial potential," Wenger warned, "to sustain the wages for the whole squad."
"You have many different opinions there. Some people tell me 'just give him what he wants'. But then you cannot respect anymore the wage structure, and you put the club in trouble as well."
However there are some Arsenal fans who do not want the club to compromise themselves for a player who would rather be elsewhere, which is why Wenger knows he cannot give in to everything Sanchez wants. "Always the club has to be the priority. I understand as well that top players are a big priority. But at the end of the day even for important players you can only pay as much as you can afford."
The problem is that it is difficult for Premier League clubs to maintain wage structures when their players could multiply their salaries in China. That distorts salary negotiations, or in Wenger's words, "contributes to the imagination of the players". Wenger told Sanchez to forget about going to China and focus on playing at the top level in Europe instead. For a truly top player, Wenger said, going to play in the CSL was "not a debate".
"I think every club and every player has to make decisions," Wenger said, giving his strongest warning yet against taking the money. "Where are your priorities? Where do you want to play? I think the first priority for top players is play to best with the best players and in the best league."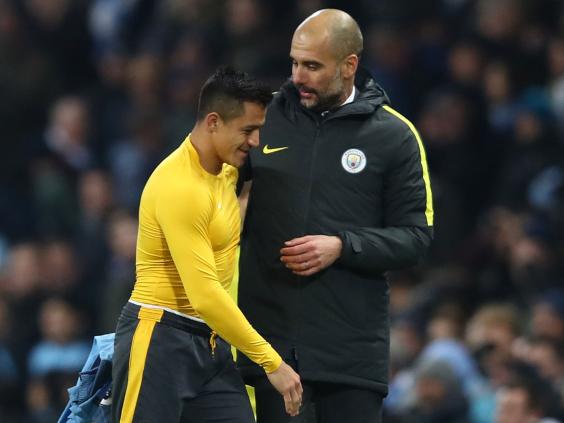 "After that you do not have to make a choice anymore where – you go to China because you earn big money," he said. "You make big money in England as well. So you can combine the best combination of playing at the top and [earning] big money, in England at the moment. So China for me is not a debate."
But clearly Wenger accepts that he cannot expect to offer Sanchez, or for that matter Mesut Ozil, just a small increase on their current salaries and expect to keep them. His old prudence is under threat and the club will have to pay more than they have ever paid before. The old structures can be rigid, and Wenger is willing to go to unprecedented levels. But there is always a limit.
"We must accept that also modern life has changed a little bit," Wenger said. "We always had a wage schedule that was respected. But players earn so much money now that the cases have become much more individual than global."
Reuse content