Amid all the wonder about Arsene Wenger's future, those close to him have always maintained that one thing is absolutely certain. The 67-year-old would find it very difficult to imagine his life without the day-to-day of being Arsenal football manager.
That is one big reason why he is leaning towards staying. Another big reason is because he feels he can solve the current problems with this team. That is why he has been more upbeat of late, why he wasn't so desolate after the latest defeat, this time 3-1 away to West Brom.
Another wonder, however, is what will happen if the problems really are terminal; if he is wrong on this. This is the curious situation Arsenal are in, because of all the complications connected to the fact one man has such a power, but also what if Wenger commits… but there is total collapse?
West Brom vs Arsenal player ratings
West Brom vs Arsenal player ratings
1/22 Ben Foster - 7 out of 10

Had little chance with Arsenal's goal, he made a fine save from Ramsey and showed good handling throughout.

AFP/Getty Images

2/22 Craig Dawson - 8 out of 10

A constant threat from set-pieces, he dominated the air at both ends of the pitch and was rewarded with two goals.

Getty Images

3/22 Gareth McAuley - 7 out of 10

The Northern Irish defender was consistently cool under pressure.

Getty Images

4/22 Jonny Evans - 8 out of 10

Alongside his compatriot, he took was the essence of assured defending.

Getty Images

5/22 Allan Nyom - 7 out of 10

Demonstrated pace and power from the left-back position.

Getty Images

6/22 Darren Fletcher - 7 out of 10

The midfielder was given more license to get forward alongside Livermore and nearly finished off a fine first half move.

Getty Images

7/22 Jake Livermore - 8 out of 10

Following his England call-up, the midfielder impressed as he sat in front of the back four.

AFP/Getty Images

8/22 Chris Brunt - 5 out of 10

Back on the left-side of midfield, the winger was quiet before his removal for Yacob.

Getty Images

9/22 Nacer Chadli - 6 out of 10

Switched off defensively for Sanchez's goal, but was at the heart of two of Albion's.

Getty Images

10/22 James McClean - 7 out of 10

A livewire on the left, he missed chances with his head and his right boot. Booked.

Getty Images

11/22 Hal Robson-Kanu - 6 out of 10

Off the bench and on the scoresheet within 74 seconds.

Getty Images

12/22 Petr Cech - 7 out of 10

Made two fine saves before injury forced him off in the first half.

13/22 Hector Bellerín - 5 out of 10

Pushed back and given a torrid time by the tenacity of McClean.

14/22 Laurent Koscielny - 5 out of 10

Failed to recover after being beaten in the air by Dawson for Albion's opener.

15/22 Shkodran Mustafi - 5 out of 10

Struggled against the strength of both Rondon and Robson-Kanu.

16/22 Nacho Monreal - 5 out of 10

Combined well with Sanchez when overlapping. Less impressive in defence.

17/22 Granit Xhaka - 5 out of 10

Displayed awareness to set up Sanchez but was outmuscled by West Brom's midfield.

18/22 Alex Oxlade-Chamberlain - 5 out of 10

Failed to make an impact all afternoon.

19/22 Theo Walcott - 5 out of 10

An early glimpse of goal was as good as it got for the forward who was unable to show the England boss what he was missing.

20/22 Aaron Ramsey - 5 out of 10

An off day for the Welshman who was denied by Foster and then culpable for allowing Dawson to roam free to head Albion's third.

21/22 Danny Welbeck - 6 out of 10

Saw little of the ball up front, but did hit the crossbar with a close-range header in the second half.

22/22 Alexis Sanchez - 7 out of 10

Another goal for the Chilean, but he struggled after being fouled by McClean. The decision to substitute him led to a chorus of boos.
It cannot be denied that Saturday looked very bad in that regard. It is not just that Arsenal again lost. It was how they lost, with such an apparent lack of fight, with such a susceptibility to just caving.
That is also something we haven't seen before, at least not in this kind of context. Arsenal have suffered a conspicuously high amount of bad defeats for a big club, especially in the last half decade, but one of the constants of even that time - along with Wenger himself - has been their creditable self-correction mechanism. While they have not been capable of getting the win that would really put them onto the next level, they have never suffered the type of defeat that properly plunges them into outright crisis. That might be something else starting to finally change, and not for the better.
Look at the stats around the game alone, and why this wasn't just a run-of-the-mill occasionally-happens defeat away to awkward opponents. For one, it means that they only sides Arsenal have beaten in over a month have been from non-league: Sutton United and Lincoln. Secondly, it actually made it four defeats out of five in the Premier League - by far the worst run of result of his entire reign, and a spell not seen at the club since 1995. 
If that is somewhat distorted by the fact the schedule has been so disrupted it of late, it was all the more worrying that they were so easily caught out - and so seemingly lacking in alertness - when all the players know the situation. The team played like one who had the uncertainty of all this hanging over them.
That is what was such a worry. It is not just that Arsenal might miss out on the top four, as Wenger seems to be discussing with increasing acceptance. It is that they could finish a distant sixth, and even seventh feels a possibility right now.
That would really be a game-changer, and hard to justify.
It's difficult not to think it could yet change Wenger's thinking, if it does get that bad, although he just does not want to leave on a low. He will always back himself to get it right, and is genuinely a fighter in that regard.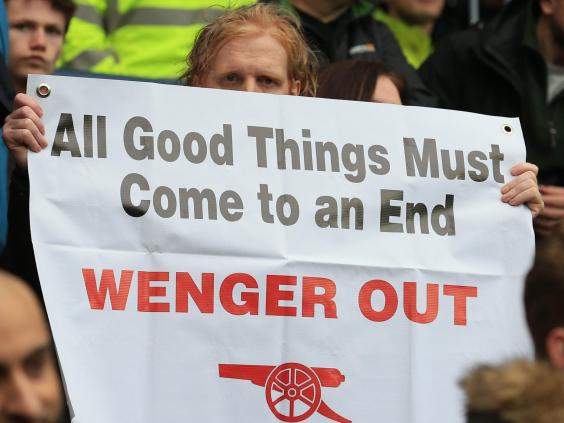 That is to his credit but, given the trajectory of the last few years, it does feel like one of those situations where he is getting more and more defiant about trying to eventually go out on the right possible note only for it to keep going more and more wrong. The initial idea when it first started getting mentioned that Wenger might soon leave was that he would try to go out with either a long-awaited league or Champions League, but he has never felt further away from either. It as if they are just gradually slipping away, as he tries to make everything tighter.
Arsenal have at the very least started to be proactive and clever about the post-Wenger future, whenever that happens. They are already doing things differently to Manchester United before Sir Alex Ferguson, and have started to try and unstitch the way every thread in the club is tied to one man. Apart from sounding out third parties about managers that could potentially come - like Borussia Dortmund's Thomas Tuchel - they have started the process of looking for a director of football, something arguably essential for when Wenger does leave given how all-encompassing his current role is. Some of those who work at Arsenal also feel it is notable that Luke Hobbs has been appointed interim academy manager since the departure of Andries Jonker. While Hobbs is by no means a non-Wenger figure, he is not considered a hardcore loyalist like other potential appointments such as Steve Morrow or Steve Gatting.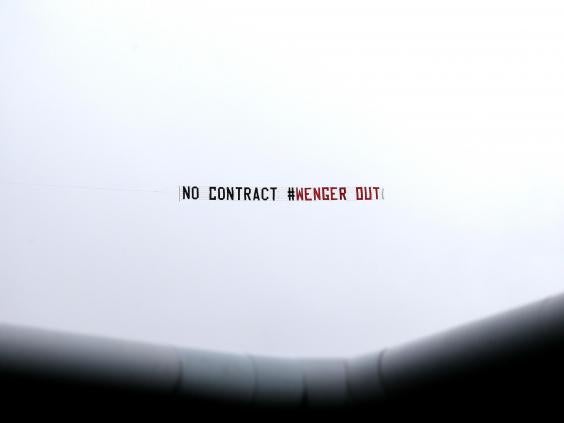 None of this is to say they feel Wenger is on his way, but more they are being prudent about the future.
Is Wenger himself prudent to want to stay?
That is currently hard to say, and it would be dangerous to draw too much on short-term results. It does not look good right now, but Wenger has clearly seen things that encourage him, that have fired his resolve.
He's just never been in a situation like this before. He needs to come up with a response we've not seen before.
Reuse content