Arsene Wenger has insisted that he will not walk away from Arsenal at the end of the season even if the club end the campaign without any silverware.
The 66-year-old will enter the final year of his current contract at the end of the season, but with Arsenal sitting in third in the Premier League table and having experienced recent elimination in both the FA Cup and Champions League, Wenger is facing increasing pressure from fans over his future.
Some have resorted to bringing signs and banners to matches calling for Wenger to leave, while others have booed the team during their recent dismal run of one win in eight matches.
However, Wenger has appeared in an interview with Bein Sports to reiterate his commitment to the north London club and insist that he will not be forced out of his position before the end of his contract.
Asked if he has any doubts over his role with the club, Wenger said: "I have no doubt because I am committed. When I do something, I do it 100 per cent. I'm always committed to give my best as long as I am at the club. I believe in life you should focus on what you're appointed for and I'm appointed to perform and do the best for my club. That's all I focus on."
Who is playing for their Arsenal future?
Who is playing for their Arsenal future?
1/8 Per Mertesacker

Has Arsene Wenger lost faith in the towering German? It appears so. Time and time again in the Gunners' big matches this season he has been dropped for Gabriel or Laurent Koscielny. Will he be content to stay as a squad player next season?

Getty Images

2/8 Gabriel

While it looks very doubtful both he and Mertesacker will be sold, there is a good chance one will. The Brazilian just has not settled into the Premier League yet. He will have to show he can handle it in the top flight in the final eight games to prove his worth to the squad.

3/8 Theo Walcott

It has been a season of ups and downs for Arsenal's current longest-serving player. He usurped Olivier Giroud as the club's first-choice striker, but he has only scored in two of the Gunners last 18 matches. He needs to be in the goals over the next eight games or you'd have to imagine Wenger will welcome offers.

4/8 Calum Chambers

A centre-back, a right-back or a defensive midfielder? Chambers has failed to excel in any position this season.

5/8 Serge Gnabry

Back at Arsenal after a disastrous loan spell at West Brom in which he only made one appearance. If he fails to have any impact until the end of the season, he will find himself in the deadwood category of Wenger's squad.

6/8 Tomas Rosicky

A sad tale, but if he does not recover from the serious thigh injury that has ruined his season and play again in this campaign then the will realistically be no other option than to let him go. His contract runs out at the end of the season.

7/8 Alex Oxlade-Chamberlain

Has not got anywhere near his potential after his £15m move from Southampton in 2011. An important season finale awaits for the 22-year-old.

8/8 Kieran Gibbs

Displaced by Nacho Monreal as the first-choice left-back this season, Gibbs will have to make the most of his chances until the end of the season.
Wenger also spoke out against those who have publicly criticised him and his players, and claimed that he is happy as long as he continues to give his best, despite what those in the stands think.
"I think that the criticism during the season is not very welcome when you fight for the championship, especially after the game against Tottenham where we were a bit unlucky," Wenger added.
"You have to live with that. I have my conscience. What is the most important is that I give my best every day, I work for the club I love and if I can share that love with the supporters it's even better.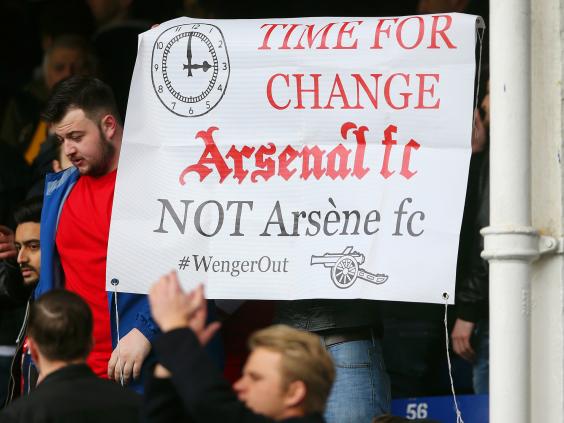 "I don't worry too much about all the rest, what people say. All the rest is judgments, opinions and that is linked with the beliefs from the last result or the last disappointment or the last happiness. In my job you focus on what is important and that's to perform. My future is my future. I don't master that more than you."
Arsenal have plenty of work to do in the coming weeks if they want to have any say in the destination of the Premier League title, with the Gunners trailing leaders Leicester City by 11 points with a game in hand. They trail fierce rivals Tottenham, who sit in second, by six points having played a game less than Spurs, while their top four status is far from certain with the chasing pack of Manchester City, West Ham and Manchester United all within touching distance with five points separating the four clubs.