As he strode through the innards of Singapore's National Stadium to take the bus back to the airport after Arsenal had lifted the Barclays Asia Trophy, Arsène Wenger waved to  the crowd and shouted: "See you in 10 years."
The thought of Arsenal's great helmsman still steering the club through tours of the Far East when he is 75 appears too much to imagine but then it is equally hard to envisage Wenger in retirement.
"I do think about it because it crosses my mind sometimes but for no longer than five seconds because I panic a little bit," he said. "I have spoken to Alex Ferguson about it. When we played at Manchester United he came to meet me after the game.
"I said: 'Come on, you don't miss it?' and he said 'no'. He had had enough. He still goes to every game  but he has his horses and I have no horses. Can I imagine  managing another club?  With difficulty."
It was not too long ago that quite a few Arsenal supporters would dream of Wenger managing somewhere else. In December, after Arsenal had been horribly outplayed at Stoke, fans booed and jeered Wenger as he boarded a train for London.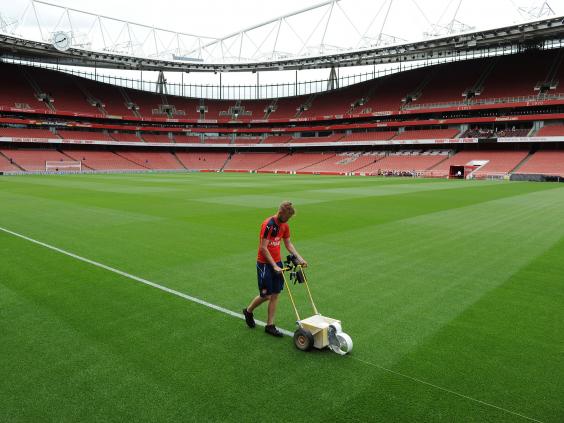 They were sixth in the Premier League, another campaign that promised much had been squandered. Placards proclaiming "Enough is Enough" were being passed around. When Wenger took his side to West Bromwich Albion he was greeted by a banner that read: "Thanks for the memories but it's time to say goodbye."
His response was to shore up the defence by bringing in right-back Hector Bellerin and to recall Francis Coquelin from a loan spell at Charlton to use as a holding midfielder. The Arsenal left-back Kieran Gibbs, asked for the reasons behind the transformation of the season, immediately named Coquelin.
Arsenal finished like a train and easily retained the FA Cup. The signing of goalkeeper Petr Cech from Chelsea was greeted as a game-changer. It does not require much work to see Arsenal as champions once more. However, the wound may have crusted over but the scar is still fresh. Stoke station was just seven months ago.
"I have big experience and experience helps you anticipate what you will face," said Wenger. "I did not necessarily anticipate that [Stoke station]. You would not expect people to insult you on the way to the train. It's the way society has gone and you have to go with it. You can take it or not take it.
"That's where experience helps. You have a good assessment of who you are and you are not influenced by what people say, whether that is on one side too positive or the other side too negative." Asked if he avoids Twitter, Wenger laughed and said: "I must confess, yes."
There have been times when Wenger has sat here, before the start of a season, and talked positively into a microphone while knowing he had no chance of winning the title. "Of course you know you are not going to win because when you lose your best players it is impossible," he said.
"You see opponents strengthen their squad and they are already stronger than you. You just have to get into the top four by grabbing every single point. A manager has to take the best potential out of the team he has.
"At Stoke, Mark Hughes took the maximum out of his squad last year. They finished ninth in the league, they played well, but this year he has to do better. I know where this team can be at the end of the season. That's where experience helps. I know if I could have won the league or not. For example, the year we lost it at Birmingham [2008] we could have won the league. Last year, no, because after six games we were 11 points behind Chelsea and to catch 11 points back was nearly impossible with the run they made."
After Wenger's work over three summer transfer windows, there is a feeling that this, finally, might be Arsenal's championship. The defence finished last season in exceptional shape. They have added a world-class goalkeeper, the midfield seems strong and adventurous.
The words of Thierry Henry that Arsenal do not possess a "top, top striker" linger in the air, but during his week in Singapore Wenger never entirely dismissed the idea that Real Madrid's Karim Benzema might be coming to London.
If they do regain the Premier League, the satisfaction will be felt beyond Arsenal's natural constituency. Their decline as the cutting edge of English football can be dated precisely from when the one-time governor of a remote Siberian province, Roman Abramovich, decided west London was the ideal place to invest the money he had made there.
And when the men from Abu Dhabi came to Manchester City, the eclipse was complete. It might be nice if for once an oligarch did not win the league.
"You want ideally a Premier League where every club gets £100m and then let's see how good you are," said Wenger. "It was the case maybe 30 years ago [that you could win the league without money] but not any more. In Spain only two clubs can win it, in Germany only one. We will certainly not see any more Nottingham Forest winning the European Cup.
"We can analyse the reasons but it is just down to financial resources. The clubs who have the better resources have the better teams."
Wenger may have railed against the oligarchs and the "financial doping" their clubs indulge in but he has cause to be grateful to Abramovich, who personally authorised Cech's move from Chelsea to the Emirates.
"The deal happened because of a special relationship that Petr Cech had with Abramovich," said Wenger. "I think he had a promise from Abramovich that he could go, no matter where, at a certain price and that is why it happened. It did not look too big a surprise to me because Chelsea could not keep him for ever at 33 years of age as a No 2." Asked if Chelsea's owner had finally done him a favour, Wenger said tersely: "He has caused us enough problems."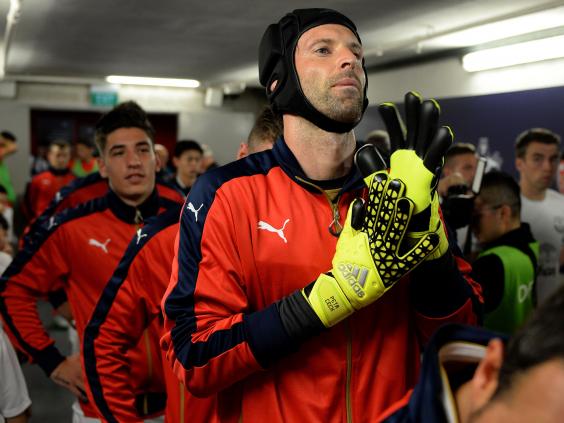 Wenger will continue to go his own way, the path that does not demand a galactico every summer, the one that stresses the virtues of stability and youth development. "Most of the clubs who have been successful have done that," he said, although like the Liverpool manager, Brendan Rodgers, he wonders what giving teenage English footballers huge salaries does for their development.
"You can take Barcelona or Manchester United, who built their success on players who came from within," he said. "These are our values and it is in our DNA; it's important that we keep that. With the success United have had they have created huge financial resources and today there is no patience for them to continue to do what they did.
"They don't have available players like Scholes, Giggs and Beckham inside the club because youth talent is spread more evenly through the 20 Premier League clubs than it was 20 years ago.
"It would be interesting to analyse what the basic wage of the England Under-18 team was 20 years ago, 10 years ago and today. You would have a shock if you knew what the average 18-year-old footballer earned."
When that 18-year-old footballer was born, Wenger was manager of Arsenal. In that time he could have gone to Madrid or Munich and spent vast sums on footballers, won rather more than the two FA Cups that have been his return from Arsenal in the last decade, written his autobiography. He has slightly more outside interests than he often reveals but not enough to let football go.
"The love of what you do is not necessarily diminished by the number of times you've done it," he said. "Football is new every day. That's its big quality; it makes you question because with every defeat people say: 'What is this guy doing?' Every three days you are questioned – an exam every three days. You have no way to look back. You have to prepare for the next exam and come out of it with success."
Reuse content