As Aaron Ramsey struck home the FA Cup-winning goal in extra-time at Wembley, a glance in the direction of Arsene Wenger would've been enough to see the weight of Arsenal's nine-year trophy drought lift off his under-pressure shoulders.
Wenger has followed the success by signing a new contract with the club to remain Arsenal manager until 2017, with his previous deal set to expire at the end of the season.
For one Arsenal great, it was a moment to behold and a reason for the Gunners to be optimistic that a return to their former glory days is just around the corner.
"Oh it was ace," says former Arsenal goalkeeper David Seaman. "It was a great relief and everybody can shut up about nine years and everything. We've got a trophy, the team now have winners' medals and I'm so happy for them because they've gone through a lot of crap, a lot of stick and they've actually got a medal now.
"It's the best season they've had in that last nine years because they've qualified for the Champions League again and now they've got a winners' medal. So I'm so happy for the team but I'm so happy for Arsene Wenger as well because it takes unjustified pressure off him."
Seaman made 564 appearances for the Gunners during his 13-year spell at Highbury, with the goalkeeper also going on to make 75 appearances for England as he became the nation's undoubted Number One for both the 1998 and 2002 World Cup's.
Arsene Wenger signs new contract: His favourite Arsenal XI
Arsene Wenger signs new contract: His favourite Arsenal XI
1/11 David Seaman - 564 appearances

Seaman is Arsenal's all time appearance maker for a goalkeeper and second to only Ray Palour for the most Premier League appearances for the Gunners. Seaman won the Premier League title, FA Cup and Community Shield on three occasions apiece and was named seventh in the list of the 50 Gunners' Greatest Players of all time. Famous for his pony tail, Seaman was also named in the PFA Team of the Year for the 1996/97 season.

Getty Images

2/11 Bacary Sagna - 284

The right back took the number three shirt from Ashley Cole after being signed for a fee in the region of 9 million Euros from Auxerre in 2007. He has been named in the PFA Team of the Year twice, for the 2007/08 and 2010/11 seasons.

Getty Images

3/11 Kolo Toure - 326

The Ivorian could be considered to be Wenger greatest bargain signing, costing just £150,000 from ASEC Minosas in 2002 and then selling him for a huge profit to Manchester City for £14million. He was part of the 2003/04 Premier League winning team and also won the FA Cup and Community Shield twice during his Arsenal career.

Getty Images

4/11 Martin Keown - 266

Keown won nine major titles and was a key figure at the heart of Arsenal's defence for many seasons. As a non-compromisingly tough centre back, he was part of formidable partnerships with first Tony Adams and then Sol Campbell. His clash with Ruud van Nistelrooy after the Manchester United forward missed a penalty has gone down in Arsenal folk law.

5/11 Gael Clichy - 264

After joining from Cannes in 2003, the French left-back went on to win 3 major titles with Arsenal. He was also named in PFA Team of the Year for the 2007/08 season. Clichy was sold to Manchester City for £7million in 2011.

Getty Images

6/11 Ray Parlour - 318

As a work horse of a player, Palour was a fan favourite throughout his Arsenal career. He won 9 major titles under Arsene Wenger and is the Gunners all-time leader in Premier League appearances. He will be forever fondly remembered for his 25 year strike against Chelsea during Arsenal 2-0 FA Cup final victory in 2002. Palour moved onto Middlesborough in 2004.

Getty Images

7/11 Patrick Vieira - 402

The Frenchman joined Arsenal the same season as Wenger in 1996 in a £3.5million deal from AC Milan. One of the most influential and powerful midfielders Arsenal have ever had and true Premier League legend. He won 11 major titles during his Arsenal career and his last action as a player was to score the decisive penalty to win the 2005 FA Cup, Arsenal last trophy. He will be forever remembered for his goals and rivalry with Roy Keane. He left Arsenal for Juventus in 2005 for a deal worth £13.75million.

Getty Images

8/11 Cesc Fabregas - 303

The Spanish international came through the ranks of Arsenal's youth academy to become their captain and one of their most influential players in recent times. He won the FA Cup in 2005 and was named the PFA Young Player of the Year for the 2007/08 season. Arguably his best season at the club came in 2009/10 when he scored 15 league goals and was their best player. He left the Gunners for an Arsenal record for a received transfer after being sold to Barcelona for £35million in 2011.

Getty Images

9/11 Freddie Ljungberg - 328

Famous for his quirky hairstyles, the Swedish winger was in eight trophy winning sides during his career with the north London club. He joined for a measly £3million from Swedish club Halmstads BK in 1998 and scored on a regular bias throughout his nine years being a key man in the Arsenal's 'Invincible' season in 2003/04. He left for West Ham in 2007.

Getty Images

10/11 Dennis Bergkamp - 376

Dutchmen Bergkamp is Arsenal's third highest goal scorer under Wenger and immortalised with a statue of one of his famous goals outside of the Emirates stadium. He scored 107 goals under Wenger's management and his touch and class has made him one of the Premier League all-time greats. The striker won ten major titles during his time and saw out his illustrious career with the Gunners.

11/11 Thierry Henry - 377

Having scored 228 goals during his Arsenal career, Henry will go down as one of Wenger's and Arsenal's greatest ever players. His explosive pace and devastating finishing helped to earn his club seven major titles during his time with the Gunners. He was named PFA Players' Player of the Year in consecutive seasons between 2002 and 2004 and has been forever remembered with a statue of his famous knee slide celebration outside the Emirates Stadium.

Getty Images
Having been at Wembley to witness Arsenal's first trophy success since the 2005 FA Cup final victory, Seaman believes that the side can now push on and challenge for the Premier League title, and believes "one or two" key summer signings can help them challenge for the top next season.
"I think they're going to keep on improving," adds Seaman. "I don't know if they mixed it right with all the young players, but now these young players have got older, they've got more experience so I think the mixture in the squad is good right now.
"They probably need a couple of players added to that. When you look at the effect that [Mesut] Özil's signing had on the squad, all the other lads saw a quality player come in and it lifted them as well. So if Arsene can do that with one or two players, I'm sure it would have the same effect on the lads."
Seaman did question whether Arsenal's failure to land a striker in January cost them in the second half of the season, where the gunners embarked on a poor run of results through February and March that ultimately put paid to their title challenge as Manchester City, Liverpool and Chelsea pushed on.
"Maybe he missed a chance on the [January] transfer deadline day, he could've got a striker in and it might have lifted them and then who knows what might have happened in the league. But I think the summer is the right time now to add one or two players of high quality that will lift the team and push them on because they've got the shackles off now with the nine year thing, they've got a trophy so let's see what else you can go and win."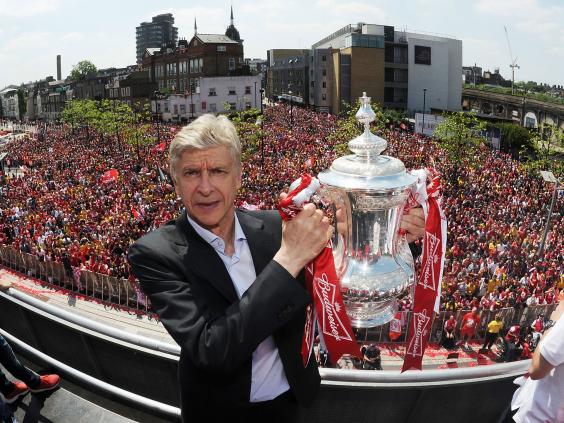 But despite their late-season troubles, Seaman insists that Wenger remains the right man to manage the club "by a country mile" and praised the talents of the 64-year-old Frenchman.
"If he [Wenger] left Arsenal, he would walk into any job he wanted in Europe or in the world," he said. "It wouldn't be a small club because he would get the top jobs offered to him all around Europe and the world because he is such a good manager. I'm going to be fraught – just be careful Arsenal fans what you wish for. See what happened at Manchester United, we don't want that happening at Arsenal.
"He knows how everything ticks, he knows about the physical side of the game, he knows when a player is a certain age how long it takes to come back from certain injuries. He knows absolutely everything about the game. He is an absolute train spotter of football. He just loves it, he watches it all the time and he just knows everything about running clubs and the whole thing. People don't get to see that side of him enough to realise how good he is, and then tactically he's brilliant and his talent spotting is second to none.
"Seriously, once you've worked with Arsene Wenger you realise how good he is."
It may be down to Wenger's ability to amaze those who have worked under his guidance that results in so many of the Gunners' alumni returning at some stage in their career to work with the club – be it as a player or coach.
But having seen former stars such as Sol Campbell, Jens Lehmann, Thierry Henry and Robert Pires return to the Emirates in recent years, 50-year-old Seaman is happy to pop along to the training ground every now and then yet leave the goalkeeping to the youngsters of a youth team.
"No way," he says when asked whether his attendance at their London Colney training base could lead to a dramatic return. "I go to the training ground and sometimes I do a little bit of coaching with my mate Tony Roberts who's the youth team goalkeeping coach there, but I keep it quiet and get along with my own business and I don't charge them, all I want is a free lunch!"
David Seaman and top female freestyler Laura Biondo, are working with Mini Babybel this summer, offering people the chance to win one of 15,000 free mini-footballs through their exciting on-pack promotion. Former England international David, is encouraging families to get out and play football and be inspired by the skills demonstrated by Laura in the latest Babybel video. For more information and to watch the video please visit: www.babybel.co.uk
Reuse content