In a week when Football Association officials met once more to discuss solutions to the shortage of English players in the Premier League, up at Burnley's welcoming training ground in the wooded precincts of Gawthorpe Hall, one man is still pinching himself at his good fortune.
That man is Ashley Barnes, who never knew life in the hothouse of a Premier League academy but began his long climb to the top flight as a 16-year-old with Paulton Rovers in the Southern League.
As recently as 2009 he was playing on loan at Eastbourne Borough so the fact he is now a Premier League player, scoring winners against Hull City and Southampton – not to mention a late equaliser away to Manchester City – should be a source of hope to many young English footballers.
It is unfortunate then that to most people outside Turf Moor, Barnes' dream season can be distilled to one event: Burnley's visit to Stamford Bridge on 21 February and the moment he caught Chelsea midfielder Nemanja Matic on the shin on the follow-through after making a pass.
While Barnes' 69th-minute challenge – later described as "criminal" by Chelsea manager Jose Mourinho – went unpunished, Matic earned a red card for his angry reaction and suddenly the 25-year-old found himself in the eye of a media storm.
Speaking to a national newspaper for the first time since, the Burnley forward offers his own version of events – and hits back at Mourinho for his typically prominent role in creating that storm.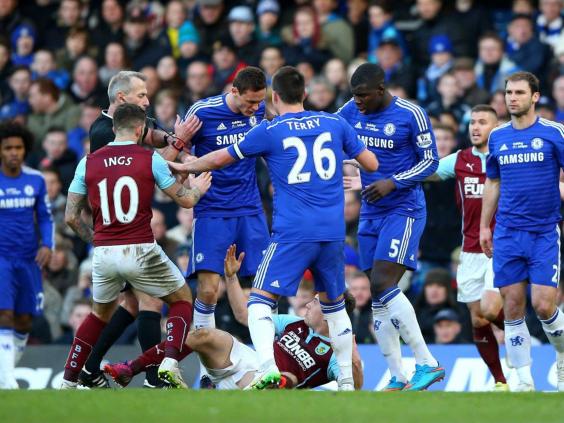 "Most people in the ground didn't react at the time," says Barnes, reliving the incident. "I've just gone to pass the ball back to David Jones and he [Matic] has screened in front, which is his job. I did catch him, yes, and I apologised, but at the time I didn't think I'd caught him until you see everything from all the different camera angles."
After the 1-1 draw, Mourinho listed several incidents he felt had gone against his side – "There are four moments of the game where you can write the story. Minutes 30, 33, 43 and 69," he said.  Barnes continues: "It is hard to take when Jose Mourinho comes out with his lottery numbers,"  You just have to laugh at that. People were then coming out of the woodwork to give me all sorts of names.
"In the stadium no one blinked an eyelid. Everyone got on with the game. Even Mourinho at the time was just stood there and not until after [did he complain].
"These big teams don't like what we do. What we do is get in people's faces and make it hard for them."
It was not over with the post-match interviews as the Chelsea manager appeared on Sky TV the next day to hammer his point home further. "I was at home and had a friend texting me saying Mourinho has gone on Goals on Sunday," Barnes says. "It is part of football – you are going to get your ups and downs and that was a down," he adds,  noting that the storm might never have broken had Chelsea won that day.
"That's the thing – their form at the time wasn't the best and Chelsea should beat Burnley. But it is not the case, we do a job, and [after] every challenge they are screaming and rolling around on the floor, stupid things like that."
Thankfully, Barnes had the backing of his manager, Sean Dyche, who responded with a 10-minute video on the club's website in defence of his player. "He knows that I've not meant it, and that no one else saw what happened during the game until afterwards," Barnes says. "I thank the gaffer for what he did for me – he knows and we all know here that I have not gone to do him properly, like they came out afterwards saying.
"You are going to get tough challenges, but in that split second if someone is not as quick as the other player these things happen. It is tough but he [Dyche] believes in just getting on with it and not worrying about refs and these incidents that happen."
Barnes is talking on a bridge over the River Calder, which runs alongside Burnley's training ground. In the spring sunshine, that February controversy seems far away and, happily, it has not diminished Barnes' sense of good fortune at simply being a Premier League footballer.
In a sense he embodies a Burnley side with little top-flight experience. Seven of their 10 players with 20 appearances or more this term are new to the division – and eight of that number are English. Yet whereas a handful started as trainees at the nearby Manchester clubs, Barnes, like fellow non-League graduate Danny Ings, began at the bottom.
"I've seen non-League football and gone and played everywhere so I appreciate everything that is put in front of me," he says. "I've come a long way and everything has fallen into place for me."
Tellingly, he would advise frustrated academy youngsters to consider stepping down rather than banging their heads against a glass ceiling. "If anyone ever asked my advice I'd say, 'go back to the roots and make your way up that way, rather than struggling at an academy'. There are a lot of people out there now playing non-League that are good enough to be in the Football League."
Until the age of 13 Barnes was actually a goalkeeper, turning out for the same side in his home city, Bath Arsenal, as Scott Sinclair, now playing for Aston Villa on loan from Manchester City.
"We used to win everything" Barnes remembers. "I wasn't bad in goal – I was keeping clean sheets and would just throw the ball to Scotty and he'd take everyone on."  It was pure chance that took him out of goal – a ruling that he could no longer play above his age group, which meant he left Bath Arsenal for another club "who already had a goalie and so I went and played outfield".
At 16, he stayed at school, going  into the sixth form, and only then did he get picked up by Paulton Rovers. "I'd stayed on because all I wanted to do was to play football and I wanted to see if anything would happen and luckily enough it did."
He still keeps in touch with Andrew Jones, his first manager – "they've all moved to a club called Shepton Mallet now [but] I am very close to them and we speak all the time" – although he spent only a year there before Plymouth Argyle picked him up. Even then he developed slowly, dropping into the Conference on loan at Salisbury City and Eastbourne, and scoring only two league goals before joining Brighton in 2010.
While his profile rose at Brighton, one curious detail of his Plymouth days is that he appeared once for Austria's Under-20 side in a match against Switzerland. "It was good to have that experience, but since then I've never been back," says Barnes, who qualified through his Austrian-born grandmother.
Barnes, with his rags-to-riches story, seems perfect for a hard-working, unheralded Burnley side where no one earns more than £20,000 a week and whose heads have not dropped once during a season-long scrap for survival. They sit second-bottom going into today's meeting with Arsenal yet can take heart from the four points, and two clean sheets, gained from their last two home fixtures, against Manchester City and Tottenham. "Every week is a learning curve," says Barnes, now operating on the left since Sam Vokes' return from injury, noting how Dyche "gives us all the freedom and confidence to go against these teams".
They are a close-knit group too, with Dyche making a virtue of his small squad. Barnes is one of nine Burnley players who have started each of the last 17 league games and says his manager views squad rotation as "nonsense". "The gaffer believes that you don't need breaks as a footballer, especially when you're young. We have got a small squad and maybe that has been to our advantage. We have to play every game as if it's our last.
"I am a strong believer, like everyone else at the club, that we are staying up. If we can do that, it's going to be a magnificent achievement."
My other life: staying smart
I drive a Smart car into work every day from Manchester – it's just me and Kieran Trippier and it's perfect as it fits us two in and our washbags. When we got promoted the lads said, 'Come on now, you can get rid of it', but that's who I am.
Reuse content