If the second half of this game showed the best side of Paul Lambert's Aston Villa side – their hunger, their strength, their resilience – the first half showed why those admirable traits are still not quite enough. Villa's rousing but futile fightback was impressive in itself, but the last act of a side who had effectively lost the game already, having gifted Arsenal possession, chances and goals in a very poor first half.
There is certainly much to applaud in Lambert's approach to managing Aston Villa. He inherited a team which had grown bloated, lazy, slow, old and complacent, and knew that he had to tear it apart and start again. Villa needed an injection of youth and hunger, and, through his transfers and simple force of personality, that is what he has given them. The second half was obvious proof of this.
The problem, though, is that football teams are delicate systems, and this Villa side has been dragged too far in the opposite direction. Lambert has stripped this team of so much experience, nous and the basic traits that are just as important as youthful fearless vigour.
Last season, Villa looked desperately lost for the first half of the season before Christian Benteke rescued them with sheer weight of goals. Benteke had gone four months without scoring before his goal against Arsenal, during which time their results had, understandably, collapsed.
Villa began as they had done too often recently, sitting back, knowing that they do not have the midfield to seize control of the game and having to play on the break instead. They have only won two of their 11 home games this season now and it was easy to see why. Even in the 3-5-2 system that Lambert moved to, which ought to guarantee extra numbers through the middle, Villa could not get near Arsenal's far sharper midfielders.
In pictures: Aston Villa v Arsenal
In pictures: Aston Villa v Arsenal
1/4 Aston Villa v Arsenal

Nathan Baker is carried off the pitch injured

Nick Potts/PA

2/4 Aston Villa v Arsenal

Jack Wilshere's celebration following the first goal

Adrian Dennis/AFP/Getty Images

3/4 Aston Villa v Arsenal

French striker Olivier Giroud scores Arsenal's second goal

Adrian Dennis/AFP/Getty Images

4/4 Aston Villa v Arsenal

Christain Benteke, left, lands on the ground as he watches his header get past Arsenal's goalkeeper Wojciech Szczesny

Kirsty Wigglesworth/PA
When Karim El Ahmadi threw himself at Jack Wilshere, flattening the Arsenal midfielder after roughly 50 seconds, it was clear that Villa's approach would have to be more destructive than constructive. The fact that El Ahmadi was, quite rightly, booked, limited his ability to do more of that while Ashley Westwood and Fabian Delph were largely bypassed by the pace of the game.
Even with five in defence and three in central midfield, Villa had eight of their outfield players camped within 20 yards of their own goal, and there was very little resistance, and not much organisation.
All of this with the return of Ron Vlaar, making just his second start in six weeks after recurring calf problems. He is 28 years old, with 21 international caps, the closest Villa have to an authentic adult at the heart of the team. But he could not stop Olivier Giroud from heading just wide early on, and often lost out to Arsenal's centre forward.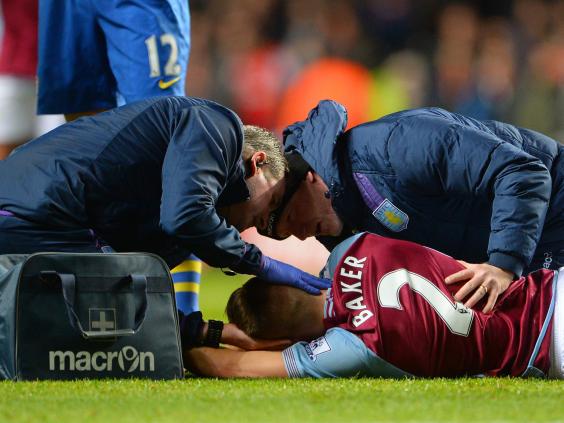 Vlaar, as ever, had to look after Ciaran Clark and Nathan Baker – the latter went off with concussion after 20 minutes – but looked as if he could have done with some more help. Why, amid all of the unproven youngsters, Lambert has not added someone like Scott Parker, Joleon Lescott or Tom Huddlestone, a player with experience of the division, remains a mystery.
So when Wilshere put Arsenal ahead, Villa's young side were wobbling and vulnerable, and they conceded again. Delph lost the ball to Wilshere, who found Giroud, who evaded Vlaar and Matt Lowton to score the second.
It was only in the second half that Villa started to play the purposeful football they were built for. They moved the ball forward quickly, stretched the play and Benteke was able to cause Arsenal's immaculate centre-backs serious problems. His goal was much deserved, for Villa's focus and application, and also for Arsenal's sloppiness.
But Villa's problem was one that Arsenal ran into too often last season, lacking the calmness and the nous required in the first half of games and conceding goals which made their rousing second-half comebacks ultimately futile.
That was what nearly stopped Arsenal from finishing fourth last year. Since then, Arsène Wenger has added the experience and quality they needed, giving them a far more complete unit this year. Now they know how to win matches. The scales are different but Aston Villa could learn from that lesson this month.
Reuse content