Rival managers Tim Sherwood and Chris Ramsey put their friendship to one side and barely exchanged a word on the touchline as Aston Villa and Queen's Park Rangers fought out a pulsating relegation battle at Villa Park but wound up sharing an emotional unity, each as disappointed as the other that their teams were not able to take three points.
Sherwood, thrilled by Christian Benteke's hat-trick, claimed there was only one team in it and that much as he admires the qualities of his former Tottenham coaching colleague he felt Ramsey's Rangers did not deserve to leave with a point.
Yet having seen his side twice in front, having executed their plan to capitalise on Villa's defensive uncertainties, Ramsey was disappointed not to go away with all three after Benteke's final strike squared the score at 3-3.
As a result, Villa remain three points above the bottom three with six matches to go, Rangers two points behind 17th placed Hull, who have played a game fewer.
"If you had told me before these last two games that we would get four points I probably would have taken it," Ramsey said. "But based on the way we played in the second half and at the beginning of the first half you have to go away a little bit disappointed not to have got across the line.
"But the teams who are at the bottom usually have defensive frailties and we've seen that tonight with their first two goals."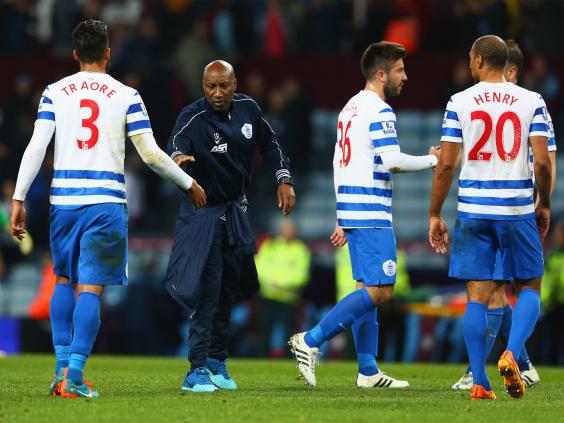 Ramsey said he thought the result was in the bag when Charlie Austin put his side in front with 12 minutes left, scoring his 17th goal of the season and leaving Villa apparently out of ideas and heading for defeat. But Benteke curled home a superb free kick to salvage a point for the home side. It was the Belgian's seventh goal in his last five Premier League appearances.
"You do think you've won at that stage but when you get to eight minutes left that's heart attack time for managers because you know that a free kick or a corner, or one bit of magic, could let the opposition back in the game," Ramsey said.
"I thought Villa had exhausted all their attacking options but when you are up against a player like Benteke, who can produce something like that, it can happen." 
Sherwood was insistent, though, that Rangers had been lucky, reckoning that they had five shots in the match and scored from three.
"The way we dominated that game, the referee should have stopped it at half-time," he said. "We should have been out of sight.  
"We tired in the second half and dropped a bit too deep and could not keep the pressure on.
"It was great for Benteke to score three but we are disappointed we have not taken three points. We are grateful he has pulled one out of the bag for us at the end but it should not have been close.
"There are a lot of positives but it is not about what you deserve but what you get at this stage of the season. 
"But it keeps us out of the bottom three and it could be a vital point come the end of the season."
Sherwood felt his players had answered his call for character but doubted they could be relied upon to find a way to safety by grinding out results.
"There was some character but we have a bit of flair as well.  I was pleased that we were able to play with freedom because we can only play on the front foot, we are not a team to dig out results."
Ramsey conceded it was a point more valuable to Villa and admitted his team will probably have to win three of their six remaining games to have a chance of survival, which may be a tall order given their run-in.
Home matches against Chelsea, West Ham and Newcastle are set against trips to Liverpool and Manchester City before the season ends with a potential relegation decider against Leicester at the King Power Stadium.
Villa travel to Tottenham and then Manchester City before facing Everton and West Ham at home, finishing with Southampton away and then another relegation rival, Burnley, at home on the final Sunday.
Reuse content