Tim Sherwood said that he hoped Aston Villa's dramatic injury-time win over West Bromwich Albion could be the moment that kick-starts his club's season after they moved out of the relegation zone.
Christian Benteke scored the 93rd minute penalty that gave Villa the victory having first led through Gabby Agbonlahor's goal before the break. Saido Berahino equalised but a mistake from Ben Foster gifted Villa a penalty from which Benteke scored for the club's first league win since 7 December.
The Villa manager Sherwood said: "It is huge for us. We have got a group of players who are not really suited to a relegation battle. The old-fashioned way of approaching it is 'blood and thunder' and dig out results. We had to change that. We had to play as if we aren't in a relegation battle.
"We controlled the football match and that takes bravery to keep passing through the midfield. I understand the anxiety of the club but they are there because they deserve to be."
Sherwood mimed feeling for his own pulse to the celebrating Villa fans as he left the pitch. "I was basically saying 'We are alive, alive and kicking'," he said. "If we go down, we go down fighting. People will look at the result but if they look at the performance it was not the kind of performance from a team fighting relegation."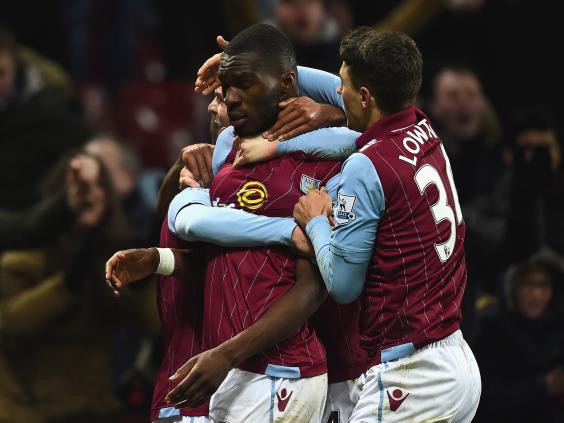 He joked that his wife had bought a Euro lottery ticket earlier in the day with a £54m jackpot on offer. "I told her I would rather have three points against West Brom," Sherwood said.
On Benteke, Sherwood said: "Goalscorers are there to be shot down. It takes a brave man to step up to take that penalty. I asked him before the game where he would put the ball if we won a penalty. He said 'I'll wait until the goalkeeper sits down and then roll it in the other corner."
Tony Pulis said that he would not blame referee Jon Moss for missing a bad studs-up challenge from Alan Hutton on Berahino late in the game. He admitted that goalkeeper Ben Foster had endured an "off night". "There's no-one who will criticise him. He's had a poor night. I don't have to speak to him. He knows."
Reuse content