Brendan Rodgers has admitted that he feared losing his job at Liverpool after the team's terrible start to the season.
After finishing second last year, Liverpool, despite the exit of Luis Suarez, were expected to mount a real title challenge this season. But the Reds were terrible in the opening months of the season, with Daniel Sturridge injured and Mario Balotelli struggling to fit in, they accrued just 14 points from their first 12 matches.
Sitting in 12th in the Premier League after a poor 3-1 defeat to Crystal Palace on 23 November, Rodgers believes he would have been sacked if the poor form had carried on much longer.
Rodgers is now being considered as a replacement at Manchester City if Manuel Pellegrini fails to convince the club's owners he is moving the team in the right direction.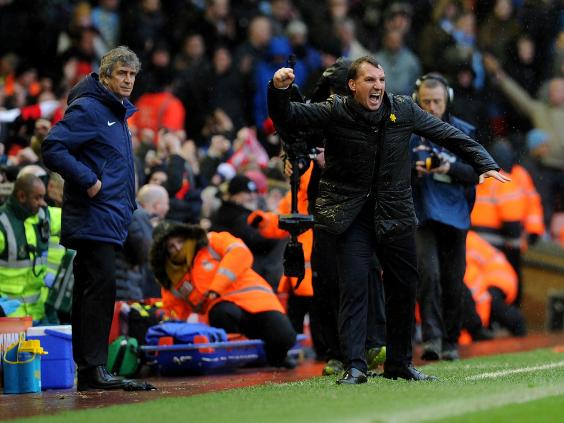 But since that defeat Liverpool have been the form team in England dropping just four Premier League points from the last 30 available to sit sixth in the division, just three points below Arsenal in third.
Rodgers has entirely changed the team's formation and style, going from a 4-2-3-1 that was too open, to a more defensive 3-4-2-1 that has seen Raheem Sterling and Philippe Coutinho flourish.
"After that Palace game I felt that it doesn't matter how much support you have, the team is not functioning and it could not go on really," he said. "But I certainly wasn't going to roll over and die. I will always fight for my life. I love it here and I want to be successful here.
"I understood the situation. My experience at Reading told me that. That's what I learned from my sacking there. I went in to Reading with the full backing of the chairman, who was great to me, and I got 20 games. Even though it was a three-year project and they wanted me there and I was the guy who knew the club more than anyone, I got the sack after 20 games. Funnily enough it had just started to pick up but they lost their patience.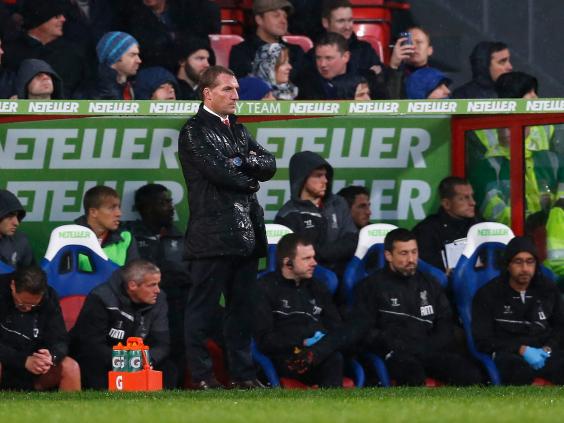 "What I learned was it does not matter how much support you have in the boardroom, from the directors, the executives, you have to get results and you have to win.
"I needed to make decisions that would allow us to get back to somewhere near what we had been and the transformation of the team, with everyone talking about the system and how dynamic it is, has been good to see. I should have done it earlier!"
He added: "We had no identity and everyone could see it. We just weren't the team I had built over a couple of years. It was not working and of course that can eat away at you.
"I knew I had to do something radical because I had seen enough of the players to know we were not going to shape up and work as we had done for the previous couple of years with what we had got."
Liverpool 2 Manchester City 1 player ratings
Liverpool 2 Manchester City 1 player ratings
1/22 Simon Mignolet - 5

Should have done better to deny Dzeko's goal and looked nervy from the off. Caught out of position on more than one occasion. Lucky not to concede more in the second half as several efforts went skimming by the woodwork.

Getty Images

2/22 Emre Can - 7

Muscular in defence. He let his teammates roam up the field knowing they were secure at the back.

Getty Images

3/22 Dejan Lovren - 6

Had a mixed game going up against Pablo Zabaleta. The Argentine couldn't pick a key cross so Lovren can be pleased with his work.

Getty Images

4/22 Martin Skrtel - 6

Read the game well in the centre of the back-three but was asked to do too much with Liverpool's midfielder's so committed to the attack.

Getty Images

5/22 Jordan Henderson - 8

What. A. Goal. You don't see too many of them. His powerful curling effort from 25 yards gave Joe Hart no chance. Otherwise had a decent game with some tidy passing.

Getty Images

6/22 Alberto Moreno - 5

Liverpool needed two long range finishes because their midfielders couldn't pick any key passes. Moreno was off the mark more than once.

Getty Images

7/22 Lazar Markovic - 3

Had a really bad game on the right flank. Skewed a number of crosses off the mark and his passing was errant.

Getty Images

8/22 Joe Allen - 6

Won the ball back for his team and helped kick-start many of his team's attacks.

Getty Images

9/22 Adam Lallana - 6

Had two finishes negated by the offside flag. Wasted a handful of opportunities. Up and down game.

Getty Images

10/22 Philippe Coutinho - 8

His goal was another absolute missile. Played some nice balls across the part to boot. Very good game.

Getty Images

11/22 Raheem Sterling - 7

Full of vim and vigour and was his usual pacey self

Getty Images

12/22 Joe Hart - 4

Not a lot he, or any other goalkeeper in the world could have done much about the two Liverpool goals on the day. The reds had two more goals disallowed for offside, the day could have been much worse for Joe Hart.

Getty Images

13/22 Pablo Zabaleta - 6

Caught well out of position for the first goal on one of his ventures up the field. Was positive in the attack and was City's main attacking outlet on the flanks.

Getty Images

14/22 Eliaquim Mangala - 5

City suffered because Liverpool had plenty of time to wind up their shots. Could have done better closing down.

Getty Images

15/22 Vincent Kompany - 5

Isn't what he used to be. Doesn't command the centre of defence like he used to. Up and down performance.

Getty Images

16/22 Alexandar Kolarov - 5

Powerful in defence but was mediocre going forward.

17/22 Fernandinho - 4

Left his defence high and dry for the first goal with a sloppy back-pass. Wasn't very effective at building attacks.

Getty Images

18/22 Yaya Toure - 8

His passing was lethal all day, constantly prying open the Liverpool defence with teasing deliveries.

Getty Images

19/22 Samir Nasri - 6

Plenty of useful link-up play from the Frenchman. On another day should have had an assist.

Getty Images

20/22 David Silva - 7

Displayed plenty of nice passes in the centre and was City's most creative player on the day.

Getty Images

21/22 Edin Dzeko - 7

Looked very sharp from the off and his finish was clinical.

Getty Images

22/22 Sergio Aguero - 7

Unlucky to be denied by the post early on and he looked sharp on the break. Provided a nice assist for Dzeko's goal.

Getty Images
In the 12 games since introducing the new system, Liverpool have won eight, drawn three and lost just one of their matches, at Old Trafford.
"I knew I needed to do something earlier than when I did do it," he admits. "We played the system away at Newvastle but I couldn't really work on the system in training because we didn't have the players available at the time. At Newcastle Raheem Sterling played as one of the wide players. So what did I get out of that game apart from a loss? I learned that Raheem probably won't be able to play wide in what I was looking to do because he's not in the game enough. He was on the side.
"I was looking at it then and used it in the cup games so I knew what I wanted to do earlier, but after Newcastle we had Real Madrid and I wasn't going to go into a game of that magnitude with a system that I knew needed more work on.
"It was just about the timing and the timing was right for the Manchester United game. By that stage I was comfortable that we had the players to make it work."
Reuse content