The statistics are remarkable. The hard-fought, sweat-soaked 1-0 win on Saturday at Burnley – the kind of place where Arsenal are always expected to falter – was the Gunners' 11th win in their last dozen Premier League fixtures.
But for the scar of the 2-1 loss in the north London derby, it would be a glisteningly perfect record. Not since the "Invincibles" season of 2003-04 have they produced something comparable.
As Arsène Wenger commented at Turf Moor: "No manager in the world, if he is serious, could have predicted a run like this. Our next fixture is the FA Cup semi-final and we are going into it in a position that we could not have anticipated a month ago."
Virtually everyone outside Berkshire, and probably a lot of people in it, would expect Arsenal to overcome Reading and reach a second successive FA Cup final. But among those statistics, 16 wins out of 18 in all competitions, something still nags away.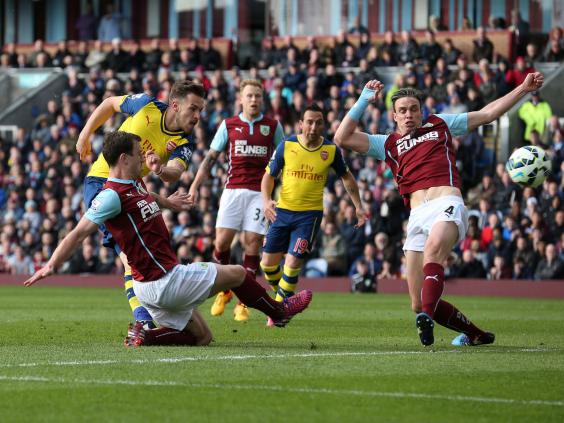 Once more Arsenal have taken flight when it does not really matter. Their two defeats were the games in which the stakes were highest, at Tottenham and at home to a Monaco side that was far more ordinary than when Wenger coached in the principality.
Once more the Champions League disappeared from view when it was starting to get serious. Had Arsenal put together that kind of run in the first two months of the Premier League season – when they won precisely two matches – Wenger might be on the brink of a third Double. Only when the pressure lifted with the assumption that nobody could catch Chelsea did Arsenal start to look as though they might.
"We have had to deal with pressure," said Wenger. "We had huge pressure against Liverpool. If we had lost, they would have been three points behind us [in the race for a Champions League place]. We knew that, if we won, there would be a gap of nine points. That was pressure and we can take it.
"In the first four months of the season we had big players out with injury. It threw the squad out completely and now we have a better balance. Bellerin, Koscielny, Özil and Giroud lost four months between them."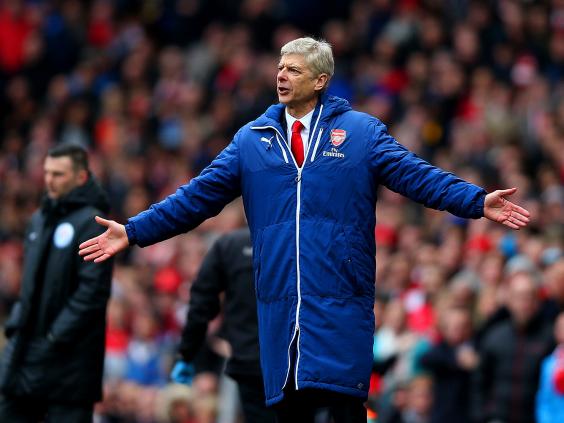 This will be the third straight season in which Arsenal have finished with a flourish – they won their final six games in 2014 and nine of their last 11 the year before. It makes a change from collapsing in February, but that form did not carry over into the following season.
And yet it would be hard to deny that this is becoming a very formidable Arsenal side, perhaps the best since the one that lost the 2006 European Cup final to Barcelona.
Victory at Manchester City, a stunning demolition of Liverpool and their first win at Old Trafford since 2006, in the FA Cupsixth round, have put paid to the claim that Arsenal cannot go toe-to-toe with the great powers.
Their last two away games, at Newcastle and Burnley, were proof they could slug it out. Wenger was unstinting in his praise for a Burnley side he said were "a credit to their manager". Francis Coquelin called it "one of our hardest and most important victories".
Aaron Ramsey, who celebrated his 150th Arsenal game with the only goal, said: "In the past we would have tried to go forward and been punished. It was a big win."  The big question is what it will lead to. Arsenal's next league game is against Chelsea.
Reuse content