Before every Premier League match here, they broadcast a snatch of local radio commentary from the day Burnley were promoted which ends with the words: "This is our time".
It is still Burnley's time but there are not many grains left in their hourglass. This was a gutsy, spirited performance against an Arsenal side that initially suggested they might carry straight on from last Saturday's dismemberment of Liverpool.
And yet for all their endeavour, Burnley mustered just two real attempts on David Ospina's goal and you feel the teams that will survive are the ones that possess strikers of the quality of a Christian Benteke or a Charlie Austin rather the ones that come off the pitch dripping in sweat and larded with pats on the back.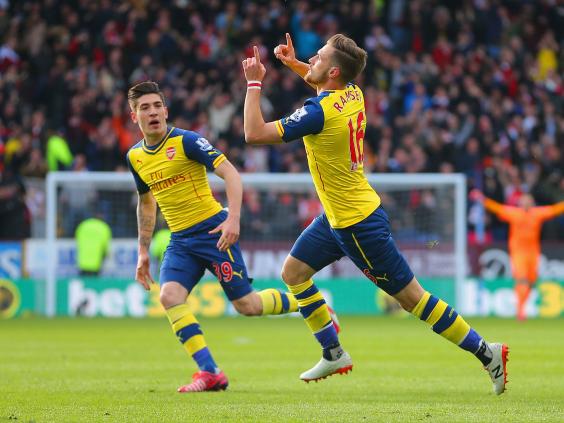 Burnley's one consolation is that their final six fixtures are all against clubs outside the top eight. Only two of them, however, are at home.
Arsene Wenger, having seen his Arsenal side win 15 of their last 18 matches in all competitions, would have hoped for a bigger hour glass. Were this a 42 game season as it was in the years when the chant "To the Arsenal one-nil" (sung here as the ground cleared) was based in the reality of their football, winning the title might seem not such an outrageous concept. Chelsea's lead is down to four points but they have two matches in hand. Their time is now.
In Turf Moor's narrow, concrete corridors they gathered with pies and pints to watch the scores come in. Aston Villa looked like they might already be home free. Leicester's late winner drew groans. Hull's defeat and Sunderland's disintegration were sparks of hope. There was just a point separating the three teams in the relegation zone but Burnley would need a win to escape it.
From the moment Arsenal kicked off, it seemed unlikely. They glided into gear. Alexis Sanchez had already created two attempts on goal when, a dozen minutes in, a third was parried by Tom Heaton. Mesut Ozil's bid to drive home the rebound was blocked but Aaron Ramsey's was not.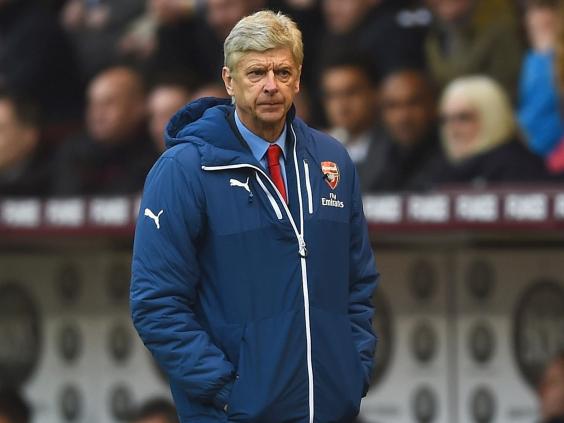 Seven years ago, when he was a boy from Caerphilly attempting to justify the £4.8m fee Arsenal had paid Cardiff, Ramsey had been part of an Arsenal side beaten 2-0 in a League Cup tie at Turf Moor. Now, the Welshman controlled the loose ball beautifully before driving it into the roof of Heaton's net.
The early goal exposed Burnley's single greatest weakness, an inability to put the ball in their opponents' net. Their previous five matches had brought them one, albeit a fabulous effort from George Boyd that had overcome Manchester City.
For long periods of the first half, Burnley surrendered possession far too cheaply to mount a serious challenge. Every decision from the referee, Mike Dean, was howled down with increasing fury but the crowd's reaction was grounded in the frustrations of their own team.
Roy Hodgson was among the audience, although there was nobody in the starting line-up of The Arsenal, as he quaintly and anachronistically calls them, to have interested the England manager.
 He might, however, have wanted to take a closer look at Kieran Trippier, who was one of a generation of Manchester City academy graduates swamped by the Arab money pouring into the Etihad Stadium. At Turf Moor by the age of 24, Trippier has proved himself to be a full-back with an increasing mastery of a dead ball.
Here, he proved it with a free-kick that dipped over the Arsenal wall to be punched away at full stretch by David Ospina. It was a fine effort but Burnley required something more.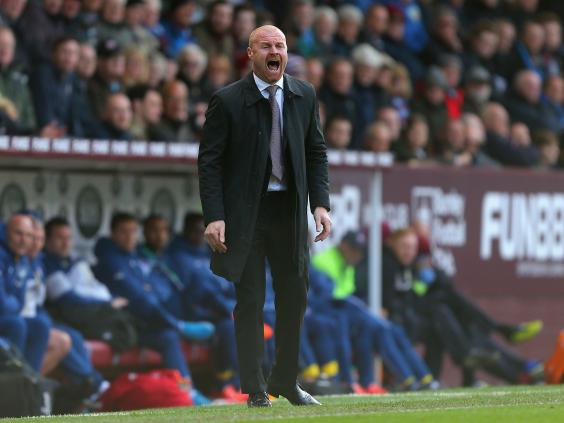 There was greater pressure, more intensity from Burnley after the interval and some of the decisions began to go the home side's way. They pushed and they prodded and moment by moment Arsenal were pushed back without suggesting they would cave in.
 Just then Ben Mee outflanked the Arsenal defence and delivered a low cross that seemed to fall perfectly for Boyd as he slid in to meet it but the midfielder miscued. This was his time and now it had gone.
Substitution: Arsenal: Welbeck for Giroud 81, Chambers for Sanchez 90. Taylor for Jones 90.
Burnley: (4-4-2) Heaton; Trippier, Duff, Shackell, Mee; Barnes, Arfield, Jones, Boyd; Vokes, Ings.
Arsenal: (4-2-3-1) Ospina; Bellerin, Mertesacker, Koscielny, Monreal; Coquelin, Cazorla; Ramsey, Ozil, Sanchez; Giroud.
Referee: Mike Dean
Man of the match: Cazorla (Arsenal)
Match rating: 6/10
Reuse content