Some games are defined by a goal, some a mistake, some hinge on a referee's decision and it is a rare one indeed when the abiding memory of the night's toil is a pass - but then there are not many footballers who can pass a ball like Cesc Fabregas.
His assist for Andre Schurrle's goal, Chelsea's second of the night amid a 17-minute three-goal blitz, was a reminder of the quality of the man who left Arsenal three years ago to play for the team that passes the ball better than any side on the planet. There were 23 passes before the ball fell to the feet of Fabregas, who understands the speed and geometry of the game as well as anyone.
The performance of Fabregas embodied the difference in quality between the two teams. On one side Burnley, with their exclusively British starting XI and on the other Chelsea, with a team assembled from all over the world on the kind of budget that might be enough to acquire Burnley, never mind the players of Burnley FC.
This is the team that Jose Mourinho built, with those he considered expendable gone and every position covered twice. He has Fabregas alongside Nemanja Matic in a formidable midfield partnership, Diego Costa in attack with Didier Drogba on the bench and a new man between the sticks.
Burnley 1 Chelsea 3 player ratings
Burnley 1 Chelsea 3 player ratings
1/22 Burnley: Tom Heaton

Couldn't do anything with the first two goals, but may have done better with the third; he was rooted to his line allowing Branislav Ivanovic a simple tap in from inside the six-yard box. May have given away a penalty as well. 6/10

Getty Images

2/22 Kieran Trippier

Chelsea did well to stop the man who notched 14 assists in the Championship last season, but the defender can be proud of his defensive work; he was not overawed at the prospect of facing Eden Hazard. 7

Getty Images

3/22 Jason Shackell

The Burnley skipper was outclassed by some of the movement of Chelsea's front three. He'll face much easier tests than the one he had here, however. 6

Getty Images

4/22 Michael Duff

As with Shackell, Duff is clearly not used to playing against players with the talent of Costa, Schurrle and Hazard. 6

Getty Images

5/22 Ben Mee

Tried hard to get up and down from left-back but did not know what to do with Schurrle, two goals come from his side but he could have had better cover. 5

Getty Images

6/22 Scott Arfield

Showed wonderful technique to smash Burnley into a 13th-minute lead, and forced Courtois into a flying save early in the second-half. A tireless worker and Burnley's best performer. 7

Getty Images

7/22 David Jones

Worked his socks off but couldn't get near to Fabregas or Matic. 5

Getty Images

8/22 Dean Marney

Much the same as above, he just couldn't keep up with two world class midfielder – but that's nothing to be ashamed of. 5

Getty Images

9/22 Matthew Taylor

Was brought in to add experience to this young Burnley squad, but was mostly unable to keep up. 5

Getty Images

10/22 Lukas Jutkiewicz

Won his fair share of aerial balls but lacks pace at this level. His and Ings partnership could bear fruit down the road, however. 6

Getty Images

11/22 Danny Ings

A real jack in the box, Ings will get goals in this division through sheer effort – he's always on the move and had a couple of half-chances that he may well finish against lesser opposition. 7

Getty Images

12/22 Chelsea: Thibaut Courtois

Could do nothing with the goal and looked assured throughout his debut, plucking balls out of the air with an easy confidence. Pulled off an excellent save to keep Chelsea two in front. 8/10

Getty Images

13/22 Branislav Ivanovic

A constant threat down the right, providing the pass that brought the Fabregas pass, before turning in from a corner. Solid as ever. 8

Getty Images

14/22 Gary Cahill

A largely comfortable evening for the England centre-back, though Ings frantic movement did cause him a problem or two. 6

Getty Images

15/22 John Terry

Still as good as he's ever been, won near enough everything in the air and let nothing come past him at the near post. 7

Getty Images

16/22 Cesar Azpilicueta

It will be interesting to see what Mourinho does now with the Spaniard. A solid if unspectacular performance. 6

Getty Images

17/22 Cesc Fabregas

The star man, running the show from the first to the last minute with a spellbinding performance. Set the tempo and provided two assists, one a breath-taking pass, on debut. 9

Getty Images

18/22 Nemanja Matic

Provided the steel in midfield that has been lacking sicnce the departure of Claude Makelele and the decline of Michael Essien. Set for a brilliant year. 8

Getty Images

19/22 Oscar

Looked slightly out of place compared to Chelsea's other stars, he may have been solid but he rarely shined and wasted a couple of good positions with wayward shooting. 5

Getty Images

20/22 Andre Schurrle

No World Cup hangover for the German, he was full of energy and running all night, getting the goal he deserved. 7

Getty Images

21/22 Eden Hazard

Largely second fiddle to Fabregas, Hazard was not needed by the Blues in the same way they relied upon him last year. Still showed the silky skills and pace we are used to. Didier Drogba made his return in coming on for the Belgian. 7

Getty Images

22/22 Diego Costa

Quietened down in the second half but no matter, Chelsea's new striker got a goal on his debut. He was booked for diving but despite his awkward-looking fall, it may have been a penalty. 8

Getty Images
Mourinho chose Thibaut Courtois in goal and so it was that on a cool August evening in Lancashire for the first time in a decade, the odd cup game aside, Petr Cech warmed up as the second-choice goalkeeper for Chelsea. If, as it seems, this is the end of an era for a great goalkeeper then it has been a marvellous Chelsea career, but change is afoot.
Mourinho said that he could not guarantee Courtois would be his first choice all season and that he wanted Cech to stay to compete for his place. "I have known Petr for 10 years," Mourinho said. "I know he will not relax, he will not sit in a chair and say 'I have no chance'. He will be exactly the opposite. I am expecting him Wednesday to go to the training ground and fight [for his place]."
There were times in the first half when, having gone a goal behind, Chelsea lived up to the vision that Mourinho has for this club. They were so impressive that they might even have lived up to Roman Abramovich's vision for the club. Fluid and dominant in that first half period in which they broke the home team, they could afford to coast for much of the second half.
For Burnley there was the consolation goal before Chelsea had scored their three, nicely taken by Scott Arfield. No repeat, however, of the famous 2009 first-day victory over Manchester United at Turf Moor, the only other time they were in the Premier League. In fact it never truly looked on the cards even when they did take the lead, and Turf Moor could sense it. 
Elsewhere in the Chelsea side, the No 8 shirt worn by Frank Lampard for 13 years adorns Oscar. Filipe Luis and Kurt Zouma were both on the bench. Yet, for all the changes it was Fabregas at No 4 who promised the most in this new era.
Arfield needed one touch to control Matt Taylor's well-placed cut-back from the goal-line on 14 minutes, and one more to send it past Courtois before the goalkeeper had the time to raise a glove in protest. Mourinho's defence had got themselves in a mess in the build-up with a bad clearing header, and John Terry playing Burnley onside. They got it together quickly.
The equaliser came four minutes later from Costa when Branislav Ivanovic's cross from the right took a touch off Jason Shackell, hit the post and dropped nicely for the Chelsea striker to score. That precious first goal for Chelsea strikers has not always come swiftly. It took Fernando Torres 14 games to score his first goal for Chelsea in 2011. This one for Costa came within 17 minutes.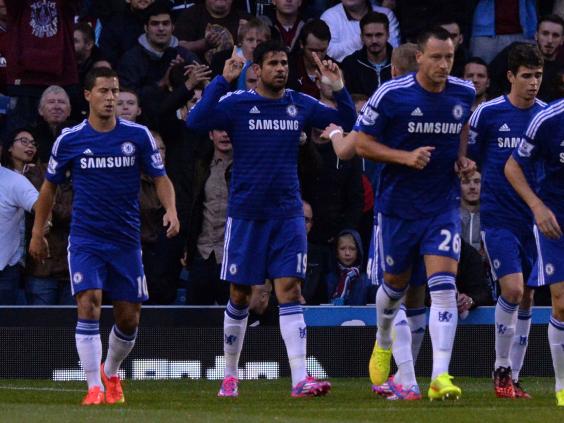 It was the second that lingered long in the mind, however, not least for Fabregas' ball into the path of the goalscorer Schurrle; a first-time pass that unlocked a whole defence. In the closing stages of the move, Eden Hazard carried the ball forward. From there it went out right to Ivanovic and back in to Fabregas who guided it into the path of the German.
The third was a simple finish for Ivanovic running onto Fabregas' corner, as Burnley threatened to disintegrate. Before then, Michael Oliver had chosen to book Costa for diving, rather than award him a penalty when he went down taking the ball around goalkeeper Tom Heaton on 30 minutes. The full-back Ben Mee had played his goalkeeper into trouble with a disastrous back pass and Costa had beaten Heaton to it.
On initial viewing it looked as if the striker had thrown himself down, but replays showed that Heaton had connected with Costa's trailing leg. He had looked for the contact and he had found it and it was one of those penalties that had to be given, however reluctant the referee might feel about it.
Mourinho said that Costa had been told what was expected in the Premier League and "what people don't like to see". "The kid presents himself here today with a fantastic attitude, a competitive attitude but clean, polite," he said. "He has a clear penalty and gets a yellow card. The kid was obviously frustrated. I hope he doesn't get more unfair decisions. I thought Oliver had a good game but the linesman [Stuart Burt] didn't support him well in that situation."
It had been a brutal half hour for Burnley before they finally got in for half-time, and to their credit the home team that came out for the second half did not collapse. In fact at times, they put a bit of pressure on the Chelsea goal. Courtois made a good save from another Arfield strike, and Lukas Jutkiewicz had a shot from the left that Danny Ings got the faintest of touches on.
Mourinho brought Willian on for Schurrle with around 14 minutes remaining to shore the game up. There were still moments in the game when the speed of Chelsea's movement, orchestrated by Fabregas, had Burnley players off-balance and wrong-footed, although they could not manage the ruthlessness in front of goal of the first half.
Drogba came on for the latter stages of the game and he left at the end having thrown his shirt into the away supporters. Drogba has seen some great Chelsea teams over the years and there is the potential in this one to achieve much. "A new team had to be born" was how Mourinho interpreted his task when he returned last summer, and certainly its first step this season look promising.
Burnley (4-2-3-1): Heaton; Trippier, Shackell, Duff, Mee; Arfield, Jones, Marney, Taylor; Ings, Jutkiewicz.      
Subs: Jutkiewicz/Barnes 70; Taylor/Kightly 70, Sordell/Ings 82
Chelsea (4-2-3-1): Courtois; Ivanovic, Cahill, Terry, Azpilicueta; Matic, Fabregas; Schurrle, Oscar, Hazard; Costa.
Subs: Willian/Schurrle 78, Mikel/Oscar 82, Drogba/Hazard 84
Booked: Burnley Sordell Chelsea Costa
Referee: M Oliver
Man of the match: Fabregas
Rating: 6
Attendance: 26,099
Reuse content