For a club that has won its last three championships on the final day of the season, this was an abject way to give up the fight. Chelsea are now five points clear with two matches in hand and, if they win the first of those against Southampton on Sunday afternoon, not even Manuel Pellegrini, a man who came to detest Jose Mourinho during their time managing in Spain, would deny that he will be leading them to another Premier League title.
The day before he took Manchester City to Turf Moor, Pellegrini argued the case for his being given a new contract. As his managerial predecessor, Roberto Mancini, who was fired for failing to defend City's title could tell him, Sheikh Mansour is not a man who rewards failure.
City's last hope of silverware is the Champions League and they have somehow to muscle their way past Barcelona. In Catalonia, this display would be greeted by a shrug of the shoulders.
For Burnley, in the middle of a series of fixtures that pitches them against all the Premier League's leading clubs, this was a stunning victory. They are one point behind Sunderland in 17th place and the momentum is with them. Perhaps they were fortunate that an injury time tackle on Pablo Zabaleta did not trigger a blatant late penalty but George Boyd's volley had proved a platform for what might be a remarkable escape.
Perhaps it is the shadow cast by the Nou Camp, perhaps it is the realisation that Chelsea will be rather more difficult to run down than Liverpool were last season, but Manchester City did not appear to believe they would win.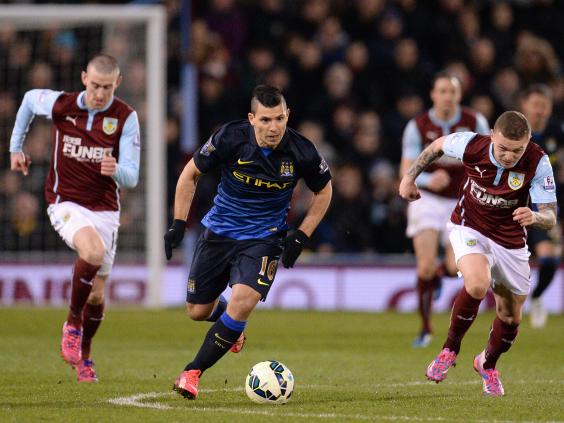 They were facing a Burnley side that despite having spent seven months in the relegation zone was starting to believe they might escape, although if they had received as many points as they had been given plaudits for their performances at Turf Moor, they might already be contemplating a second season with the big boys.
Burnley had drawn 2-2 at the Etihad Stadium and held Chelsea at Stamford Bridge, proof said their manager, Sean Dyche, that they "could compete with the superpowers of the Premier League".
The superpower Manchester City most resembled for large swathes of this match was the Soviet Union circa 1990, stumbling towards irrelevance. If this was a dress-rehearsal for Barcelona, you can assume Manuel Pellegrini will employ the same 4-4-2 formation that failed to cope with Lionel Messi and Luis Suarez in the first leg and which had been too easily penetrated at Anfield.
He also brought back Vincent Kompany which, although the Manchester City captain appears a shadow of the figure who lifted the Premier League trophy last May, should not have been a risk in terms of ability. Statistically, it was – Manchester City have not lost this season when their captain has not played. Here, it was Kompany's headed clearance from Kieran Trippier's free-kick that Boyd met with the first-time volley that crashed into the corner of Joe Hart's net.
Burnley, who must have been encouraged by Sunderland's continuing disintegration, began as they have so many games this season at Turf Moor: inventively, aggressively and unluckily. They began by putting in some good, deep crosses and one, delivered by Trippier, appeared to strike Gael Clichy on the arm. It ought to have been a penalty.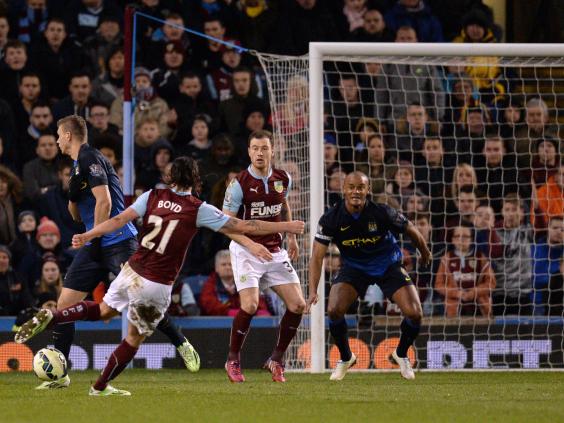 The champions restored some kind of balance to the fixture but there were errors everywhere. A short pass from Yaya Toure to Pablo Zabaleta, of the kind the pair must have made a thousand times before, was allowed to run out of play. Edin Dzeko's last contribution before being substituted was to aim a shot that vaguely threatened the corner flag. They seemed unable to rouse themselves.
Manchester City possess too much quality for them to be entirely neutered but it took almost half an hour before Dzeko loosed off their first shot of the night, and a fine ball from David Silva through to Dzeko was foiled by the outstretched legs of the Burnley captain, Jason Shackell.
Somewhere in London, Jose Mourinho would have been watching this game and counting down the minutes.
Reuse content