Stan Ternent, who spent six years managing Burnley, once remarked that when he thought of the town, he always imagined it with the sunshine sparkling off the Pennines rather than the clichéd image of "whippets and slag heaps".
This was the kind of day Ternent had in mind; the roofs glistened in the Easter sun and the hills beyond beckoned but this was a slag heap of a match. It was Harry Kane's first game as captain of Tottenham and his debut wearing the Spurs armband did not fit in with the fabulous pattern of his season.
There are some managers who think long and hard before making a player captain but Mauricio Pochettino does not seem to be one of them, saying only that Kane was captain because he "deserved it". He paused long and hard before replying to a question about whether he saw Kane as Tottenham's long-term skipper. "I don't know, yes, maybe" was the sum total of the response.
 Kane might conceivably have delivered a version of the Gettysburg Address in the away dressing room but, once on the pitch, the man who has scored 29 times for Tottenham this season had one shot that missed by about a dozen yards.
He was kept in check by a fine defensive display from Burnley against a side weighed down by too many injuries. Kyle Walker became another casualty, breaking down 30 seconds into the second half.
Burnley 0 Tottenham 0 player ratings
Burnley 0 Tottenham 0 player ratings
1/22 Tom Heaton

Produced a series of standard saves to deny Tottenham from range. 6

GETTY IMAGES

2/22 Kieran Trippier

The right-back was a threat with his crosses, but struggled to contain Chadli in the first half. 7

GETTY IMAGES

3/22 Michael Duff

Veteran defender used all his experience to lead the Burnley backline. 8

GETTY IMAGES

4/22 Jason Shackell

The Burnley captain led by example but didn't manage to push his team to victory. 7

GETTY IMAGES

5/22 Ben Mee

The defender's determination spilled over to a second half booking. 6

GETTY IMAGES

6/22 George Boyd

The tireless midfielder never stopped running for his team. 7

GETTY IMAGES

7/22 Scott Arfield

The Scot competed well in the middle of the park. 6

GETTY IMAGES

8/22 David Jones

Unspectacular in keeping playing ticking over in midfield. 5

GETTY IMAGES

9/22 Ashley Barnes

Epitomised the Burnley work ethic down the left. 6

GETTY IMAGES

10/22 Danny Ings

Missed a glorious early chance, but then nearly broke the deadlock with a screamer. 6

GETTY IMAGES

11/22 Sam Vokes

Worked tirelessly in attack before being replaced. 7

GETTY IMAGES

12/22 Michel Vorm

The stand-in goalkeeper grew in confidence with the game. 6

GETTY IMAGES

13/22 Kyle Walker

Always looked to get forward, injury ended his afternoon a minute into the second half. 6

GETTY IMAGES

14/22 Eric Dier

Impressive when playing the ball out of defence, he looked less assured under pressure. 6

GETTY IMAGES

15/22 Vlad Chiriches

Returned to the team and worked hard against Vokes and Ings at bay. 7

GETTY IMAGES

16/22 Danny Rose

Given a torrid afternoon by Boyd. 5

GETTY IMAGES

17/22 Ryan Mason

Surprisingly sloppy at the start, he improved to influence from midfield. 7

GETTY IMAGES

18/22 Nabil Bentaleb

Gave away a number of needless free-kicks and was fortunate to avoid a booking. 5

GETTY IMAGES

19/22 Christian Eriksen

Unable to make his mark as usual, he fired Tottenham's best chance over the bar. 5

GETTY IMAGES

20/22 Paulinho

Anonymous until he wasted a promising Tottenham attack with a wild shot. 4

GETTY IMAGES

21/22 Nacer Chadli

At the heart of Tottenham's most promising play, his final ball constantly let him down. 7

GETTY IMAGES

22/22 Harry Kane

The captain for the day was an isolated figure in attack. 5

Getty Images
Kane's was not, however, the feeblest effort of the afternoon. Charlie Adam's shot from beyond the halfway line for Stoke City at Stamford Bridge on Saturday evening had sparked a debate about whether this was the best goal the  Premier League would see this season.
The effort from Paulinho that dribbled into an advertising board that said "Celebrate Responsibly" was a candidate for worst attempt on goal and the fact Paulinho is a Brazil international and had been put through on goal only made it more remarkable.
Had Harry Redknapp still been managing Spurs there might have been a quip about his Sandra doing better. Karina Pochettino, had she been watching, might have fancied her chances, too.
For her husband this was virtually the end of Tottenham's annual attempt to qualify for the Champions League. Since Liverpool and Southampton both lost over the weekend, nobody seems to want to finish fifth and thus avoid some early Europa League qualifiers. The attractions of the remoter parts of eastern Europe must be considerable in early August.
 It was a better point for Burnley than it was for Spurs. Had George Boyd's effort right at the death dribbled the other side of the post, this might have been the win that took Burnley out of the bottom three and racked up the pressure on Sunderland before Sunday afternoon's Tyne-Wear derby.
"We edged the game," reflected the Burnley manager, Sean Dyche. "We kept another clean sheet against a side that has spent a lot on talent and we kept them down to hardly a chance.
"We needed a scratch of luck and now we can only look to the next game [at home to Arsenal on Saturday]. We are not rich enough to have the kind of squad that will allow us to look two or three games ahead.
"We can only look one game ahead and our staying up can't be just about quality. It has to be about endeavour, will and demand. We will be giving everything to stay in the Premier League." 
This was the penultimate game of a fixture list that for Burnley has been an escape route via the north face of the Eiger. Between 11 February and 11 April, they will have played eight successive matches against the teams that occupy the first eight positions in the Premier League. Thus far, they have taken five points from seven matches, a return Dyche would probably have settled for.
Nevertheless, the home side's greatest barrier to survival was exposed in the opening exchanges as Boyd dispossessed Ryan Mason and slipped through Danny Ings, who might have done better than shoot straight at Michel Vorm, who had barely moved off his line.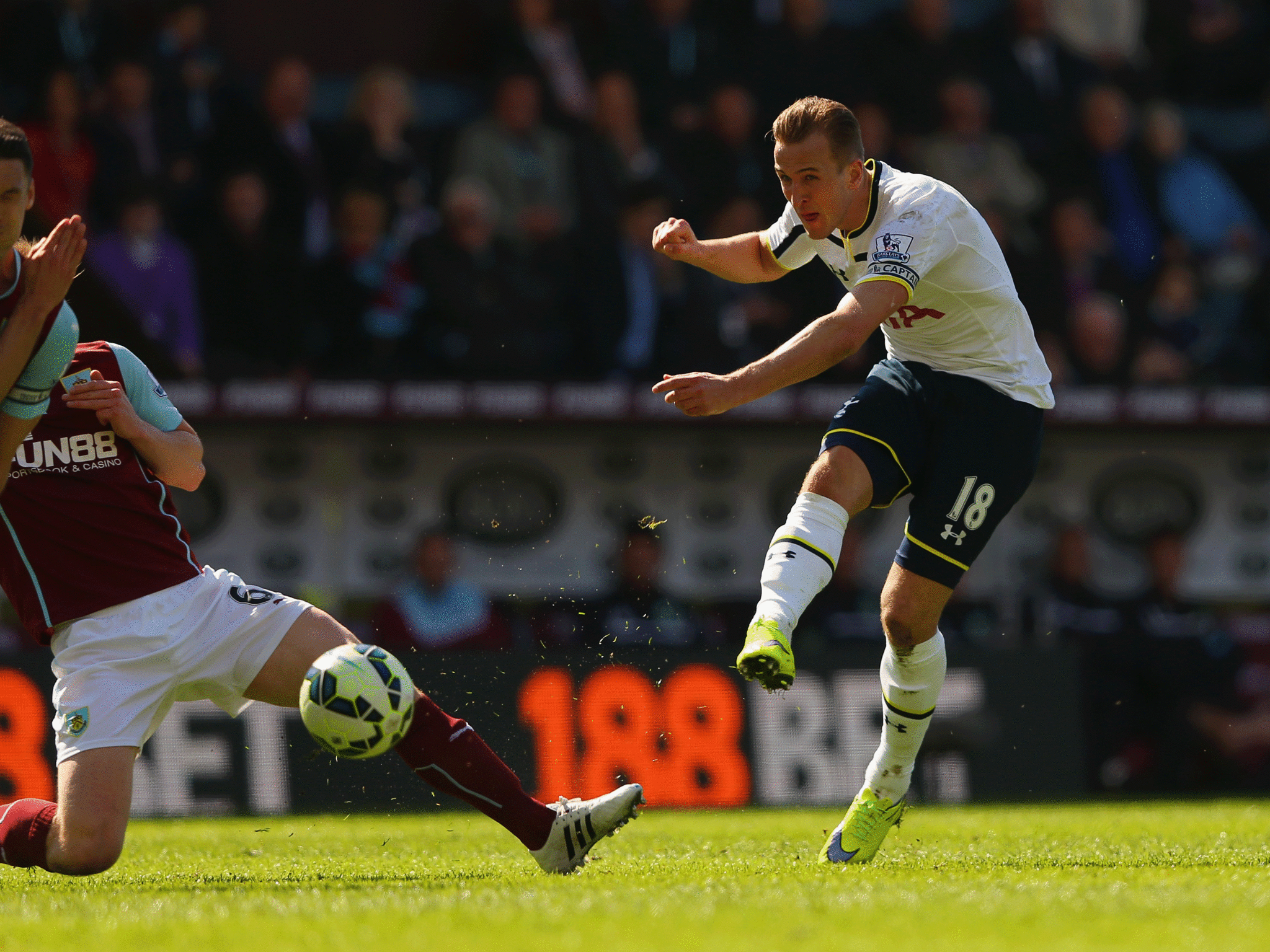 The striker had far more time and space than he imagined and, if Ings is going to Liverpool or La Liga in the summer, he will have to finish better than this.
In the last five matches, Burnley have scored only once – Boyd's spectacular winner against Manchester City. It is why they have the Premier League's worst goal difference despite only once conceding more than three.
Ings showed his ability just before the interval with a dipping shot that Vorm tipped over the bar, while another effort from right-back Kieran Trippier finished on the roof of the net. Had Dyche watched Jermain Defoe's spectacular volley for Sunderland, he would have winced. These are the goals that keep clubs alive.
Only one game at Turf Moor this season has matched this for sheer nothingness and that was the last time Tottenham came here for an FA Cup tie in January that attracted  so little interest that Burnley's most impressive stand,  the Jimmy McIlroy, was closed. The question is how long will it be before Tottenham come again?
Reuse content