As they left the ground through the fog that blanketed the mill town, Burnley's supporters could reflect they had witnessed a highly entertaining game that had pulled their club clear of the relegation zone. They might also have witnessed one of the matches that relegate them.
This was a game that had to be won, not because Burnley are playing particularly badly but because of what they face once the mist clears. Starting on Wednesday, they play Manchester United followed by Chelsea, Swansea, Liverpool, Manchester City, Southampton, Tottenham and Arsenal. As an escape route, the north face of the Eiger would look more appealing.
For the second successive game at Turf Moor, the Burnley manager, Sean Dyche, had to analyse a match in which his side had raced into a two-goal lead and not won. At least, unlike the one against Crystal Palace, they took a point but it was far less than the quality of their football had deserved.
"I am sure after we came back from two goals down to draw at Manchester City that Manuel Pellegrini was thinking that football can be a strange business," he said. "Most of you gave us no chance at the start of the season and absolutely no chance after game 10 [when Burnley had yet to record a victory]. We are 17th and we are looking upwards."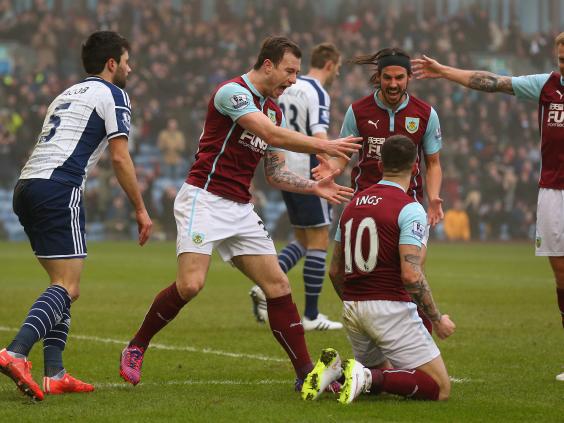 For the first half-hour of this match, Burnley were accelerating into the distance against a West Bromwich Albion side that appeared to have no idea how to cope with what was essentially high-quality English football – strong wing play, incisive crossing and decisive heading.
"We started as if it was a Sunday morning stroll," said Albion's manager, Tony Pulis. "It looked like we were still in bed." They were soon woken, first by a shot from Danny Ings that flew low over the bar and then by one from Scott Arfield that Ben Foster brilliantly deflected on to the frame of his goal.
Then came the breakthrough as Ings hooked the ball across the West Brom area for Ashley Barnes to head home. The second was even better, a muscular header from Ings to meet George Boyd's cross.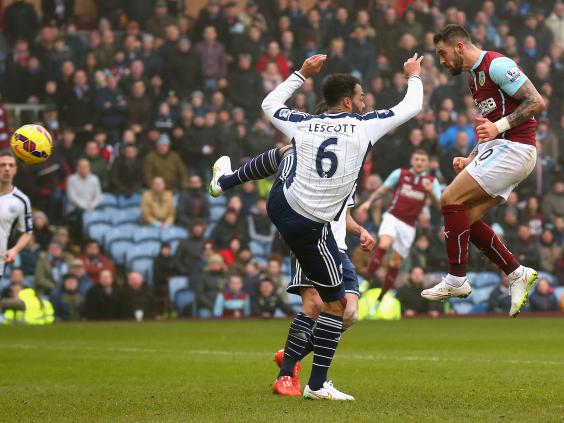 Dyche admitted that Ings had been unsettled by the speculation linking him to Liverpool and Real Sociedad. But, with the transfer window closed, the 22-year-old rediscovered his focus. And then, just before the interval, Burnley lost theirs.
The mist seeping through the stands, like the special effects from a Hammer Horror movie, had seemed a greater threat to Burnley than Albion.But in first-half stoppage time came the moment that would have sent the demons into the home dressing room.
The corner from Callum McManaman was very deep, so much so that Tom Heaton should have come to claim it, but nobody quite made the challenge. The ball struck the shoulder of the inrushing Chris Brunt and finished in the net in front of the Jimmy McIlroy Stand.
West Brom had come into this game with slightly different priorities to Burnley. As Pulis conceded, the important thing was not to lose. Although the win over Chelsea and the frantic 3-3 draw with Liverpool were the high points of his remarkable salvage operation at Crystal Palace, Pulis preserved Premier League football at Selhurst Park by relentlessly taking points from the teams around him – and that pattern is continuing in the Black Country.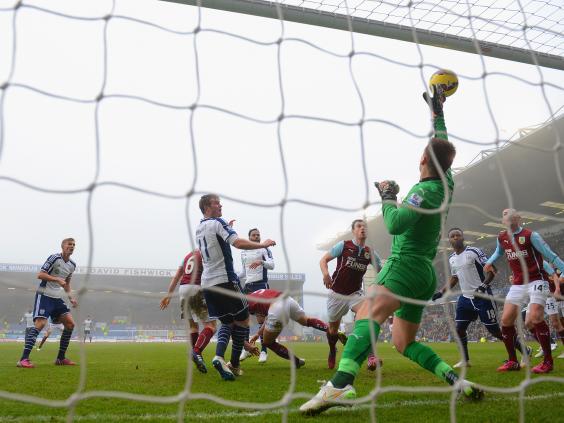 Had transfer deadline day panned out differently, Brown Ideye might have been elsewhere. The Nigerian international's problem was, said Pulis, "that he has continually missed opportunities".
For a striker, this is as serious as problems get but, as Brunt sent over another corner, Ideye lost his marker, David Jones, and headed home. Had Heaton not saved brilliantly from Saido Berahino, West Brom might even have snatched victory.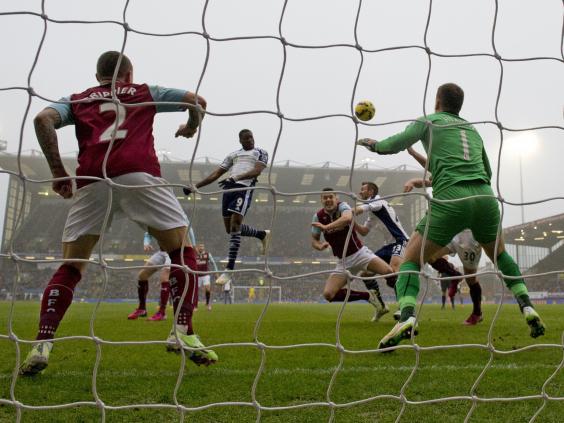 Pulis's relationship with the striker has been an uneven one but he thought Darren Fletcher, who captained West Brom on his debut, might act as a mentor to the striker.
"Saido has had no mentors or anyone to put him on the straight and narrow," he said. "You get that right through football when people realise these kids can make money for you. But Darren is what we needed – a leader."
Reuse content