The remarkable thing about Southampton's new teenage generation, their "class of 2013", dotted this week through three different England squads, is that they have been together so long. Luke Shaw is in the senior squad for the first time, James Ward-Prowse in the Under-21s, and Calum Chambers in the Under-19s, along with Harrison Reed, Matt Targett and Sam Gallagher.
Of those six, all but Targett have played for Saints' first team but, as Chambers explains, that is not so much the start of a process as the culmination of one. Because Chambers, Saints' regular right-back, has been playing with Shaw, Ward-Prowse, Reed and the rest for 10 years already, since he was  just eight.
That is how it is at modern academies. Chambers, from Petersfield, a small town in Hampshire, was spotted by Southampton scouts playing in a tournament in Portsmouth at the age of seven. He went into a development centre and from there into the academy, joining a class of boys he has been with ever since.
"We grew up together," remembers Chambers. "Prowse, Shaw, Reed, me, [Sam] McQueen, [Jordan] Turnbull, there were a lot of boys there who all came through from the age of eight, a group of us."
Now they are not just his old friends but his new team-mates, playing club and international football together. "I've been playing with them since I was younger, and now I'm playing with them in the Premier League.
"It is a dream come true for all of us; that was our aim when we were younger. Every boy's aim is to play there."
Every new generation of young players from any one club is automatically measured against Manchester United's famous vintage. No group is likely ever to fully recreate what the "Class of '92" did but Chambers, a boyhood United fan, hopes to try. "Every young group of players our age dreams to be like the Class of '92. That is everyone's aim. Obviously, we are aspiring to be like that. Hopefully, we will come through."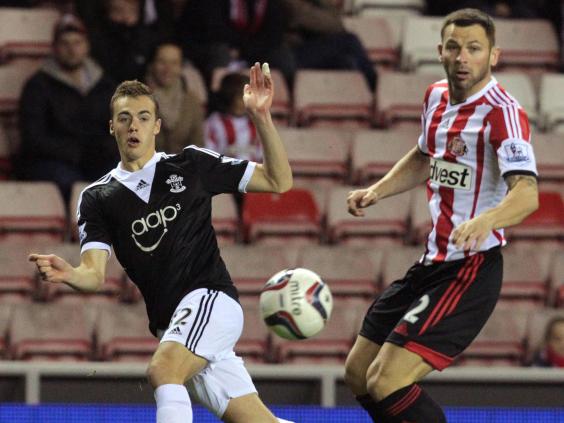 The strength of Chambers' generation at Saints is not just the individual quality – although there is a lot of that – but the unity and spirit which have already seen these players through 10 years together at the club. The feel is not very different now  from how it was when they were eight.
"When you are so young, you just turn up and enjoy it, and we still do that now. You just turn up and play. Turn up, eat your food, get your shin-pads, and you just enjoy training and playing all the time. We have been together so long. We do know each other, and how we play, pretty much inside out, from having been together for so many years.
"On the pitch, it's really competitive. On the training pitch you want to win, everyone wants to win. But off the pitch, we all get on. We're all friends. There's no arguments, no rows."
Chambers' closest friend is Harrison Reed, who has made five appearances already this season, and with whom he lives. They are both in the England Under-19s but there is no doubt who the most famous member of their year group is. Shaw is in Roy Hodgson's squad for Wednesday's friendly, giving him a fighting chance of going to the World Cup in Brazil.
Shaw, who features in the full squad along with Saints team-mates Rickie Lambert, Adam Lallana and Jay Rodriguez, is six months younger than Chambers but made his breakthrough first, so had a whole season of experience behind him on Chambers' debut at The Hawthorns, on the first day of this season. "We have always got on really well and we've always been good friends," says Chambers, who clearly appreciates Shaw's encouragement and support. "He was playing as well on my debut. He came up to me and said, 'Come on, you've done really well so far, give it your best shot and do everyone proud.' It's nice  playing with players like that, you know they're supporting you."
Since then Chambers has started 15 more games, sharing right-back duties with Nathaniel Clyne. He described the step into the Premier League as "mentally exhausting", but naturally he is loving it. "Mentally, it is a lot more challenging than Under-21 games, you have to stay concentrated the whole time." He is facing a new category of opponents – he picks Oscar of Chelsea as the best – and will have to stop Liverpool's Raheem Sterling, Philippe Coutinho and the rest this evening.
Shaw, who will play on the opposite side of the back four, is an inspiration but so is captain Lallana and the graduates before him – Alex Oxlade-Chamberlain, Theo Walcott and Gareth Bale. "When we were younger, we saw them coming through and playing, and that gave us hope, something to aim for." Southampton have a record to be proud of and Chambers is privileged to be part of it.
"Everyone at the academy knows you've got a chance there. The manager, the way the club is run, it's perfect for young players to come through and get given a chance. And that's what everyone wants.
"They call it 'the Southampton way': to bring players up from a young age, through the academy, and educate them well, make them into young professionals, teach them the right way and give them opportunities to play for the first team. That is how Southampton is."
Reuse content