A banner outside Arsenal's Emirates stadium featuring Cesc Fabregas appears to have been ripped down by supporters.
Video footage filmed outside the club's north London stadium over the weekend shows two Arsenal supporters lifting up a third who appears to have torn the banner down.
The fan, who was wearing a yellow Arsenal away strip, then throws the banner over the Danny Fiszman Bridge to cheers from fellow fans.
The banner, one of two outside the ground, had been on the bridge outside the club's stadium since its completion in 2006.
Footage of the incident posted on Twitter...
The end of Fabregas on the Danny Fiszman bridge: pic.twitter.com/YKnXE3Y3fB

— AZ (@gzafc) May 30, 2015
Since the Spain midfielder returned to the Premier League with London rivals Chelsea, some have been calling for the banner to be removed.
It's expected that Arsenal will replace the removed banner before the start of next season.
Views on the former Barcelona player - who spent eight years at Arsenal - among fans are mixed, with his first game back at the Emirates being greeted with boos and a standing ovation when he was substituted.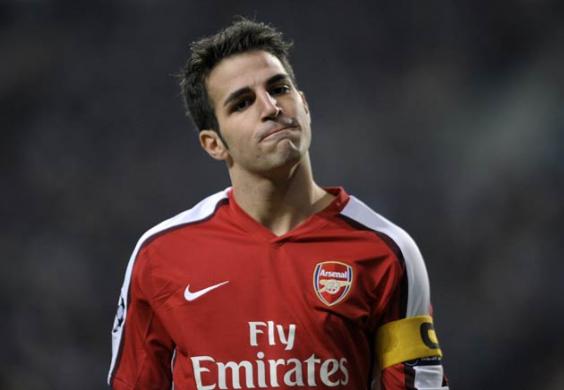 The removal of the banner took place over the same weekend that Arsenal won the FA Cup for a 12th time. Many fans watched the 4-0 victory over Aston Villa on big screens at the Emirates.
Reuse content