When it became clear that Cesc Fabregas would be leaving Barcelona earlier this summer, many observers believed the Spaniard would return to the club that made him the player he is.
Fabregas had a clause in his contract that would allow Arsenal boss Arsene Wenger first option on the midfielder. A deal bringing Fabregas back to the club seemed a certainty.
But the French manager surprised the football world when he passed up on the opportunity to buy Fabregas, allowing Premier League rivals Chelsea to fill a spot in midfield that had been neglected in recent years.
In 90 minutes last night, the 27-year-old may have proven Wenger has made the biggest mistake of the summer in not bringing his prodigal son home.
Burnley 1 Chelsea 3 player ratings
Burnley 1 Chelsea 3 player ratings
1/22 Burnley: Tom Heaton

Couldn't do anything with the first two goals, but may have done better with the third; he was rooted to his line allowing Branislav Ivanovic a simple tap in from inside the six-yard box. May have given away a penalty as well. 6/10

Getty Images

2/22 Kieran Trippier

Chelsea did well to stop the man who notched 14 assists in the Championship last season, but the defender can be proud of his defensive work; he was not overawed at the prospect of facing Eden Hazard. 7

Getty Images

3/22 Jason Shackell

The Burnley skipper was outclassed by some of the movement of Chelsea's front three. He'll face much easier tests than the one he had here, however. 6

Getty Images

4/22 Michael Duff

As with Shackell, Duff is clearly not used to playing against players with the talent of Costa, Schurrle and Hazard. 6

Getty Images

5/22 Ben Mee

Tried hard to get up and down from left-back but did not know what to do with Schurrle, two goals come from his side but he could have had better cover. 5

Getty Images

6/22 Scott Arfield

Showed wonderful technique to smash Burnley into a 13th-minute lead, and forced Courtois into a flying save early in the second-half. A tireless worker and Burnley's best performer. 7

Getty Images

7/22 David Jones

Worked his socks off but couldn't get near to Fabregas or Matic. 5

Getty Images

8/22 Dean Marney

Much the same as above, he just couldn't keep up with two world class midfielder – but that's nothing to be ashamed of. 5

Getty Images

9/22 Matthew Taylor

Was brought in to add experience to this young Burnley squad, but was mostly unable to keep up. 5

Getty Images

10/22 Lukas Jutkiewicz

Won his fair share of aerial balls but lacks pace at this level. His and Ings partnership could bear fruit down the road, however. 6

Getty Images

11/22 Danny Ings

A real jack in the box, Ings will get goals in this division through sheer effort – he's always on the move and had a couple of half-chances that he may well finish against lesser opposition. 7

Getty Images

12/22 Chelsea: Thibaut Courtois

Could do nothing with the goal and looked assured throughout his debut, plucking balls out of the air with an easy confidence. Pulled off an excellent save to keep Chelsea two in front. 8/10

Getty Images

13/22 Branislav Ivanovic

A constant threat down the right, providing the pass that brought the Fabregas pass, before turning in from a corner. Solid as ever. 8

Getty Images

14/22 Gary Cahill

A largely comfortable evening for the England centre-back, though Ings frantic movement did cause him a problem or two. 6

Getty Images

15/22 John Terry

Still as good as he's ever been, won near enough everything in the air and let nothing come past him at the near post. 7

Getty Images

16/22 Cesar Azpilicueta

It will be interesting to see what Mourinho does now with the Spaniard. A solid if unspectacular performance. 6

Getty Images

17/22 Cesc Fabregas

The star man, running the show from the first to the last minute with a spellbinding performance. Set the tempo and provided two assists, one a breath-taking pass, on debut. 9

Getty Images

18/22 Nemanja Matic

Provided the steel in midfield that has been lacking sicnce the departure of Claude Makelele and the decline of Michael Essien. Set for a brilliant year. 8

Getty Images

19/22 Oscar

Looked slightly out of place compared to Chelsea's other stars, he may have been solid but he rarely shined and wasted a couple of good positions with wayward shooting. 5

Getty Images

20/22 Andre Schurrle

No World Cup hangover for the German, he was full of energy and running all night, getting the goal he deserved. 7

Getty Images

21/22 Eden Hazard

Largely second fiddle to Fabregas, Hazard was not needed by the Blues in the same way they relied upon him last year. Still showed the silky skills and pace we are used to. Didier Drogba made his return in coming on for the Belgian. 7

Getty Images

22/22 Diego Costa

Quietened down in the second half but no matter, Chelsea's new striker got a goal on his debut. He was booked for diving but despite his awkward-looking fall, it may have been a penalty. 8

Getty Images
It is something of a knee-jerk reaction, the Premier League season still has 37 weeks to run, but such was the level of the performance by Fabregas that the league is already being billed as a two-horse race between Chelsea and Manchester City.
From the first whistle at Turf Moor it was Cesc Fabregas and 21 other players, with the Spaniard controlling the game in a way Chelsea fans have never seen. The Blues have had fantastic, world class midfielders down the years - Lampard, Ballack, Essien and Makelele - but those players dominated through physicality, power and athleticism.
Fabregas' performance was one of dominance through sheer skill.
Video: Mourinho on Fabregas
Burnley took a surprise lead but it was against the run of play and through a rare defensive lapse; Oscar slipping and John Terry not pushing up quick enough.
It took just four minutes for Fabregas to reassert his dominance, playing a stunning back-heel for a Branislav Ivanovic cross that was eventually turned in by debutant Diego Costa after the ball had hit the post.
Four minutes after that and Fabregas produced a moment that will live long in the memory. It is a definite goal of the season contender and will likely be the pass of the season.
Chelsea fans have never seen anything like it. A long passing move ended up with Ivanovic cutting the ball back to the Spaniard who was on the edge of the box.
The whole ground expected him to shoot but he perfectly disguised a pass to Schurrle; the millions watching probably didn't even realise the German was on the move. It was a sublime piece of skill of a variety Chelsea fans had not seen before.
Fabregas wasn't finished there, however, and whipped in a perfect corner for Ivanovic to make it 3-1. Chelsea shut up shop in the second-half but the game never moved in a way that Fabregas didn't dictacte. He completed 87 passes on the night, not the type of sideways and backwards passes John Obi Mikel would make, but passes that get players moving and bending to his will.
When Fabregas was asked about a potential move to Arsenal he said: "I looked for the best option for me. Arsenal was the first option, for contractual reasons. There was a clause that gave them the right to decide.
"We spoke to Wenger and he said that the space was very well filled by Mesut Ozil and it was hard to find a place for both of us in the team."
Ozil does fill a vital position for Arsenal, the creative hub and link between midfield and attack. The German will be better than in his first year and should provide plenty of goals and assists for the Gunners. But looking at the way Fabregas played last night, the Spaniard would not have replaced Ozil in the team.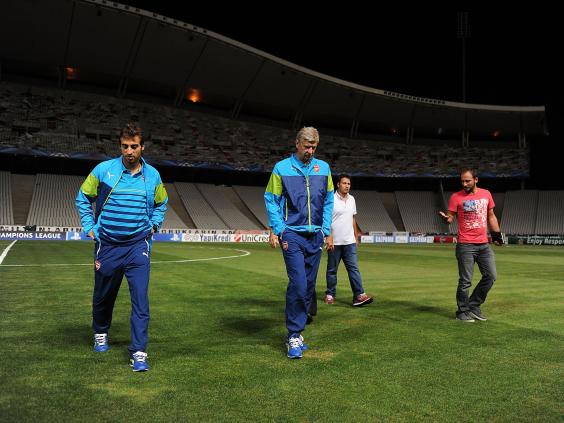 He wouldn't have replaced Aaron Ramsey either, who has turned into the box-to-box goalscoring force that Frank Lampard once was for the Blues. Fabregas, playing in a deep playmaking, or 'No 4' role, would likely have jettisoned Mikel Arteta from the Arsenal team.
Arteta may be the club captain and a good influence in the Arsenal dressing room but he is a declining force. Against Crystal Palace he completed 95 per cent of his passes, but all too many of those were simple five-yard sideways balls that did nothing against a packed defence. He was never willing to pass and probe and he was never able to provide that match-winning, definitive moment that Fabregas does.
Chelsea and Manchester City buy the best players, regardless of who happen to already be in that position. Fernandinho, by all accounts, was an excellent performer for the Champions last season, but Manuel Pellegrini moved to buy Fernando anyway, knowing he'd need a defensive stopper for tough away games and big Champions League nights.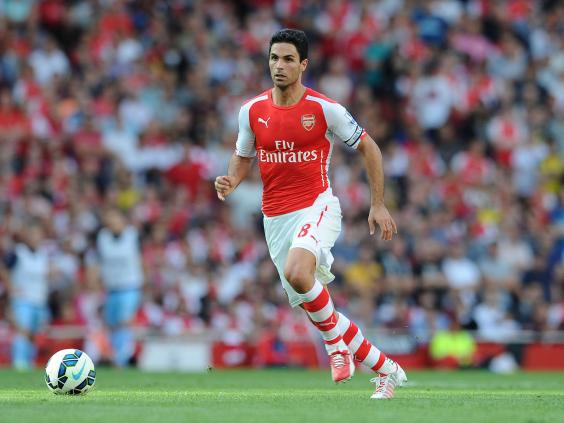 Fernando was excellent and a key part of City's win at St James' Park.
There are financial concerns that may have stopped the deal, of course, but if Arsenal truly want to compete with the likes of Chelsea and Manchester City, they need the very best players when they become available. Especially if those men are former players who have a special affinity with the club and would have loved to have gone back.
Fabregas said last night he would've "never expected" to play for Chelsea. Now he is at Stamford Bridge, Chelsea will take some stopping.
Reuse content