We haven't yet had the confirmation, but this already felt like a celebration. A 3-0 win at Stamford Bridge means Chelsea go to West Brom on Friday knowing a win will mathematically secure the 2016-17 Premier League title, while Middlesbrough go back down to the Championship, this result having made their relegation mathematically certain.
The reality was that both sides played as if they already knew both prospects were mere formalities before the game, Chelsea and especially the supreme Cesc Fabregas with a purring confidence, Middlesbrough with the kind of relaxed openness that comes when you know your fate is sealed.
It set up an enjoyably open game, too, and one that had the joyful optimism of a carnival for the Stamford Bridge support.
Antonio Conte of course moved frantically around the touchline as if it was all on a knife-edge, and celebrated each goal as if they were last-minute winners, displaying the type of demanding management that meant Chelsea are on the brink of this title. He needn't have worried this time. In front of him, his team were in total command, just as they have been in the title race since October.
Chelsea vs Middlesbrough player ratings
Chelsea vs Middlesbrough player ratings
1/23 Chelsea vs Middlesbrough player ratings

We run the rule over the two teams.

Getty Images

2/23 Thibaut Courtois - 6 out of 10

Saw very little of the ball owing to Chelsea's utter dominance.

Getty Images

3/23 Cesar Azpilicueta - 8 out of 10

Superb. Rock solid in defence and brought the ball out from the back well.

AFP/Getty Images

4/23 David Luiz - 7 out of 10

Accurate passing and strong in the air, didn't give Middlesbrough a sniff.

Getty Images

5/23 Gary Cahill - 7 out of 10

Made more tackles than any of his team-mates and led by example.

Getty Images

6/23 Victor Moses - 6 out of 10

His passing left a little bit to be desired and wasn't able to get forward as often as Alonso.

AFP/Getty Images

7/23 Cesc Fabregas - 8 out of 10

Had more touches than any other player. Ran the show from the middle of the park.

AFP/Getty Images

8/23 Nemanja Matic - 8 out of 10

His performances at the tail-end of this season have been very impressive. Dropped back well and scored a great goal.

Getty Images

9/23 Marcos Alonso - 8 out of 10

A constant attacking threat and got on the score-sheet, too.

Getty Images

10/23 Pedro - 8 out of 10

Very busy, calm and composed in possession and unlucky not to score.

AFP/Getty Images

11/23 Eden Hazard - 7 out of 10

Not the Belgian's best night, with all of those around him excelling. Subbed off for Willian in the second-half.

AFP/Getty Images

12/23 Diego Costa - 8 out of 10

A typical Costa performance. Harassed the Middlesbrough defence all night and opened the scoring.

AFP/Getty Images

13/23 Brad Guzan - 4 out of 10

Conceded three goals, all straight between his legs. D'oh.

Getty Images

14/23 Fabio - 5 out of 10

Had a tough evening up against Alonso, and didn't have much of an idea how to stop his runs from deep.

AFP/Getty Images

15/23 Calum Chambers - 5 out of 10

Made several important clearances. Middlesbrough's best defender.

AFP/Getty Images

16/23 Ben Gibson - 4 out of 10

Had an utterly miserable evening in the heart of Boro's defence.

Getty Images

17/23 George Friend - 5 out of 10

The only Boro defender to have won a tackle all evening. Genuinely.

AFP/Getty Images

18/23 Marten de Roon - 6 out of 10

Boro's best player. Failed to create anything but tigerish in the tackle. Likely to be poached in the summer.

Getty Images

19/23 Adam Clayton - 5 out of 10

Brave display in the middle of the park alongside De Roon.

Getty Images

20/23 Adam Forshaw - 3 out of 10

Utterly, utterly anonymous. Subbed off early in the second.

Getty Images

21/23 Adama Traore - 5 out of 10

Very poor link up play. Consistently fails to live up to his billing.

Getty Images

22/23 Stewart Downing - 5 out of 10

Ran around a lot; achieved very little.

AFP/Getty Images

23/23 Alvaro Negredo - 5 out of 10

Didn't have a shot on goal all evening.

AFP/Getty Images
Chelsea were clearly intent on putting on a show, a performance worthy of champions, making it much less important that PFA and FWA player of the year N'Golo Kante was out with a thigh problem.
Conte evidently didn't intend on doing much defending either. His side went at Middlesbrough with a resounding attacking vigour and intensity probably not truly seen since the start of their 13-match winning run back in October.
And they really applied that vigour down the left, where Fabio and Adama Traore weren't exactly offering the most stable defensive cover. It gave Hazard an awful lot of space, but also meant that Marcos Alonso could concentrate on his own attacking rather than defending.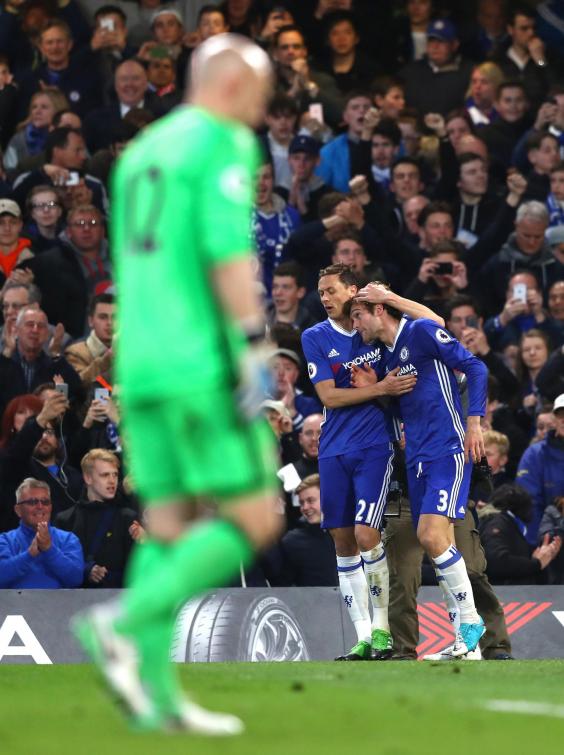 He enjoyed it so much that he offered what might have been his best performance of the season, further and fittingly emphasising how the transformation of so many players has been so key to their impending title victory.
It was the Spanish wing-back that set the tone after just two minutes with a searing run, forcing Brad Guzan to supremely get a touch that just about got the ball bouncing up and onto the bar. Chelsea were soon pummelling Middlesbrough, and it was no surprise that they soon had the lead, nor was the identity of the scorer.
Diego Costa has his touch back, and on 23 minutes scored a goal so similar to the type of finish he was offering in that winning run, slotting the ball between the legs of Guzan after Fabio had failed to deal with a clipped Cesc Fabregas.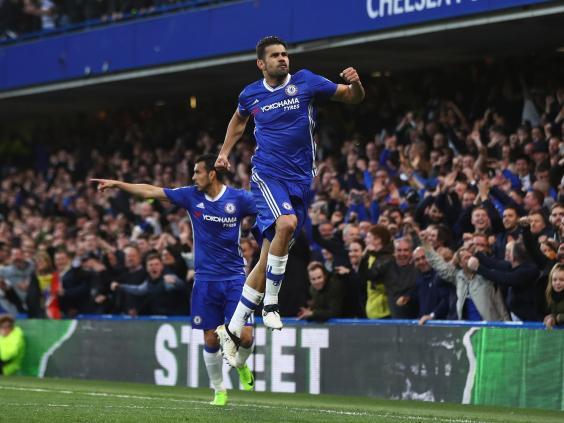 Back in the centre without Kante, the Spanish playmaker was running the game, and Chelsea were soon threatening to run riot. They had their second 11 minutes later, Alonso getting one of the most deserved goals of the season, as luck began to desert Middlesbrough in even more pronounced a manner.
The Chelsea number-three again got down the left in the manner that had been proving so ruinous to Steve Agnew's side, again tried a shot from wide, but this time Guzan could only deflect it into his own net.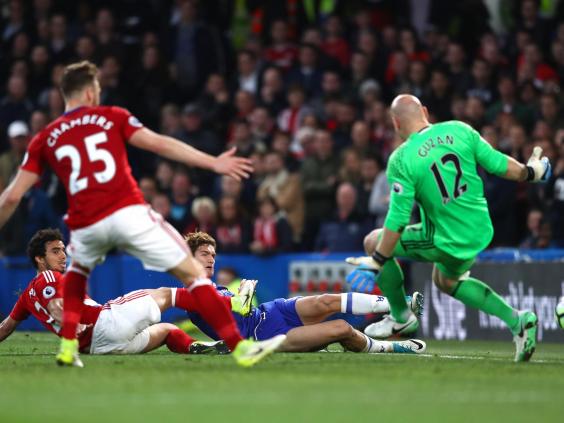 It was Cesar Azpilicueta who that time played a Fabregas-style ball to set up the goal, and he was evidently emboldened by making that kind of impression, going on try a speculative shot just after half-time.
That was the stage that the game - and the season - had reached. Chelsea were so comfortable that some of their players normally much less comfortable in front of goal were fancying their chances.
That's not the type of thing you can say about Nemanja Matic given his latest screamer against Tottenham Hotspur FA Cup, and he followed it here with a different type of aesthetically pleasing goal on 64 minutes, even if it was again more about Fabregas.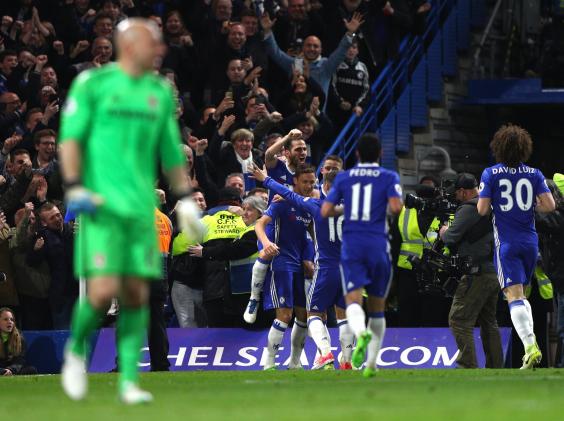 The playmaker was once more the creator, offering the kind of instinctive but delightfully intricate one-touch outside-of-the-foot ball in the box that best comes off when you are on top of your game and barely have to think. Matic didn't give the Middlesbrough defence much time to move, chesting the ball down before powering it past Guzan from close range.
Agnew had by then brought on former Chelsea striker Patrick Bamford for his first appearance in four weeks, and rather poignantly and pointedly, his first ever appearance at Stamford Bridge. He was still struggling to get much of the ball, as Conte's team were so dominant.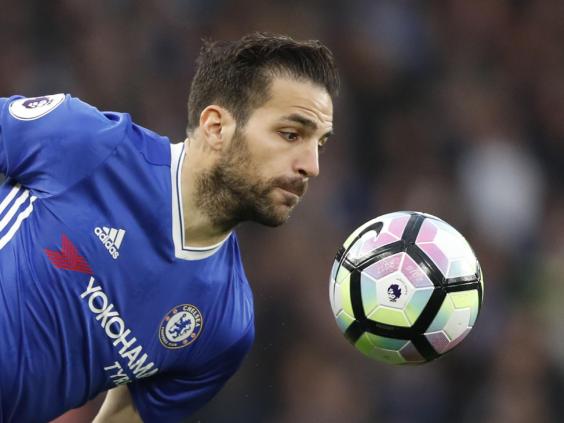 Fabregas was more dominant than anybody, and manipulating the ball like no-one else on the pitch. It was marvellous to watch.
There were still even louder cheers to be heard, mind, like when John Terry was eventually introduced after 84 minutes to take captain's armband. He is set to lift the Premier League trophy again, for the fifth time in total, for the perfect goodbye. This was yet another perfect win, of the exactly the type that has made Chelsea the excellent team winning this title.
Reuse content