In the Stamford Bridge dressing room after Chelsea had so defiantly ground out a win over Manchester City, Antonio Conte said a few words that were followed by a spontaneous round of applause from the squad.
It was pretty natural given the feeling around the stadium was that this was likely a key title-winning victory, but the Italian insisted it was not a celebration. By contrast, it was a reminder to keep focus, "to face every game with the same concentration, with the same intensity, the same desire to fight".
That, really, is Chelsea's main challenge now - not the surge of Tottenham Hotspur. That is not to dismiss Mauricio Pochettino's team, who should be respected as one of the most exciting and formidable young sides in Europe. It is just that there is such a gap between the teams at the top, and now so few games remaining, that it is really going to take a proper moment of doubt from Chelsea to see them lose the league.
Chelsea vs Manchester City player ratings
Chelsea vs Manchester City player ratings
1/22 Thibaut Courtois - 6

Completely at fault for Aguero's equaliser - a rare lapse in concentration. Showed his strengths moments later though to deny Sane a one-on-one chance on goal.

2/22 Cesar Azpilicueta - 6

Decision making was on point for much of the evening and kept a calm head under pressure.

3/22 Kurt Zouma - 7

A respectable return to the starting line-up. After months on the sideline he seemed to cope well with both the pace and intensity of the game.

4/22 David Luiz - 7

A fierce and fiery performance from the Brazilian. Hit hard in his challenges and dealt with Aguero well.

5/22 Gary Cahill - 6

Solid as ever in his reading of the game and challenges, both on the deck and in the air.

6/22 Marcos Alonso - 6

Handled his defensive duties well and proved effective on the front foot.

7/22 N'Golo Kante - 6

Industrious as ever with his running and positioning but one of his more quiet evenings. Conceded a sloppy foul on the edge of his own box which City nearly equalised from.

8/22 Cesc Fabregas - 6

Kept the ball moving well in the middle and was relatively effective in dictating the flow of the game.

9/22 Pedro - 7

Dealt well with his defensive responsibilities tonight and got well forward to put the City defence under pressure. Questionable touches/passes here and there but overall a good night from him.

10/22 Eden Hazard - 8

Once again, Hazard proved to be the difference. Took his first goal well from a difficult angle and reacted well in his penalty attempt to grab Chelsea's second.

11/22 Diego Costa - 6

Another mixed performance. Menaced the City backline with his physical presence but his hold-up play was found wanting at times. It ultimately fell to others to make the difference tonight.

12/22 Willy Caballero - 6

Completely misjudged Hazard's first goal. Despite taking an unfortunate deflection off Kompany, he should have done better in dealing with the strike. To his credit, he saved Hazard's initial penalty kick but couldn't stop the forward from following up.

13/22 Fernandinho - 5

His reckless challenge on Pedro cost City dearly and handed the home side their second goal. Too hot-headed.

14/22 John Stones - 6

Dominated in his aerial battles but struggled to deal with Hazard's pace and quick feet. Had a glorious chance to equalise in the second half but couldn't find the goal.

15/22 Vincent Kompany - 5

For all his fight and heart, there was a certain sharpness missing to his game tonight. His weak positioning afforded Hazard the space for his first goal while his lack of pace saw him struggle to keep up with the tempo of the game at times.

16/22 Gael Clichy - 6

Linked up with City's forward players well and was a nuisance in getting in behind the Blues defence.

17/22 Fabian Delph - 5

A series of early, well-timed challenges boded well but he looked out of depth at times. Not a surprise given his lack of Premier League football this season.

18/22 Jesus Navas - 5

A quiet evening as a whole. Had very little say for himself.

19/22 Kevin de Bruyne - 6

Sloppy passing in the centre of park let team-mates down on occasion. Kept him self busy nonetheless and wasn't afraid to take on his opposite men.

20/22 David Silva - 7

One of City's more effective players - especially in the first half. His slick passing and clever link-up play kept the visitors' midfield ticking over. Created numerous chances too and found himself well positioned to set up City's equaliser. Couldn't find that all important equaliser though.

21/22 Leroy Sane - 6

Had the chance to put City ahead after Aguero's equaliser in the first half. Flashed with brilliance but couldn't sustain such form throughout the night.

22/22 Sergio Aguero - 6

A classic poachers finish for City's goal. Certainly kept the Chelsea backline busy but it wasn't to be his night.
The intrigue, and truly elevating difference in a title race, is how you actually manage it. It is easier said than done, especially when so many former champions and chasers talk of "the downer" a player would feel on coming in from a massive win… only to find out their main challengers had just managed the same feat.
Then there's the doubt that would genuinely enter minds if they do have a slip-up, and the very next game begins with difficulty. As Liverpool's former league-winning full-back Jim Beglin says, "pressure would just hit, and then you would get panicky". They would start making mistakes they hadn't been.
Conte admitted on Wednesday his English isn't yet good enough to talk through it all and psychologically charge his players in the way he did in Serie A with Juventus, but that the benefit of Chelsea's current position is that he can actually just use his hands. He can hold up his fingers to signify how many games they now need to win to win the title.
That may sound simplistic, but it would likely chime with so many league winners, because it is remarkable how many refer to similar 'countdowns' and how genuinely powerful they are in terms of focusing minds.
Towards the end of Manchester United's treble season, first-team coach Jim Ryan would come in after another win and declare "12 to go, boys", ticking off another step to greatness. When Valencia won what is now a landmark Spanish title in 2001-02, then, assistant coach Pako Ayestaran used the same principle but in a slightly different way.
"We would say it was like a flight of stairs to making history," Ayestaran says. "Every time they won, it was one step higher, six then five then four. It allows them to focus on the present."
That is what truly elevates what seems an elementary approach. In a situation where it is all too easy for players to get distracted by the big prize at the end, but then allow themselves to get into difficulty by mentally overstating the importance of any little individual error, it fosters concentration; it creates a mindset that just gets the next job done. If it sounds like a variation on 'taking every game as it comes', the point is that the players are at a stage where that genuinely must become a clinching mindset, rather than just a cliché that has lost meaning. It is instead the key to winning. It gets the players into what 1997-98 title winner Ian Wright has previously described as a "mental cocoon".
This, again, directly translates into physical actions on the pitch. Rather than players being influenced by panic and letting errors lead to other errors, they instead imbue every individual touch and tackle with that higher-plane intensity. It has an effect. It gets them through games where they might not necessarily be on their finest form.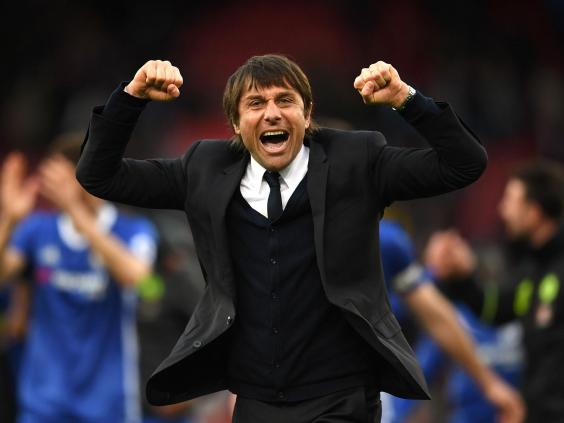 There was a perfect illustration in that 1997-98 Arsenal win. Arsene Wenger's side had been on a sensational winning run only to run into trouble just as they were coming to the brink of glory against a Derby County side who had already beaten them earlier in the season. They just weren't on anything like the same luscious form. Derby were putting it up to them, nothing was coming off for Arsenal, and they had to fight for everything. But they were ready for that fight. They were in that cocoon. Just when yet another attack seemed to break down against a sturdy Derby defence, Marc Overmars of all people made a midfield fighter's tackle at the edge of the box, and Emmanuel Petit powered it in for the only goal.
After the game, captain Tony Adams came into the dressing room and just roared "that's how it's got to be done, boys. That's how it's got to be done." The message was clear. Sublime as Arsenal's football had been to get them into position, it was going to require other qualities to make the best of it. It was going to require Conte's 'concentration, desire and fight'.
Chelsea are going to require it so they are applauding a title win, rather than just one game.
Reuse content