Antonio Conte blamed himself for Chelsea's lack of "desire" and "ambition" in the league leaders' listless 2-0 defeat away to Manchester United, and said his side must now treat the next few fixtures - including Saturday's seismic FA Cup semi-final against second-placed Tottenham Hotspur - as "six cup finals", while adding there is now only a "50% probability" of winning the league. The Italian meanwhile refused to blame the absences of Marcos Alonso and Thibaut Courtois for the loss, as an overnight virus the full-back suffered disrupting Chelsea's balance, and the goalkeeper reported to have picked up an injury in a promotional TV shoot for the NBA.
Conte, however, put the result squarely down to the difference in ambition between the teams.
"I think that the impact was very tough today but when you play at Old Trafford it is normal to have this type of impact against a really strong team as United," Conte said. "We didn't play a good game and United deserved to win the game. They showed more desire, more ambition, more motivation. It is very simple but in this case the fault is of the coach. It means the coach was not able to transfer the right concentration, desire, ambition to win this game."
Manchester United 2 Chelsea 0 player ratings
Manchester United 2 Chelsea 0 player ratings
1/22 David de Gea - 6 out of 10

Rarely tested. Impressive under the high balls and in his distribution.

2/22 Antonio Valencia - 7

Solid all round performance from him. Strong going forward and assured on the back foot. Physically impressive too.

3/22 Eric Bailly - 7

COmposed under pressure, read the game brilliantly and made all the right decisions. Excellent defensive display.

4/22 Marcos Rojo - 6

A gritty and fiesty display. Battled hard against Costa and largely kept his cool while the Spaniard repeatedly lost his.

5/22 Matteo Darmian - 6

Kept Pedro under wraps and limited the wingers' influence for much of the game.

6/22 Ander Herrera - 8

Demonstrated fantastic vision to play in Rashford for United's goal. Hard-working as ever. Shame about the yellow card but completely ran the game today.

7/22 Marouane Fellaini - 7

United's battering ram. Strong in the air, firm in his challenges and excellent at breaking up play. Dominated against Kante too.

8/22 Paul Pogba - 7

A rounded, mature performance from the Frenchman. May not have threatened as others did but kept the United midfield ticking over with his constant passing and movement. Still missing that 'wow' factor though.

9/22 Ashley Young - 7

Another hard worker who dug deep to give 100 per cent today. Made some encouraging runs going forward and was vital in the build-up to United's second.

10/22 Marcus Rashford - 8

FUll of confidence and energy. Used his pace to devasting effect and proved to be too much for the visiting defence at times. Showed today what he's truly capable of.

11/22 Jesse Lingard - 7

Complimented Rashford to a tee. Excelled at getting in behind United's backline and provided a reliable outlet throughout.

12/22 Asmir Begović - 6

Could have maybe done more for the first goal but unlucky about the second. Made some important saves to keep the score down.

13/22 Kurt Zouma - 5

Stepped in to replace Marcos Alonso which subsequently disrupted the balance to Antonio Conte's team. Looked out of place.

14/22 David Luiz - 5

Guilty of costly mistakes and, rather surprisingly, was overpowered at times by Rashford. A shadow of the player he has been this season.

15/22 Gary Cahill - 4

Completely dropped his guard for United's second. Struggled to match Rashford for his pace and made multiple sloppy mistakes. An afternoon to forget for him.

16/22 Victor Moses - 4

Anonymous and largely ineffective. Hauled off around the hour mark for Cesc Fabregas.

17/22 N'Golo Kanté - 6

Showcased his ability to drive into space on a number of occasions but was overwhelmed physically throughout the match by Fellaini.

18/22 Nemanja Matic - 5

Struggled defensively and seemed out of his depth. Couldn't deal with the United set-up.

19/22 Cesar Azpilicueta - 6

Pushed forward down the flank and provided his team-mates with a reliable source of deliveries. Defensively, he enjoyed a better display than the rest of the Chelsea back line.

20/22 Pedro - 5

Enjoyed a few half-chances but was subdued and lacked any real dynamism.

21/22 Eden Hazard - 6

Missed that magic touch today. Was played out of the game by Herrera. Occasionally threatened with his quick feet but it wasn't to be.

22/22 Diego Costa - 5

Bullish but another disappointing performance. His quality on the ball and in front of goal deteriorated as his composure faded throughout the game.
Asked about how concerning it was to lose two of the last four, Conte felt there were few similarities between this defeat and the recent 2-1 loss to Crystal Palace.
"I think we lost two games but these two games were totally different. Against Crystal Palace, we didn't deserve to lose. Today we deserved to lose the game. We have to think that there are six finals from now until the end. The league is open and we have a 50% percent [opportunity] to win the league. We will be good to finish on top of the table and it means we deserve this. Otherwise we deserve another thing."
Chelsea were not first rate, but Conte would not go into detail about why he did not have all of his first XI.
"After a defeat it is not right to go into this situation. Courtois had an injury during the middle of the week and for this reason he wasn't available but I think it is right to focus on the game and not to find excuses.
"Alonso had a virus during the night and he tried to recover him for the game but it wasn't possible and for this reason he didn't play."
In what seemed a public message to his players, too, Conte said Chelsea must enjoy the pressure of the run-in.
"The pressure is normal. I prefer to play for the title instead of don't fight for the title and stay calm. The pressure is normal and we are lucky to have the pressure. Last season, Chelsea had no pressure in 10th place and you play calm you are happy. We must understand this, that something really important is happening this season because we are doing a great job and a miracle if you consider last season and the problems we had.
"For this reason we must have great enthusiasm to play these last six games. Be patient and have great will to fight… otherwise we must clap another team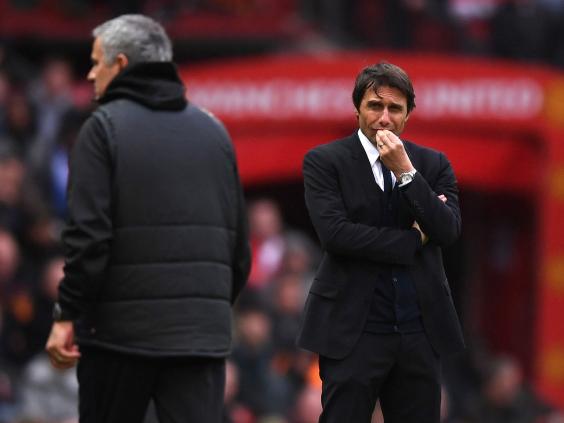 "We know the next game and how you go for the final or you don't go and for this reason you must put 200 percent to reach the final of the FA Cup. It won't be easy because I think Tottenham now is the best team and they are in good form and they have a lot of enthusiasm.
"They are feeling the possibility to write the history and it is important to know this… this is a game between two teams that are in contention to win the league in this season and I think it will be an interesting game. Now we have five days to prepare this game and then play."
Reuse content