Antonio Conte may still be learning English but he has already more than mastered the translation of any necessary nuance to a sentence. Be it in terms of a description of something or avoiding definitive comment on an issue, few are better at it than the Chelsea manager.
Conte is excellent at delivering colourful single lines like how a coach is a "tailor" but, crucially, just as adept at avoiding any contentious lines that might make a back page. That applies to everything from controversy on the pitch or in the game in general, to any questions over the future of his players or - most relevantly on Friday - himself.
Take his response to inevitable questions about Italian reports regarding interest from Internazionale to join them in the summer. The one specific from Conte was that he hasn't "personally" received an offer from the Serie A club, but it was all quite general beyond that, saying "you have to be ready for anything" as he also maintained he hopes to "stay and work a lot for this club". There was also the obvious admission that he misses his family, who have stayed back in Italy, a line likely to be leapt on in some quarters.
Chelsea potential summer 2017 transfers
Chelsea potential summer 2017 transfers
1/9 IN: James Rodriguez

With Oscar departing for China, James Rodriguez could be the perfect long-term replacement for the Brazilian. Rodriguez hasn't had much game time this season and might be looking for a move away from the Bernabeu. It looks like Chelsea will tussle with the likes of Manchester United to secure his signature.

AFP/Getty Images

2/9 IN: Ricardo Rodriguez

The 24-year-old Swiss international could be the perfect fit in Antonio Conte's 3-4-3 formation. The Wolfsburg player is a massive threat from dead ball situations and loves to attack. Recent reports are suggesting that the Blues have beaten Arsenal to secure his services.

AFP/Getty Images

3/9 IN: Arturo Vidal

Conte is reportedly looking to bring his former employee to Stamford Bridge in a deal that could be worth up to £38 million. Bayern's box-to-box midfielder played under the Italian tactician at Juventus where they reached the Champions League final, losing 3-1 to Barcelona.

Bongarts/Getty Images

4/9 IN: Federico Bernardeschi

Fiorentina winger Bernardeschi has been on sparkling form for the Viola this campaign. Conte took him to the Euros in the summer and he could provide solid competition for Victor Moses for the right-wing starting berth.

Getty Images

5/9 IN: Tiemoue Bakayoko

Monaco have been free-scoring this season but their whole team deserves credit. Bakayoko has been a mainstay in the defensive-midfield position, and his combative style has drawn comparisons to N'Golo Kante. Chelsea would have to dig deep to make this deal materialise, though.

AFP/Getty Images

6/9 IN: Franck Kessie

The 19-year-old has been the breakthrough star in Serie A this season. In an Atalanta side that has performed above expectations this campaign, Kessie has played an integral role. A lot of Europe's elite are in pursuit of the Ivorian.

Getty Images

7/9 IN: Faouzi Ghoulam

After bringing Marcos Alonso in from Fiorentina last summer summer, Conte may want to provide some competition for the Spaniard and Ghoulam may well be the answer.

Getty Images

8/9 OUT: Michy Batshuayi

With Diego Costa performing so well, it is hard to see where the young Belgian fits in to Conte's setup. French side Lille were left rebuffed after they reportedly lodged a loan bid which was rejected by the Blues, but it remains to be seen whether they will keep him at Stamford Bridge.

AFP/Getty Images

9/9 OUT: Branislav Ivanovic

After starting the first six games of the season, the Serbian defender has struggled to fight his way back into the Chelsea team. After a change of formation from Conte, it seems as though he might not suit the Italian's style. Reports have also proposed that Barcelona may be in line for a shock swoop.

AFP/Getty Images
"The only problem for me this season was the family missing me," Conte admitted. "For sure, my family stayed in Italy. I'm working, and working for the future to try and bring them here and to stay together. Family is missing me, this is the truth."
It is also the truth Chelsea are extremely relaxed about the Italian's future and the Inter story. He is fully expected to stand by his Friday words and stay, has already started discussing summer targets and negotiations have already begun for a new and better-paying contract to likely be signed then. Just as relevantly, his family are set to move to London after May, once his daughter finishes an important academic year.
Some in Italy still maintain that, while Conte is obviously relaxed himself, he isn't quite completely at ease. He has wanted more of his own signings in - such as another centre-half in January - and also wanted more members of staff rather than the mere three he has brought, both to strengthen his authority and act as a buffer in the dressing room for what has been seen in the past as a "political" squad.
Conte has banished any such potential problems by winning so many games at Chelsea and, really, it sums up how well this season has gone that the Inter story was such a talking point. Everything has been going so smoothly for the league leaders that there was nothing much to discuss in detail, nothing bigger to drown out such speculation.
Some sources close to Conte in Italy, however, say that it is precisely that smoothness that has actually played on his mind. They state he is conscious of what has happened to Jose Mourinho and Claudio Ranieri on winning the title, and how quickly things can turn, as was effectively revealed with one line in his press conference: "You know, especially with things fresh from Ranieri, you have to be ready for anything."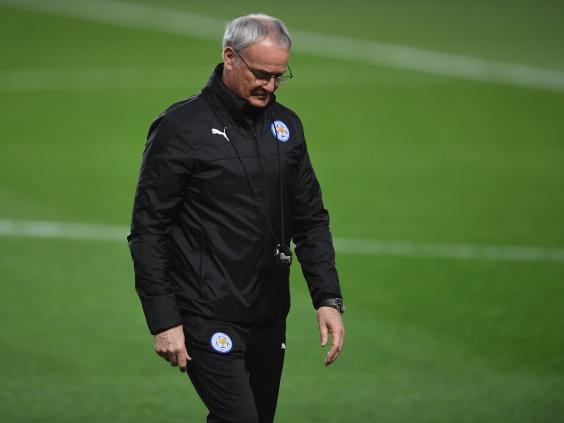 That is probably the true significance of the Inter link, rather than real possibility he could go there this summer. He is merely keeping things warm just in case things suddenly go cold in his own career in the future, as anyone in his position would do. It is hardly bad for any contract talks, either.
It is also in the interest of Inter, meanwhile, to start giving shows of their own strength. They are a club flush with big money again, and aiming for an amply-resourced resurgence, so need to start sending the message to the top names that they are willing and able to compete in every sense.
Highly relevant in all of this, meanwhile, is that Serie A still isn't seen by the game's top figures as a top league right now and probably won't be without a series of such substantial statements. Inter need to overcome that perception to attract players and managers, so stories like this suit them, but Conte has no real need or interest to go back to Italy right now.
He rightfully sees himself as one of the best in the world, and will obviously stay at the very elite end of the game as long as things are going well. There's no way he'd drop down.
Right now, Chelsea are the elite end. That is highly likely to stay the case for the summer and beyond, especially if Conte continues to perform so well. No nuance is required for that.
Reuse content