Eden Hazard was already the favourite to be named player of the year before scoring twice in a game which has all but decided the destination of this season's Premier League title. After Chelsea's 2-1 victory over Manchester City, he is surely now assured of picking up one of the two gongs. He may even win both for the second time in his career.
It has not, however, been a vintage season for individual performances. N'Golo Kanté is very good but his influence on games is not explicit. Hazard himself can be brilliant but he often only turns it on at Stamford Bridge, and even then plays in fits and starts. Romelu Lukaku and Harry Kane are explosive rather than consistent scorers, Diego Costa is consistent but unremarkable. Alexis Sanchez, probably on balance the league's best player, has been hampered by a struggling team.
There is no stand-out candidate. The only regular outstanding performances have come from Chelsea as a team, as a devastating and dominant unit made up of 11 functional players. Perhaps it is fair then that Hazard, their one 'flair' asset, will win the individual awards, but it's hard to escape the feeling that the team around him is the real story.
Chelsea vs Manchester City player ratings
Chelsea vs Manchester City player ratings
1/22 Thibaut Courtois - 6

Completely at fault for Aguero's equaliser - a rare lapse in concentration. Showed his strengths moments later though to deny Sane a one-on-one chance on goal.

2/22 Cesar Azpilicueta - 6

Decision making was on point for much of the evening and kept a calm head under pressure.

3/22 Kurt Zouma - 7

A respectable return to the starting line-up. After months on the sideline he seemed to cope well with both the pace and intensity of the game.

4/22 David Luiz - 7

A fierce and fiery performance from the Brazilian. Hit hard in his challenges and dealt with Aguero well.

5/22 Gary Cahill - 6

Solid as ever in his reading of the game and challenges, both on the deck and in the air.

6/22 Marcos Alonso - 6

Handled his defensive duties well and proved effective on the front foot.

7/22 N'Golo Kante - 6

Industrious as ever with his running and positioning but one of his more quiet evenings. Conceded a sloppy foul on the edge of his own box which City nearly equalised from.

8/22 Cesc Fabregas - 6

Kept the ball moving well in the middle and was relatively effective in dictating the flow of the game.

9/22 Pedro - 7

Dealt well with his defensive responsibilities tonight and got well forward to put the City defence under pressure. Questionable touches/passes here and there but overall a good night from him.

10/22 Eden Hazard - 8

Once again, Hazard proved to be the difference. Took his first goal well from a difficult angle and reacted well in his penalty attempt to grab Chelsea's second.

11/22 Diego Costa - 6

Another mixed performance. Menaced the City backline with his physical presence but his hold-up play was found wanting at times. It ultimately fell to others to make the difference tonight.

12/22 Willy Caballero - 6

Completely misjudged Hazard's first goal. Despite taking an unfortunate deflection off Kompany, he should have done better in dealing with the strike. To his credit, he saved Hazard's initial penalty kick but couldn't stop the forward from following up.

13/22 Fernandinho - 5

His reckless challenge on Pedro cost City dearly and handed the home side their second goal. Too hot-headed.

14/22 John Stones - 6

Dominated in his aerial battles but struggled to deal with Hazard's pace and quick feet. Had a glorious chance to equalise in the second half but couldn't find the goal.

15/22 Vincent Kompany - 5

For all his fight and heart, there was a certain sharpness missing to his game tonight. His weak positioning afforded Hazard the space for his first goal while his lack of pace saw him struggle to keep up with the tempo of the game at times.

16/22 Gael Clichy - 6

Linked up with City's forward players well and was a nuisance in getting in behind the Blues defence.

17/22 Fabian Delph - 5

A series of early, well-timed challenges boded well but he looked out of depth at times. Not a surprise given his lack of Premier League football this season.

18/22 Jesus Navas - 5

A quiet evening as a whole. Had very little say for himself.

19/22 Kevin de Bruyne - 6

Sloppy passing in the centre of park let team-mates down on occasion. Kept him self busy nonetheless and wasn't afraid to take on his opposite men.

20/22 David Silva - 7

One of City's more effective players - especially in the first half. His slick passing and clever link-up play kept the visitors' midfield ticking over. Created numerous chances too and found himself well positioned to set up City's equaliser. Couldn't find that all important equaliser though.

21/22 Leroy Sane - 6

Had the chance to put City ahead after Aguero's equaliser in the first half. Flashed with brilliance but couldn't sustain such form throughout the night.

22/22 Sergio Aguero - 6

A classic poachers finish for City's goal. Certainly kept the Chelsea backline busy but it wasn't to be his night.
Arsenal's late season resurgence on the cards
It has become a standing joke that Arsenal have the same season year in and year out. Yet after a horrific March, it seemed as if Arsène Wenger's side were going to break with their time-honoured tradition of just about doing enough and fail to qualify for a 21st consecutive season in the Champions League.
The predictable late season resurgence now seems back on the cards, however, after Wednesday's 3-0 win over a sorry West Ham United. A scan over their next few fixtures, with trips to relegation-threatened Crystal Palace and Middlesbrough on the horizon, suggests they could still embark on something of a mini-run.
Could they finish even higher, given the propensity of the teams around them to drop points? When asked that question, Wenger insisted he would remain "cautious" for now, but his smirk suggested he's considering it.
Hammers dragged into the mire
There was no smirking from Slaven Bilic, however. After a fifth straight league defeat, he was worried that his Hammers are being dragged into a deceptively tight relegation battle, one in which everyone but them has momentum.
Crystal Palace, Hull and Swansea have all drastically improved in the last three months and each of them will be confident that they can keep their heads above water. The opposite is true of West Ham, who have lost seven of their 12 games since the turn of the year.
It is hard to see when and where a change will come. Bilic, for one, will hope it is not made in the dugout.
Sakho cull promoted Klavan above his level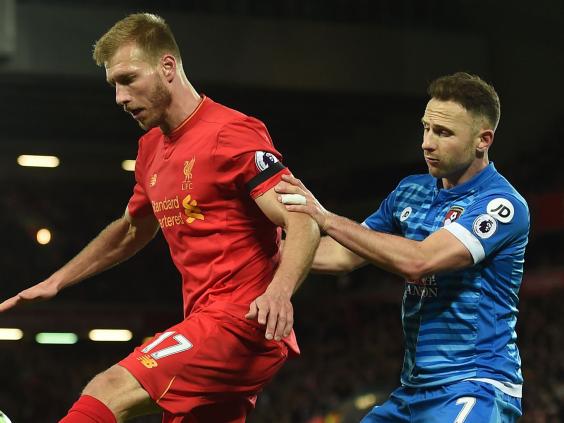 Jurgen Klopp's decision to ostracise Mamadou Sakho at Liverpool has been questioned in recent weeks, but if his inclusion was likely to upset the team dynamic, then it was surely the right call. Sakho's exile is not the problem. The problem is that he was not adequately replaced, and a man who was initially Liverpool's fourth-choice centre-back, Ragnar Klavan, moved up the pecking order.
The Estonian is simply not up to standard, as his performance in Wednesday's draw against Bournemouth proved. Yet his effort cannot be faulted and a defender in the autumn of an unremarkable career costing just £4million was always unlikely to be an unqualified Premier League success.
The blame lies with Liverpool's recruitment team. Sakho's difficulties were well-documented at the tail end of last season but no plan for like-for-like replacement was made. It has cost Klopp's side several points.
United could be left behind
Every indication seems to suggest that from here on out the Europa League is the focus at Old Trafford. Given the Premier League landscape, it is probably a sensible decision. It is the easiest route to next season's Champions League.
Yet Arsenal's win on Wednesday pushed Manchester United back down into sixth place, where they spent so long during the mid-part of the season, and brought a reminder that they could yet fall further. Everton lie only three points behind United and though Jose Mourinho's side have two games in hand over the Toffees, the advantage is negligible if they treat them as second-class fixtures.
It is not inconceivable that United could finish seventh. The last time they did that, a certain David Moyes had overseen the majority of their season.
Reuse content