Chelsea won the Premier League for the first time in five years on Sunday afternoon after a 1-0 win over Crystal Palace at Stamford Bridge.
The Blues have dominated the season since the first week of the campaign, never sitting outside of the top two in the Premier League.
Jose Mourinho's team might have been branded 'boring' in recent weeks, as the charge to the title became nervy and stunted, but the Blues were playing the best football in the division in the first-half of the season.
Somewhat strangely for the modern-day Premier League, Chelsea's title win has largely been down to the strength of their first XI rather than because of squad depth.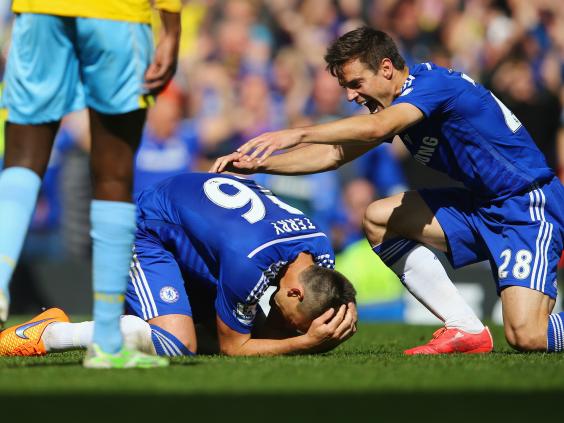 Away from their regular starting side, only Ramires has started more than 10 games in the Premier League this term and three players - John Terry, Eden Hazard and Branislav Ivanovic - have started in every Premier League match this season.
Diego Costa has been the biggest injury problem with several absences, but the likes of Loic Remy and Didier Drogba have also stepped in to play key (if small roles).
Costa and fellow summer signing Cesc Fabregas have been the difference makers for the Blues from this season to last, but other signings, Filipe Luis and Juan Cuadrado, have not worked out so far.
So, how did the Chelsea squad do this season? Have a look through our gallery to see a rating for every player who appeared in Blue in the Premier League this season.
Chelsea season player ratings
Chelsea season player ratings
1/21 GOALKEEPERS: Thibaut Courtois

The Belgian goalkeeper ousted long-term No 1 Petr Cech on age rather than ability - right now, the Czech is better than Courtois, who has had a few wobbly moments this season and was dropped. But the Blues are looking to the future with the best young keeper in the world. 8.5/10

Getty Images

2/21 Petr Cech

It's a shame that his Chelsea career had to end in this manner, but Cech will go down as the best goalkeeper in club history and is easily in the top two since the advent of the Premier League. Was called upon numerous times this season and proved he is still one of the best in the world, playing a vital role. 7

GETTY IMAGES

3/21 Branislav Ivanovic

Has played every minute of every Premier League game to stake his claim as the best right-back in the division. Defensively stout, full of energy and a real threat in the attacking half, where he notched five goals and five assists in all competitions. A cult hero. 8.5

GETTY IMAGES

4/21 Gary Cahill

Jose Fonte probably has a case to be angry that Cahill pipped him to the Team of the Year. The England man has had a really up and down season, with the lowest point coming in an awful display at White Hart Lane when Chelsea lost 5-3. Earned his place back in the team and has been much better ever since. 7.5

Getty Images

5/21 Cesar Azpilicueta

After seeing off Ashley Cole last season, Filipe Luis was bought in to oust the right-footed Azpilicueta from the left-back spot, but he couldn't do it. The Spaniard is one of the best defenders in the league and has made the position his own, a ruthless defender who provides great support and cover to Chelsea's main man, Eden Hazard. 8

GETTY IMAGES

6/21 John Terry

An absolutely flawless season. He will be blamed for the 5-3 at Spurs but he didn't actually play too badly in that game. Played every minute of every game and hasn't put a foot wrong once. The best defender in the division by a long, long way. 10

Getty

7/21 Filipe Luis

Chelsea will be hailed for their summer business when pundits look back on 2014-15 but they weren't all hits. A £15.8m signing who never fit in, Luis may well leave the club after starting just seven league games. 2

GETTY IMAGES

8/21 Kurt Zouma

The mountainous defender has been a revelation. The 20-year-old hasn't played as many games as it may seem (16 starts in all comps) but that's because he has come up big in the biggest games. Mourinho has trusted the Frenchman agaiinst Chelsea's biggest threats and he's come through. Has a major future at Stamford Bridge. 7.5

Getty Images

9/21 MIDFIELDERS: Cesc Fabregas

Has slowed down in the second half of the season because of injury, tiredness and as nerves have set in amongst the squad, but take nothing away from Fabregas, he is the biggest difference between Chelsea from last season and this one. The Blues didn't have anything close to a midfielder as good as the Spaniard last season, who has provided five goals and 21 assists for the Blues in all competitions. 9

GETTY IMAGES

10/21 Ramires

Injury has slowed down the Brazilian to just 11 starts but he plays a vital role in the Chelsea squad, whether playing as a box-to-box driving force, a holding midfielder or as an extra man in defensive line-ups. 6

11/21 John Obi Mikel

Has barely featured because of injury and the impressive play of other midfielders, especially when Chelsea were playing the best football in the division at the start of the season. Still, against certain teams Mikel is a much needed defensive shield who they would miss if he went. 4

12/21 Nemanja Matic

The best defensive midfielder in England, Matic has formed a formidable partnership with Fabregas that has no weaknesses. Supremely comfortable on the ball, a great reader of the game and able to win the physical battle against the majority of opponents, the big Serbian is a wrecking ball in midfield. 8.5

GETTY IMAGES

13/21 Oscar

Impresses in fits and starts but never seems to have a consistent run of games where he is the main man. An attacking midfielder for a table topping team should probably score more than seven goals in a season. His greatest asset is his work rate and tactical discipline - that's both praise and criticism. 6.5

GETTY IMAGES

14/21 Willian

Like Oscar , Willian does a vital job in this Chelsea team as an outlet, on the counter-attack and as an extra defender through sheer work rate. He may be under instruction but Willian simply does not score or create enough goals to be considered among the best, even though he has the talent. Three goals and five assists all season isn't enough. 7

Getty Images

15/21 Juan Cuadrado

Whisper it, but this is starting to look like a bit of a misstep by Chelsea. He's been in England less than six months so things like language, settling into a new city and playing with new team-mates are all factors. But the Colombian has not shown anything in Blue. Has only started three games since he joined and was terrible against Palace. A full pre-season should help. 2

Getty Images

16/21 Eden Hazard

Without equal in the Premier League, Hazard is not only Chelsea's main man, but he is the man for the big occasion. The Belgian deservedly won the Player of the Year award. He is Chelsea's plan A, B and C, the man they look for to inspire them to victory. 10

GETTY IMAGES

17/21 STRIKERS: Loic Remy

Injury stopped the Frenchman from playing a bigger part in Chelsea's season - he seemed to have terrible luck all year. But seven goals, including important strikes against Man City, Hull and Stoke, went a long way in Chelsea's march to the title. 6

Getty Images

18/21 Didier Drogba

At 37 he's showing his age but seven goals for a third-choice striker who probably wasn't expected to play as much as he has is a very good haul. Clearly still a key influence in the dressing room even if his skills on the pitch are declining. 6

Getty Images

19/21 Diego Costa

What a first season in England, Costa justified his hefty price-tag with a brilliant maiden year at Stamford Bridge. 19 Premier League goals gave Chelsea something they hadn't had in recent years and he set the tone with his fiery, fiesty attitude. A great target man and focal point. 9

20/21 DEPARTURES: Andre Schurrle

As noted with Cuadrado, the swap move is starting to look like a mistake. Schurrle is a player of real quality who didn't want to spend his time on the Blues bench. He seemed to come back from the World Cup fatigued and the German didn't always seem willing to do the work that would make him a Mourinho favourite. A shame as he's a really talented attacker. 4

Getty Images

21/21 Mohamed Salah

Forget the form at Fiorentina (!), Chelsea were right to get rid of the Egyptian, who never impressed in Blue. On the rare occassion he was trusted to start - against lower league opposition in the cup competitions - he was awful. Perhaps he was so afraid of making a mistake it made him worse. 1

Getty Images
Disagree with our ratings? Let us know in the comments below
Reuse content